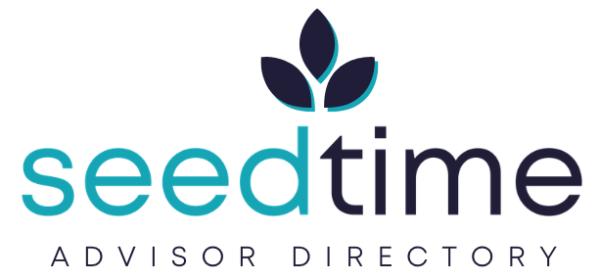 Signing up for the SeedTime directory of Christian Financial Planners is a great
way to reach a targeted group of individuals looking for services that you offer.
Each year over 10,000 of our 1.5 million+ readers visit the SeedTime advisor
directory looking for a trusted advisor sharing their faith.
If you are a committed Christian financial planner or advisor,
we invite you to apply for admission to the SeedTime directory.
Sample directory listing
We have 3 options with our listings and this is a sample of our Standard listing.
Standard 1-Year Listing
Our standard advisor directory listing.
$199
Includes headshot, name, credentials, office address, and description of your business and offerings.


Prospective clients fill out our form to contact you.


Get Listed
Featured 1-Year Listing
For those wanting more contact options and SEO benefit.
$347
Everything in standard listing


Your listing will be featured above standard listings


Includes phone number and link to your website.


Up to 3 images allowed
Get Listed
Advanced 1-Year Listing
For those wanting maximum exposure to the SeedTime audience. (Only 9 spots available)
$697
Everything in the plus listing


Promotional video embed allowed


Opportunity to write a guest article with bio (once per year) for the SeedTime blog that gets over 1.5 million unique readers each year.
Get Listed
More details about the 3 listing options
Directory Listing Requirements
You acknowledge Jesus Christ as your Lord and Savior.
You regularly attend a Bible-believing church and are an active participant.
You follow Biblical financial principles when giving guidance to your clients.
If you meet these requirements and would like to be considered for a listing
in the SeedTime Advisor Directory, please fill out the form below to get started.
Ready to apply?
Just fill out this form below to get started:
4 reasons you should be in the
SeedTime Advisor Directory
1. Over 10,000 of our readers visit the directory each year looking for an advisor
who shares their Christian beliefs.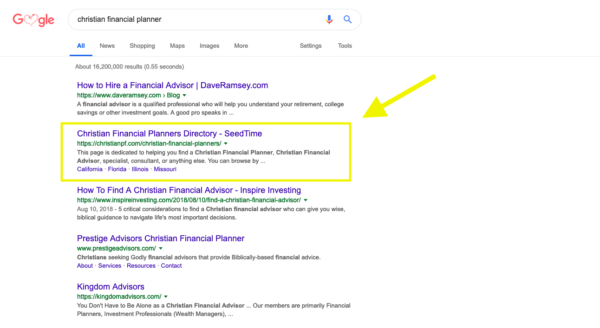 2. If you do a Google search for "Christian Financial Planner" our directory consistently ranks very high and as such many of these searchers come to our directory to find a professional to work with.
3. At present, our directory has fewer listings than other directories, which means that you will likely receive more leads since there are fewer advisors competing for the same leads in a geographic area.
We still have some states without a single advisor listed!
4. With our Advanced listing you have an opportunity to write an article for our blog which receives over 1.5 million visitors each year.
Got any questions?
If so, send us a message here and we will get back to you asap!