Since we launched the Real Money Method course in 2019 we have received a ton of reviews from our students. Keep reading for just a sampling of what we have heard from our students…

There are actually a lot more glowing Real Money Method budgeting reviews than what we have listed below, but these are some of our favorites…
I'm loving the Real Money Budgeting Method. I've saved hundreds of dollars and I've never felt so in control of my spending.

Kayla R.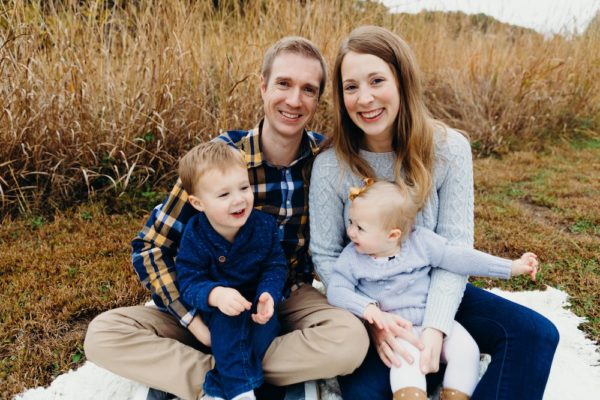 "I cut my spending by over $800/month without even feeling it"
Lauren is a self-confessed impulse buyer, "I'll go to the inexpensive grocery store with a list of necessities and feel great about how much I saved on milk and eggs and then I'll grab a $10 "special buy" and bust my grocery budget."
"Enter the RMB method. Once I committed to budgeting and knowing where my money was actually going, I cut my spending by over $800 each month without even feeling it."
"It was basically like getting paid to budget."
"I now know exactly how much money I have for each category and when the money is gone, it's gone. The guessing games are over and I feel more in control of my money than I ever have."
The course is great. Straight and to the point. thank you for introducing the system. It's genius. I can see it working better than any budgeting concepts I've tried in the past.

Matthew P.
With Seedtime, I can not be more delighted!! Bob mentioned it could take three months and we are just settling into a routine now, but with a great sense of peace in the area of our finances for the first time ever!
We found our biggest challenge prior to finding Bob on the internet was same old, same old…..couldn't stick with the budget we set up and it was much more time consuming than the Seedtime budget. Once enrolled, it was a pleasure to be able to address the learning at my own speed. The lessons really were more simple than I anticipated. I learned new things and they helped me through my fears by kindly answering my questions. It is so exciting and comforting to be in real control of your life…..to have new life poured into you………to know what you have to spend and to have hope to reach goals that you thought were impossible.New opportunities to help others…..just like the Word of God says. My mom always quoted the Bible saying "It is more blessed to give than receive." She raised our family of a good size basically on her own and yet, she always found ways to help even strangers. I thank God for finding Bob and his lovely family on the internet and would not hesitate to recommend him to anyone. Thank you Bob and Linda.

Catherine W.
I have been using YNAB for about a year now. My problem with it was I felt like money sat in my checking account waiting to be used and I wanted it to be utilized better at a higher interest. So I signed up for your class because I've trusted all of your advice so far. And there was the answer right in front of me. You guys are awesome.

kathy c.
I have always been scared of money and therefore it's always been a mess! For a long time, I have heard God tell me to get my finances in order but have always stood on the side of procrastination not knowing how and where to start. So, I'm very grateful you have this system in place and have shared it with others.

CEsiah G.
I'm loving it. It really gives me an accurate picture of where I am and is easy to use.

K.G.
I do also want to say thanks to you and your course. We move money automatically each week, which we don't even notice, and now after a few months it's really added up. I do find we spend less now that we have money going into savings, since we can't spend that. I would have never set that up if it wasn't for RMM. Thanks!!

Ashley E.
It's only 3 days in, but it's definitely changing the way I spend money already.

allison g.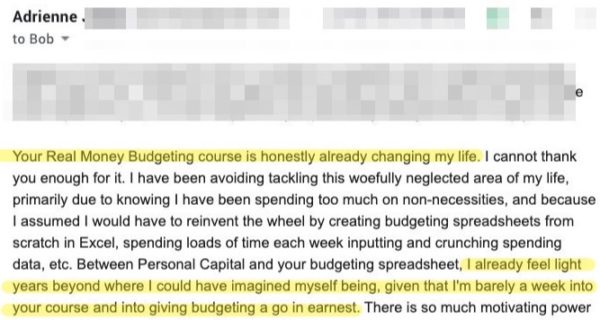 My family is very happy with this approach – Real Money Method! It works worldwide, everywhere! It works on the other part of the world perfectly well!

Nadia
This system has been amazing! … My husband seems to be enjoying it as well due to the "real money" factor since he can open the app and see how much we truly have at that minute, rather than when we used (other tools) and it was very difficult to get a feel for the actual numbers.

Meghann J.
The class was very easy to understand and easy to apply the knowledge to my actual life. It was also comforting to know that if I had any questions, I could contact someone on your team and they would respond.

Linda F.
The Real Money Budgeting system was one of the easiest and most effective budgeting systems that I have ever tried (and I've tried a lot of them!) I was able set everything up without a lot of time or hassle, and I actually followed through on it! My biggest challenge prior to the course was putting money into savings for future expenses, like vet bills and car maintenance. By using this method, I was able to set aside an extra $1000 over the past 5 months in anticipation of my dog's dental surgery in early June. The surgery ended up only being $567 and I was able to easily transfer the funds from savings to pay in full without any negative feelings. In fact, I was actually excited that it was under $600. In the past I would have had to use a credit card or borrow money to pay for it, so this was a huge transformation for me. The RMM course has empowered me and given me the confidence I needed to be a good steward of my finances.

Emma B.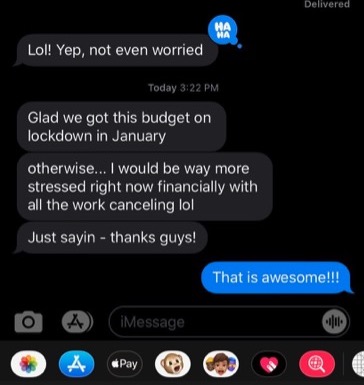 We are now nearing the end of our first full month using your program… We have been able to free up nearly $900 this month, which is quite honestly mind-blowing!

Chrysti B.
I've struggled with budgeting most of my life and like Bob I've tried out most of the fake money budgeting systems over the years and they just didn't work for me! I love how this is real life money that we are dealing with, so when it's gone, it's gone. The course itself is exceptionally made! I have the confidence and peace of knowing that everything is covered and I don't have to rack my brain thinking of what else is needed. I just have to follow the plan that Bob layed out. I love the full budgeting spreadsheet that's included that gives the big yearly picture and then the bill pay spreadsheet helps keep us on track every month! And the fun part of budgeting is you can set a goal for debt payoff or to save for something you've been wanting and then spend the money guilt free! Also the real life examples of Bob's family budget and other's budgets are SO helpful too! Thank you so much for this comprehensive system! It truly is THE ONE! God bless!

Zoya
We are loving RMB because it is so easy to see how much money you truly have in each account. Other programs we have tried didn't give us an accurate account of our budget. Your program has really simplified the process!

Jim C.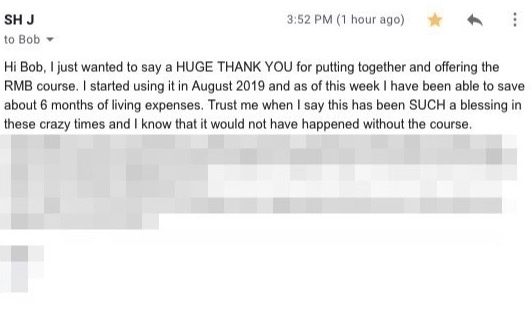 It is kind of funny but I do feel more in control…Thank you so much for this budgeting system – I love it!!

Kim V.
I've been using the course for about 2 weeks. When I first heard about it, I was interested but I wasn't able to purchase it yet, but I was drawn to it because of what made it different: that it works with real money instead of hypothetical money.
My biggest challenge prior to the Real Money course was that, although I was able to allot amounts to the specified categories, for some reason I still couldn't stick with the amount I would put into those categories and would end up pulling from other areas that were meant for something else. I think the reason I struggled with this was that by using the cash system, I would know what the total was but wouldn't keep track of the amounts I spent, so if I didn't have enough for that category, I wouldn't know until I was at the checkout and so I would pull from another category.
I like that this course is basically the cash system with a card but I am able to see what I have left each time I spend money, and so far, I've been able to stick with the allotment within my categories.
So far I find that with this method I have been able to save money consistently and not touch it, which feels really good and makes me excited for reaching my goals.
To those who are unsure about joining the course, I would say that if you feel like you struggle to stick to a budget, this method is really helpful in dividing your money into specified places and because of the way it is set up, it puts your focus on one area at a time and you see in real-time what money you truly have, which shifts how you spend your money. I would definitely recommend it to people who want to be diligent in stewarding their money.

Kelsey l.
I think this budget plan is one of the best… actually I think it is THE best for those wanting a simple and practical way to get out of debt.

Kristel K.
You and Linda make it easy without making me feel dumb. I have been budgeting for 21 years but have never had it working like it should and I could never figure out why all the extra money was gone at the end of the month. But now we can see exactly what is going on (unlike before with other software) and as a result there is money leftover each month.

Joanna P.
My husband and I have had some time to start using the RMB and we are really enjoying it! …Overall it's working so much better than YNAB did for us and I love the ease of the capital one app as well.

Katie M.
I love your system! My wife and I have watched all of the video lessons together. It really helped my wife to hear Linda's perspective as she could relate to hating budgeting. Julie was the one who signed us up for the course! We took your and Linda's advice and just finished going through the lessons first before getting started. We have done David Ramsey's Financial Peace University and have taken several baby steps. Your Real Money Method looks like it will take us to the next step to prepare for retirement and become even more generous!

Alex & julie Z.
"After 17 years of struggling with budgeting and personal finances, in the last 4 months we have saved $14,000"
I feel over all more at ease and more confident about our finances. Before I felt unsure about paying extra on our debt because I didn't have a visual of where my money was split up. It's really encouraging us to find room in our budget for extra payments.

Rachel G.
So worth the money… Thanks so much and continued blessings.

Derrick N.
Susan L.
I'm LOVING the Real Money Method course
For the first time in 31 years, I feel like I have control over my finances. I'm excited to see how I will continue to improve this process over the next year and beyond! I'm beyond grateful – thank you!
I got Bob's budgeting course about a month ago … It's the only one that really made sense and it's like he's right there, having a cup of coffee with you and showing you what to do.

Matthew P.
Your course has given me an understanding of budgeting successfully and how to actually save. That's huge for me!

Margaret W.
It's the first time I have really felt confident about a budget and sticking to the process. We have been using this system now for the last two months since taking the course and I LOVE the sense of control knowing when bills will come out of my account and knowing where my money is going so I can confidently purchase things without worrying. HIGHLY recommend it!

Tori H.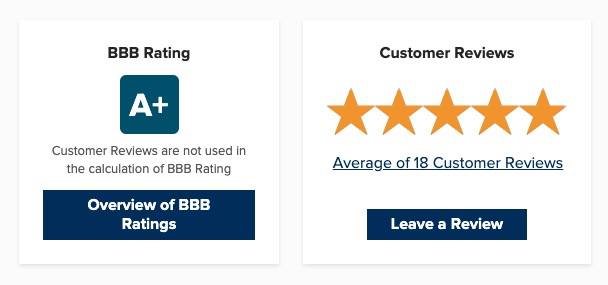 If you are a student and would like to share your Real Money Method review with us, please let us know! We love hearing your stories!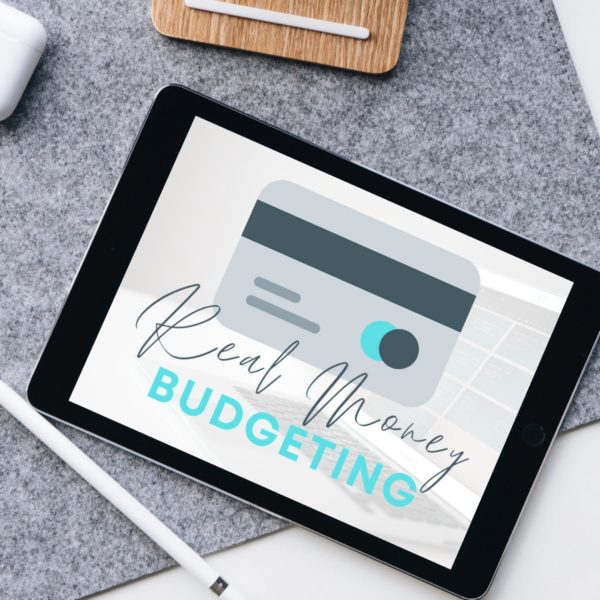 What will your story be?
Save $800 a month?
Build a 6 month emergency fund (in under a year)?
Reduce money fights?
Pay off over $6500 in debt?
Finally have money left over at the end of the month?
These are all things we've heard from our students and we can't wait to hear your story!