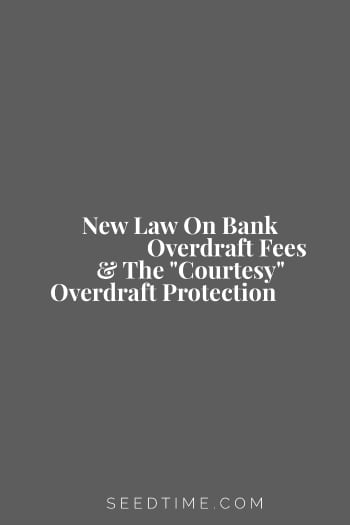 A few years back, I used to work in a small bank and I remember a customer who owned a lawn-care company who seemed to be in there everyday.
He was bad with a checkbook at best. He bounced checks left and right and I still remember my boss bragging about how much money he had made off that guy.
Over a thousand dollars in a year – all in overdraft fees. Something just didn't seem right.
Clearly the customer needed to get a little bit more organized with his finances, but it seemed like the bank should have taken a different approach…
New Federal Regulation on Bank Overdraft Fees
Recently Consumer Reports released an article discussing the new Federal law pertaining to banks and their overdraft services. Not sure if the motivation for the new regulation was customers like the one above, but I think it is probably a good thing.
Believe it or not, that $35 fee that the bank charges you when you overdraw your account is actually a "service" that your bank is offering you. They care so much about your well being that they want you to be able to buy that Snickers bar without being told that you don't have the money in your account. 😉  And then they charge you $35 when you spend 50 cents more than you have in your account.
Starting this summer (July 1st for new cards and August 15th for existing accounts) customers will have to opt-in to get overdraft protection on their account. So rather than getting charged $35 for that Snickers bar, your card will be declined. Some people will still prefer not to have their card declined, but you can bet that people are going to save a lot of money (and banks will lose a lot of money) without the automatic opt-in that many banks currently have.
How to cut your Overdraft fees now
If you don't want to wait around until the Federal regulations kick in, you can try to see if your bank will allow you to opt out now. Some will allow it.
But even if they don't check to see if they have an overdraft program that pulls from a savings account instead. For my offline checking account, our checking is linked to our savings. So if we do go over, it automatically moves money from our savings. It isn't free – they charge $2 each time, but that sure beats the $35 overdraft fee.
An even better way to minimize Debit-Card Overdraft fees
We use ING Direct as our primary checking and savings account (and budgeting system) and one of the reasons I love ING so much is that they don't have overdraft fees on their checking account. You can go below zero and they charge you interest (just like a temporary loan) on any balance below $0. So if we happen to go below zero for a day or two and then transfer the money over it costs us about 20 cents – as opposed to $2 or even $35. Not a bad deal at all…