I know when you read a title like "how to travel the U.S. for free" you can't help but be suspicious.
But stick with me on this – if this is new to you, you are going to like it.
Over the last 5 years, we have gotten 161 hotel nights and 100+ flights all around the U.S. – for FREE.
It is absolutely legit and honestly not even difficult. But one quick thing before we get started. You need to check out why I use credit cards instead of debit or cash
My first taste of free travel
When Linda and I got married, we had a terribly small bed with a huge dip in the middle. All night long, we would each struggle NOT to roll into the dip. We were grateful to be married, but we hated that bed.
So when it came to deciding whether or not we were going to do a fancy honeymoon or get a new bed, the decision was easy.
New bed it was!
We spent every dime of our wedding money that we received on that King-sized bed.
It only fit in our apartment by resting on 2 walls – so she had to climb out on my side.
But we didn't care. It was huge and didn't have a dip. We were tasting our first glimpse of heaven.
Thankfully, we had a generous couple in our church who graciously allowed us to use their beach house for our honeymoon – for free.
It was my first taste of travel with the love of my life, and I wanted more of it.
I had been on vacations growing up as a kid with my family, but now that I was an "adult" and got to call the shots, traveling for fun was a whole new experience.
So I began dreaming of all the cities that I would like to visit.
And then reality hit me upside the head…
Traveling in the U.S. is REALLY expensive.
For some reason, this truth never found its way into my brain until I got married.
As I began pricing out hotels, I quickly realized that even cheap hotels are expensive! And when I looked at how much it cost to fly (just around the U.S.) my jaw dropped.
With both of us having low-paying entry-level jobs AND trying to pay off $46k of debt, I came to the conclusion that there probably wasn't as much traveling in my future as I was hoping.
So a few years go by (you can read about what happened during those years here) and then I discovered the secret that allowed us to essentially never pay for U.S. travel again.
I know that may sound like a late-night infomercial, but for us, this has been one of the most amazing blessings.
It was what we had always dreamed about, but always seemed out of reach financially for us.
I talk about this in detail over on YouTube so give it a watch if video is your preference!
What we discovered
After opening about 15 different credit cards and doing lots of research, I discovered the best ones and the ones that would best help us reach our goal of traveling around the U.S. – and for free.
The truth is that credit card points are FAR from being equal. Some rewards programs are good, and others are terrible.
For example, some might give you 50,000 points for signing up for a new card, but those 50k points will only provide 1 flight or night in a hotel for that amount.
When I discovered the best program, we were able to take 50k points and use it for 10 nights in a nice hotel – which we did in 2014.
So one rewards program can absolutely be 5-10x better than another.
The point is that just because you might get points for using your credit card, that doesn't mean it will get you very far.
You need to have one of the high-yielding rewards cards to make the most of it.
How do you earn points?
For people new to this whole world, you generally get points by:
There are other ways to earn, but these are the only ones I choose to focus any time on.
A quick caveat
There are entire blogs and books devoted to free travel, but my goal with this is to slim the information down into an easy to digest article that I wish I could have read when I was dreaming about traveling but thought it was impossible.
What that means is that I am going to give you my best advice – what has worked for us – based on what I have learned over the last 5 years of doing this.
Depending on which airlines you can fly, where you want to travel, etc. you might find some other programs to be beneficial, but suffice it to say that our system will be great for probably 90-95% of Americans wanting to travel the U.S. for free (and maybe a little beyond).
So which ones are the best?
Simply put, Chase rewards credit cards provide the most versatile and valuable points that I have found.
Of those I would recommend the Chase Sapphire Preferred® Card or Chase Freedom Unlimited® for most people trying to maximize their earning power.
Their rewards program is called Ultimate Rewards, and while you can use those points to book flights and hotels directly, the best bet is to transfer those points to partners.
These are some of the options available: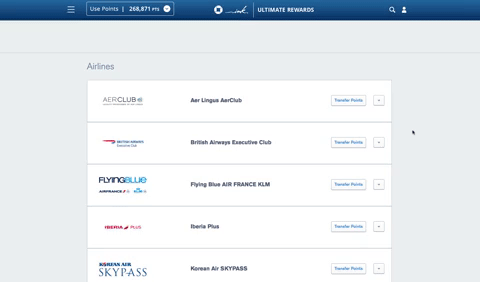 We have found that transferring those points to Southwest Airlines to book flights and to Hyatt to book hotels has yielded the biggest bang for the buck.
There are tons of options, but for us, that has been the winner 90% of the time, and since I like making things easy whenever possible, those are our go-to options.
Both of them are great and reliable companies and have been great to work with – in addition to having incredibly generous rewards programs.
So what does this look like for us?
For us, we put as much of our spending as possible on our 2 credit cards and between our personal credit card and our business credit card we spend at least $5k each month.
This provides 5,000+ points, which is enough for a night at a good number of Hyatt hotels or a cheap Southwest flight.
To give you a little point of reference here, we have gotten many of our hotel stays for as little as 5,000 points a night and some Southwest flights as cheap as 3,600 points.
What about sign up bonuses?
What I mentioned in the paragraph above doesn't even take sign-up bonuses into consideration. That is just our everyday spending that is earning us points.
When I got started in all this, I signed up for tons of cards and earned tons of bonus points by doing so, but honestly, haven't opened many new cards in a while because we have more than enough points to do what we need to do.
But, there is no doubt that opening a few cards with lucrative bonuses is a great way to get started.
Many of the Chase cards offer 50k points for signing up, so that could potentially get you a FREE week+ stay at a Hyatt.
Many of these hotels will cost $130/night, and you can get 10 nights free. That"s $1,300 of free hotel stays!
Just for opening a credit card. That is just insane to think about.
Just to clarify, many of the Hyatt hotels are considerably more than 5,000 a night – some up to 30,000 a night for the lap of luxury.
But, at the time of this writing, there are 136 Hyatts in the U.S. and Canada that only cost 5,000 points a night.
Here they are: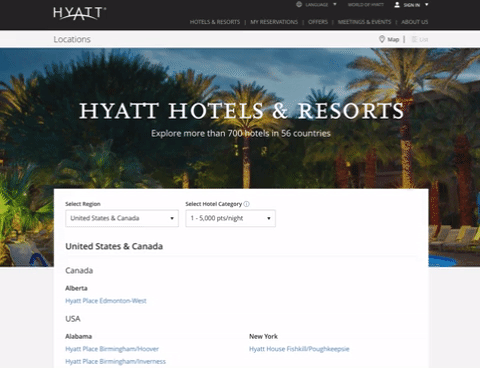 Let"s chat a little about Southwest
Early in 2017, we adopted our baby girl and long-story-short, it came as a surprise, and we had to move really quickly.
We literally packed up our whole family for a 10-day trip that we weren't expecting and got on the road to get our baby girl in less than 2 hours.
Once we were on the road, I called my mom and asked her if she could fly up to meet us to help take care of our 3-year old for a few days.
She is nothing short of amazing and said that she could catch a flight that day.
As I went to book her flight, I realized that Southwest didn't fly to the airport in the small town where our daughter was born.
So, I had to cough up $500 to fly my mom up on a last minute flight with another airline.
Many people might not think anything of it, but for me, it was such a foreign concept. I didn't remember the last time I actually paid real money for a flight.
Don't get me wrong; I would pay the $500 again in a heartbeat because having my mom there during those chaotic first few days was priceless. But it made me appreciate the value of all these points on a higher level.
Just to give you an idea of how far Chase points go with Southwest, here is what Southwest is currently charging (one-way) to fly out of Nashville to various locations: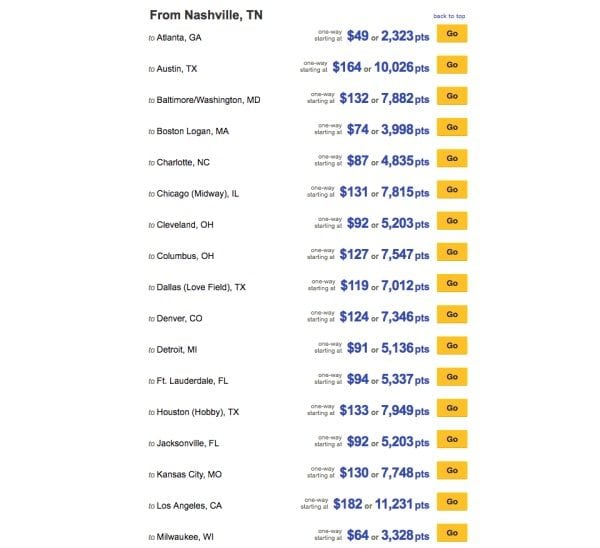 Again, you should be able to see how far a 50,000 point bonus can go.
As if that wasn't good enough, Southwest just has some very customer-friendly policies like:
Allowing you to cancel your flight for any reason and get all the points refunded to your account.
If you book a flight that costs 7,000 points and you see that they lower the price to 5,000 you can just call them, and they will refund you the difference.
I am sure there are many great airlines out there, but Southwest has truly been outstanding for us.
Plus, two bags fly for free! Boom!
So what"s the catch?
There are no "catches" per se, but here are a couple of things you should know…
Most of the cards with signup bonuses will have a minimum spend requirement for the card
Basically, they want to know that you are using the card before giving you the bonus. Spending a total of $3,000 on it in the first 3 months is pretty common. But once you spend the minimum amount, you aren't obligated to use it anymore.
Some cards have an "annual fee"
Many Chase cards have a $95 annual fee, but some of them waive it for the first year. The benefits we get from our card so far outweigh that fee, that I don't even think about it. But, whenever we stop using a card (sometimes before we get charged the fee), I typically close the account, because I don't want to pay the fee for a card I am not using.
So how do the credit card companies make money?
If you think this seems too good to be true, I get it.
The reality is that credit card companies make money by:
Charging us interest (if we don't pay our balance in full each month)
Charging merchants processing fees
So what this means to you and me is that we can use the cards, pay them off each month and never pay interest, and they still make money from charging merchants a percentage.
Rewards programs like this have been around a long time, and I don't think they would still be around if they weren't making money.
The most important part here (worth repeating) is that you and I do NOT need to pay any credit card interest to get these perks.
For the 5+ years of doing this, I have never paid any interest to the credit card companies.
And I strongly suggest you do the same.
What all this credit card point stuff has meant for us
Just in terms of numbers, I dug and dug to see if I could tally up all the free flights, and hotel stays around the US that we have taken over the last 5 years.
And making a very conservative estimate, I counted 161 hotel nights, and 97 flights that we used points for (and did NOT pay for).
I estimate it would have cost us $45k-$60k in cash for all that travel.
And honestly, that has just been the beginning. I could go on and on about what credit card points have done for us, but I will just give you a few highlights:
Flexibility
In the story I just mentioned about adopting our daughter, you may or may not know that in the U.S. cross-state adoptions require the adoptive family to remain in the state of birth for 7-14 days until given clearance to leave by the state.
With our daughter, we were able to book a Hyatt and stay for free the entire time.
The same thing happened when we adopted our son a few years earlier. We stayed there for 10 days and didn't pay a dime.
Being able just to go book a hotel pretty much any time we want and NOT pay cash for it has been such an incredible blessing.
Seeing family more
Linda and I left a lot of family behind when we moved to Nashville a couple of years ago, and now we have people we love spread across the U.S.
We are so grateful that we generally don't have to factor in the financial cost of visiting them because of our rewards points.
Getting out of the house more
Like I mentioned at the beginning of this article, we had only dreamed of being able to get out and explore like we have been able to the last few years.
While we haven't done much international travel yet (that is next on our list), we have been able to travel around parts of the U.S. a lot more than I could have dreamed.
Being able to give points and bless others
Another unexpected benefit is that we have been able to give many points away to bless others" with trips.
And who knows? Maybe you might get to be one of those people too! 😉
See where I"m going here?
But first…
If you want to get started down this path, read this first
In my 20"s I don't know that I would have been able to use a credit card and NOT get myself in trouble spending more than I should.
We opted to NOT have a credit card for the early years of our marriage when times were really tight. I am glad we made that decision.
Please know that if you can't pay your balance off each month, you will negate ALL of the benefits of these rewards if you are paying interest on the card.
My suggestion would be that if you do have a single month where you don't pay off the full balance, then close the card immediately. There is no point to getting a bunch of reward points if you are paying big interest charges to get them.
How to get started traveling for free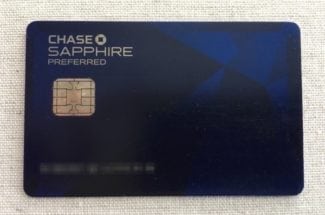 Now that I got that out of the way, what I would recommend is:
1. Just open one Chase card that has a good bonus.
We have found (and almost every other credit card expert I know agrees) that the Chase Sapphire Preferred® Card is the best general travel rewards card out there.
2. Start using it as your main credit card
You want to do this so you can meet the minimum spend requirement of the card. If you want to earn points though, you will obviously want to continue using it.
Once you reach your minimum spend, they will credit your rewards account with the bonus points. In my experience, this normally takes about a month.
3. Now you are off to the races.
You can go with my recommendation of mostly transferring to Southwest and Hyatt to book travel, or you can use the points to get cash back, shop on Amazon, or book tons of other airlines or hotels.
Jean Chatzky on Rewards credit cards
Interestingly, Jean Chatzky, the Today Show Financial Editor, echoed my sentiments about the Chase Sapphire Preferred® Card (and credit card rewards as a whole) just a day after we posted this article.
The segment is below: