There's a secret that the financial industry doesn't want us to know. And it's that becoming a millionaire… it's actually really easy.
Let me start you out with something mind-blowing.
If your parents would have invested $2,000 at your birth into the S&P 500 and never did anything else, you'd likely have a million dollars when you retired (age 66 to be exact).
Can you become a millionaire just by investing $2,000 one time?
Seriously, just a $2,000 one time investment at an average rate of return of about 10%. – thats it.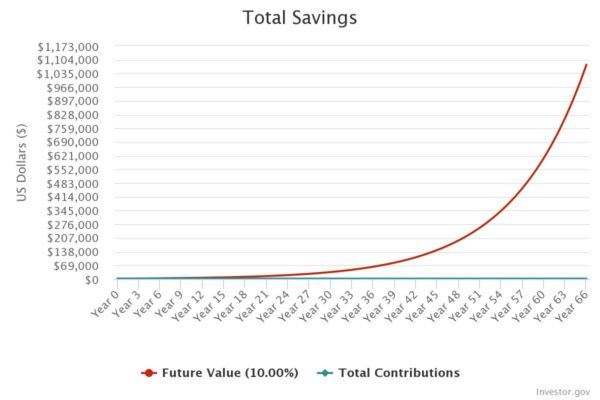 Now let's look at what would happen if your parents just put that $2k at your birth into a savings account and let it ride until you retire.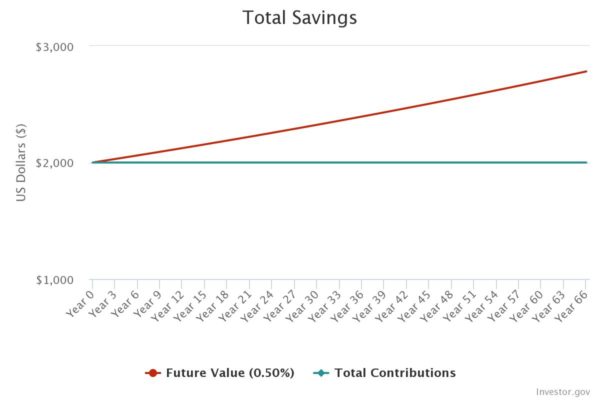 It wouldn't even be worth $3,000 when you retire 66 years later at todays interest rates.
This is a powerful reminder of why investing is so important.
And when you factor in current inflation rates that $2,000 saved (by really conservative estimates) would only be worth next to nothing when you retire.
So the point is, saving (when rates are as bad as they are right now) is going backwards with your money. It's better than wasting it, but if you really want to move forward financially investing wisely for the long-term has proven to be the most reliable way to do that.
In this article we are going to break this down. The surprisingly simple math it takes to become a millionaire -and how long it will take if you want to do it quickly, or really fast.
Next we will talk about the practical steps to get there. As in how to find money to do it. And then absolute most important keys to becoming a millionaire that almost no one talks about.
One more thing… I just want to clarify the reason behind all this. We believe money isn't the goal, but a tool to use fulfill what God put you on earth for. Got it? So let's build wealth, but do it for the right reasons – sound good?
As with everything I am not your financial advisor, just a friend trying to give you a little financial education based on what i've learned, so take this as financial education and not specific financial advice for your situation – deal?
If you'd rather see the video I created on this subject, check it out:
So let's talk about how to SAVE a million bucks
Trust me – you don't want to try to SAVE a million bucks.
Even If you save $100/month for the next 100 years (at today's current interest rates) you will have $156,000.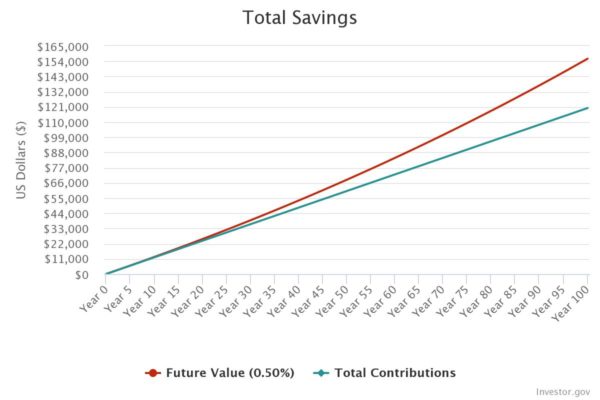 The point is, pretty much no one is going to SAVE your way to a million. You need to Invest it.
Ok so now let's look at some shorter paths to a million bucks
So we talked about the S&P 500 ETF that has averaged about 10% for the last 100 years. Of course we never know what will happen in the future, but that is a pretty good track record. Better than anything else we have to guess as to what might happen the next 10 or 100 years.
Assuming that 10% average continues and you contribute $500/month ($6k a year) to S&P 500 ETF (ticker VOO) this is where we could expect to be:
$500/month invested into S&P 500 Index Fund

How much do I need to invest to become a millionaire?
Looking at this from another angle, using the same assumed average return, this helps us see how the monthly contribution we make affects the length of time it takes to reach $1 million.
$100/month for 45 years = $1 million
$300/m for 34 years = $1 million
$500/m for 29 years = $1 million
$1,000/m for 23 years = $1 million
The good news is that ANYONE can do this – you don't need a financial advisor, you don't need to be a financial expert, you don't need to spend hours each day researching stocks or crypto, it's actually far easier than the financial industry wants us to believe.
We'll get to more of that in a minute but first we need money to invest.
Finding some money to invest:
I know a lot of people might be saying, I don't have an extra $500/month or even $100 month to invest right now.
Ok let's fix that.
The good news is that there are only 2 options really.
1. Cut and free up expenses
If you don't know where you are spending check out Personal Capital -you can see exactly where you have spent your money for the last few months – and exactly how much you have spent on eating out in about 5 mins. It's amazing app- and it's free. This is going to give you some ideas of what you could cut back on that you don't really care that much about.
My millionaire mentor taught me that there 2 key areas that Americans waste most of their money
From the purchase, to the maintenance, gasoline expenses, automobile insurance and everything in between.
2nd is eating out.
If you eat out every day, just by changing that habit (or maybe only eating out every other day) you could realistically save $200-$500 a month. Lot's of potential here.
(Check some of our other videos as we have a ton more ideas on this stuff…)
2. Earn just a little more each month with a side hustle.
I know no one wants to grab a side hustle, but it doesn't even need to be that much.
Now let's talk about how to turn some of this extra cash into a million bucks…
I spent the first 10 years of my career working at a bank and investment services company. And unfortunately there seems to be this conspiracy among the financial industry to make successful investing far more complicated than it needs to be.
The truth is, it is actually ridiculously easy to succeed as an investor– if you can just be consistent and patient.
I still remember getting started on this investing journey, hearing this exact same advice, and hoping that it was true.
But if I am honest, I wasn't sure it was. I just hoped that my mentor and some of the other great investing books I read were right.
Now being 16 years in on my investing journey, and having generally done a pretty good job at staying consistent and patient, I can say with confidence that this simple process works.
This is a look at how our assets have grown since I first learned this from my investing mentor 16 years ago.
What's the catch?
So for new investors this is mind blowing. I remember when I first was taught this by my millionaire mentor. I couldn't believe it. And I wondered why in all my 16 years of school, this was never part of the curriculum.
But here is the catch – there is risk.
It's really important to understand that investing in ANYTHING can lose money. And if you invest in the S&P 500 you will have years where you lose money.
Just look at this chart, there is a lot of red years (where your investment would go down).
But over the long term that money invested averaged a return of about 10%.
Most recently in the spring of 2020 we saw the S&P drop by about 34% and then by the end of the year it had come back and then some. Sometimes it bounces back fast and sometimes it takes a while, but the key is to just stick with it for the long-term.
So that's the risk is that we as investors have to deal with. But the thing I always remind investors is that while a savings account seems "safe" – is it really? Sure you probably won't ever see your balance drop in your account, but if its value is being eroded away each and every day by inflation, is that really as safe as we have been led to believe?
In fact right now you are essentially losing 7% of your "investment" in your savings account each year simply because of inflation.
The world's greatest Investor's greatest investing advice
You know Warren Buffett? I know I talk about him all the time – and for good reason. He is the greatest investor of the last 100 years and is just a really wise old man at this point.
His company, Berkshire Hathaway, is basically a mutual fund. And since Warren took over in 1964 it has performed incredibly well. Over the decades since it has averaged about a 20% annual return – which is simply amazing.
At the time of this writing Warren is 90 years old. He knows his time is coming to an end soon.
And he shared what his instructions for his wife on how he suggested that she invest after he is dead and gone.
What investing advice do you think the world's best investor gave to his wife?
I was just as curious as I hope you are.
And my mind was blown when I saw what he wrote in his will.
"Put 10% of the cash in short-term government bonds and 90% in a very low-cost S&P 500 index fund. (I suggest Vanguard's.) I believe the trust's long-term results from this policy will be superior to those attained by most investors…"
That's it.
The simplicity is mind-blowing.
And sure she is going to be in a very different financial situation than you and I, but he has the same fundamental desire for investments for his wife that you and I probably do: to make them grow with as little risk as possible.
Buffett continued explaining his rationale:
"I laid out what I thought the average person who is not an expert on stocks should do. And my widow will not be an expert on stocks. And I want to be sure she gets a decent result… And the rason for the 10% in short-term governments is that if there's a terrible period in the market and she's withdrawing 3% or 4% a year you take it out of that instead of selling stocks at the wrong time. She'll do fine with that. And anybody will do fine with that. It's low-cost, it's in a bunch of wonderful businesses, and it takes care of itself."
Investing can really be this simple
One of the hardest things as an investor is to not overcomplicate things. And as Billionaire Investor George Soros says:
"If investing is entertaining, if you're having fun, you're probably not making any money. Good investing is boring."
If you are curious what Vanguard's ETFs are for each of his suggestions here they are:
90% Vanguard S&P 500 ETF (VOO)
10% Vanguard Short-Term Treasury ETF (VGSH)
Ok hit the Like button if you are finding this helpful – I mean who doesn't like when you get an investing formula from the world's greatest investor?
It really can be this simple.
If you take nothing else from this, but start automatically doing this one thing Warren Recommended to his widow (ideally in a Roth IRA so you don't have to pay taxes when you cash out) when you look back 20-30 years from now I think your mind will be blown.
I am 16 years in on this journey and that has certainly been the case with me.
This one simple lesson could change everything for your financial future.
Don't underestimate the simplicity of it.
The most important key no one talks about:
Time. If you have been paying attention, time is the key factor here. That's why simply a single $2k investment can turn into $1 mil – because it takes 65 years.
And if you want to hit $1 mil in 23 years you need to invest $1k per month. Less time so it takes a lot more money.
But what is great is that TIME does the heavy lifting for us, if we let it.
Need more help? Take Our 10x Investing Course
You can take Warren's advice and run with it for yourself or your kids – but if you want a little more help with getting this all set up – a step-by-step guide – down to what buttons to press, then you might want to check out our 10x Investing Course where I teach exactly that.
My specialty is making complex financial concepts simple and so this course is easier to understand than some of my high school classes.
I also optimize all our courses for speed, so it isn't a dictionary of terms and useless jargon that you don't really need to know, but instead it is only the essentials that you need to know and then the exact strategies, tools, and investments that I've used over the last 16 years.
So within 2 hours you could be making your first investment of as little as $100 and be on your way.
Course savings
To sweeten the deal, just the first 7 people to enroll using code MENTOR15 will get 15% off. Link in description or just go to SeedTime.com/10x
10x Investing Course Plus Package
The basic package covers my more conservative approach to investing as a foundation – and then after I had that foundation built I took a small percentage of my money and began stock picking – and that's what we cover in the 10x Plus Package.
So if stock investing is something you are really interested in, I go into my strategy I followed to get those ~30x returns in the PLUS Package of my 10x Investing Course.
One final thought – why do you want a mil?
Watch this podcast episode where Linda and I discuss my 3 questions before chasing any financial goal to make sure my heart is right…
DISCLAIMER: Bob Lotich is a financial educator, not a financial/investment advisor. He is sharing his personal experience and opinions; therefore, all strategies, tips, suggestions, and recommendations shared are solely for entertainment purposes. There are financial risks associated with investing, and Bob Lotich's results are not typical; therefore, do not act or refrain from acting based on any information conveyed in this video, webpage, and/or external hyperlinks. For investment advice please seek the counsel of a financial/investment advisor and conduct your own due diligence.