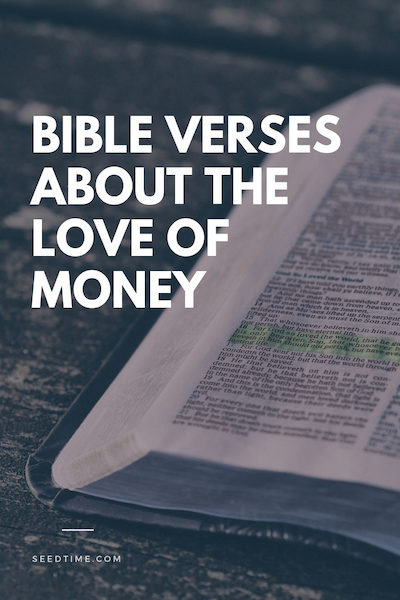 How many times have you heard that "money is the root of all evil"?
I can't even keep track anymore. The truth is that isn't in the Bible. It is a misquoting of one of the most powerful Bible verses about the love of money.
1 Tim 6:10 actually says:
"For the love of money is a root of all sorts of evil…"
Money in and of itself is not the issue. It is simply a tool. Like a hammer it can be used to help or harm.
But the love of money is the thing we need to be on guard against.
Here are a few scriptures that touch on this topic – let me know if you have any others in the comments down below!!
5 Bible Verses on the Love of Money
Matthew 19:21-26
Jesus said to him, "If you wish to be complete, go and sell your possessions and give to the poor, and you will have treasure in heaven; and come, follow Me." But when the young man heard this statement, he went away grieving; for he was one who owned much property. And Jesus said to His disciples, "Truly I say to you, it is hard for a rich man to enter the kingdom of heaven. "Again I say to you, it is easier for a camel to go through the eye of a needle, than for a rich man to enter the kingdom of God." When the disciples heard this, they were very astonished and said, "Then who can be saved?" And looking at them Jesus said to them, "With people this is impossible, but with God all things are possible."
Mark 4:19
But the worries of the world, and the deceitfulness of riches, and the desires for other things enter in and choke the word, and it becomes unfruitful.
Mark 8:36
For what does it profit a man to gain the whole world, and forfeit his soul?
1 Timothy 6:9-11
But those who want to get rich fall into temptation and a snare and many foolish and harmful desires which plunge men into ruin and destruction. For the love of money is a root of all sorts of evil, and some by longing for it have wandered away from the faith and pierced themselves with many griefs. But flee from these things, you man of God, and pursue righteousness, godliness, faith, love, perseverance and gentleness.
James 5:1-6
Come now, you rich, weep and howl for your miseries which are coming upon you. Your riches have rotted and your garments have become moth-eaten. Your gold and your silver have rusted; and their rust will be a witness against you and will consume your flesh like fire. It is in the last days that you have stored up your treasure! Behold, the pay of the laborers who mowed your fields, and which has been withheld by you, cries out against you; and the outcry of those who did the harvesting has reached the ears of the Lord of Sabaoth. You have lived luxuriously on the earth and led a life of wanton pleasure; you have fattened your hearts in a day of slaughter. You have condemned and put to death the righteous man; he does not resist you.