Note from Bob: This article was written by Christen P, someone who really has tried a ton of the work-from-home jobs out there. I asked her to share her experience with the 5 best ones out there, and she was gracious enough to oblige. So if this is something you are looking into, enjoy!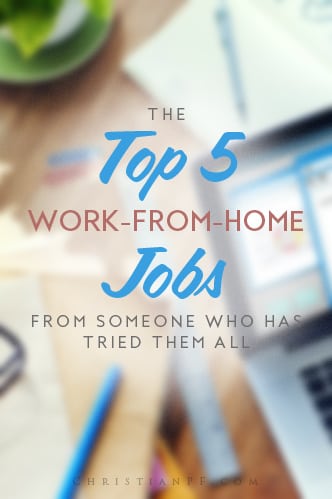 Working from home is an excellent option for people who want to be with their families and still earn a living.
When you work from home you can usually build a lot of flexibility into your schedule so that you can attend school functions for your children, care for sick family members, and tend to your household responsibilities.
Other perks include being able to shop when stores aren't busy and get medical appointments out of the way early in the day. By telecommuting, you also save money on childcare, travel expenses, and business attire.
It is not always easy to find a job that allows you to work from your home office. While the internet is full of valuable information, it is also a haven for scams and false leads.
That is why I put together a list of my favorite tried and true work-from-home jobs.
These are all jobs that I have personally done in order to stay at home with my children:
1.

LiveOps

LiveOps is a company that hires virtual call center agents. When you work for Live Ops you are considered an independent contractor for your own business. You are responsible for paying for your own criminal background check prior to starting work (this costs around $30). You also must have your own dedicated phone line and a quiet workspace.
Once you are all set up, LiveOps has an excellent online training program that teaches you how to handle calls from customers. You will be taking calls for many different companies. When you start working, your phone will ring and a script will pop up on your screen. You simply read the script word for word and input customer information as you go along. If customers have questions, there is a section on your screen with FAQs and you are also logged into a virtual chat room should you need to ask for support from a supervisor.
LiveOps is great because they often offer extra incentives for sales and they give you constant feedback on your performance. The pay is .25 per minute of talk time. The better your performance, the more calls are routed to you, and the more talk time you will accrue. Agents typically make anywhere from $7-$14 per hour. As for the hours, they are totally flexible. You can choose which shifts you want to work each week and the shifts are broken down into half-hour increments giving you optimal flexibility. You can even log in and work if you are not scheduled for some impromptu cash.
Some things to remember: As an independent contractor you are responsible for paying your own taxes. Also, always keep your commitments as this is what will ensure you get a high number of calls and possibly get invites into higher paying projects. I was able to secure the job of "sales specialist" when I worked for LiveOps. I was also invited to do outbound calling projects. I averaged $14 per hour.
2.

Fancy Hands
If you're looking for a lot of variety in your work, you may want to sign up to work as a virtual assistant for Fancy Hands. Once you are a Fancy Hands assistant, you can log on anytime and browse all of the tasks that people are requesting. These can be anything from proofreading to making sales calls, to finding a restaurant that serves a specific food in a specific city.
The tasks vary in what they pay. Each person requesting a task sets the price and assistants can choose whether they wish to take the job or not. You can log in and work anytime.
Hint: Log in often and do a great job.
Assistants with excellent track records are often promoted into supervisory positions where they can get paid to approve the work of other VAs. I enjoyed working for Fancy Hands when I wanted to mix things up and do something different. I loved the feeling of knowing I was helping someone. This is one of those gigs I'd do once in a while when there was a job that intrigued me.
3.

YouEye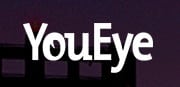 If you're looking to make some extra money, YouEye.com is a fabulous resource. This company conducts usability tests on websites. All you need is a web camera and a computer to get started. After signing up, you'll receive an email when there is a test available for you to conduct. You then log in and carry out various simple tasks such as, "Look for the price of a digital camera in this online store." The webcam will track your eye movement and you will be asked for feedback on your experience with the website.
Each test takes around fifteen minutes and pays $12. Be sure to check your email often because each test only requires a certain number of participants. Therefore, you'll want to snag the jobs quickly. I check my email often even utilizing my cell phone to do so when I am on the go so that I never miss an opportunity.
Since $12 for 15 minutes is equal to $48 an hour, I feel that YouEye gives me a really fair price for my time and efforts. I like taking the tests, too. At first, I felt a little strange because they ask you to answer their questions aloud, but I got used to it and I enjoy it now.
4.

Leapforce

If you are interested in improving the quality of search engines, you will enjoy working for Leapforce. When you work for Leapforce you generally are asked to review search engine results and rank them on how relevant they are to the search query in question. This job pays $13.50 per hour and you can log in and work anytime you wish as long as there is work available.
In order to secure this position, you are required to study a manual of about 120 pages and take a test on what you learn. It takes about a week to become adept enough to pass the test. There is almost always work available although there are times late at night where you may find they have nothing for you to do. This job requires you to be as exact as possible and you'll find you'll have to refer back to the manual often in the beginning.
Leapforce is a great option for those who like to work independently and aren't crazy about dealing with customers. I am a very technically-inclined person and I like working independently. I was able to bank a lot of money from Leapforce during my 6-month contract with them.
However, I cannot say that I enjoyed the work as much as I thought I would. It turns out I am a people person, which came as a surprise to me. I have a lot of friends that are still loving Leapforce though and I think the money is very good for a work-from-home job that doesn't require a degree.
5.

Textbroker

If you are interested in freelance writing but are not sure where to begin, Textbroker.com is a nice place to start. Once you sign up with Textbroker you are asked to choose your areas of expertise. These are the topics you would like to write about. You then compose a sample piece in order to be rated.
Writers are rated on a five-star system, five stars being the highest. Your compensation is determined this way. Your rating is always based on your last five articles so it changes as you go along. Once you are accepted and ranked, you can log in to Textbroker any time and choose articles within your rating level or lower. Once your article is accepted your pay will be deposited in your Textbroker account. You can cash out your earnings and have them deposited into your Paypal account anytime as long as you have a minimum of $10.
If you're interested in Textbroker, I suggest you work as hard as possible on your sample piece by taking the time to research your topic extensively and to rewrite your draft several times. I also recommend you work equally as hard on the first five articles you do after the sample. This will set a good foundation for you to begin earning at a higher rate of pay than you would if you just handed in your first draft.
If you do start with a low rating, don't get discouraged. Just keep writing because the more you write, the more you will improve! I personally love taking on writing projects. I learn so much from researching and I enjoy teaching others about what I learn and experience. At first, I did not make much with this company but over time my rate of pay and my writing have improved.
Nobody should have to sacrifice time with the people they love because they have to work. We should never have to choose between our families and our basic needs.
Thankfully, there are real opportunities available that can enable people to "have it all." These are some of my favorites!
If you're looking for more ideas for legit at-home jobs, check out the video below!
What are some other work-from-home jobs you've tried and liked? Leave a comment!