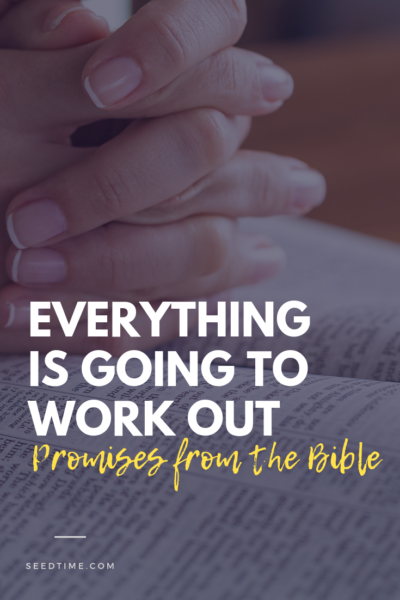 How do you respond when your child needs surgery? Your 401k loses half its value?
Your business partner embezzles funds from you? Your spouse is diagnosed with cancer?
You feel like you have failed God one time too many? You discover that your trusted pastor has been having an affair?
If you are like me, your first thought is not "everything will work out."
Well-meaning friends may try to comfort me with those words, but, at the moment of anguish, I would prefer a friend who will simply sit with me, weep with me, and pray with me.
This being said, the Bible gives ample promise that everything will indeed work out.
After all, we serve a sovereign God who is never surprised by any misfortune which comes our way. My hope is that you can deeply absorb the following verses so that, when all logical hope disappears, these promises will surface and deliver a hope that defies logic. All verses are from the English Standard Version.
And we know that for those who love God all things work together for good, for those who are called according to his purpose. – Romans 8:28
Although this verse is so commonly used it can become a cliché, I urge you to step back and give it a fresh look. Paul is reminding us that we serve a God who is sovereign – who is always prepared for any apparent contingency and who specializes in making something good from our worst nightmares. Our part? To love Him and be committed to seeing His plans carried out. His part? To make everything work out according to his purpose.
How about you? Do love God? Are you willing to forego your agenda in order to rejoice in His agenda?
Keep your life free from love of money, and be content with what you have, for he has said, "I will never leave you nor forsake you." – Hebrews 13:5
We live in a materialistic world – a world in love with money; a world which breeds discontentment; a world with upside down priorities. Yet God offers us a promise which trumps the biggest house, the fanciest car and the healthiest bank account: He will never leave us or forsake us. Let that soak in. Our parents may precede us in death. Our best friends may forget about us. Our spouses may cheat on us. But our Father in heaven will NEVER leave us. Our part? To shun materialism and be content with what we have.
How about you? Do you seek security in worldly goods? Do you plan on being content "some day?" Why not relax from the rat race and discover true security in a God who will stick with you no matter what?
And I am sure of this, that he who began a good work in you will bring it to completion at the day of Jesus Christ. – Philippians 1:6
Do you ever feel like you are spinning your spiritual wheels? Do you feel guilty when the preacher proclaims, "If you are the same place in your walk today that you were five years ago, you are backsliding"? The good news is that the work isn't yours; it is God's. Yes, He is doing the work in you, but it is nevertheless His project. Enjoy Him and celebrate. He always completes what He starts. His part? To start and complete your spiritual transformation. Your part? To enjoy the process.
How about you? Are you guilty of beating yourself up when your spiritual progress hits a snag? Remember the promise that the God who created the universe in six days will complete what He has started in you.
I write these things to you who believe in the name of the Son of God that you may know that you have eternal life. – 1 John 5:13
As this verse promises, we can know that we have eternal life. Why? Because our faith is not based on anything we have done but on everything Christ has done. I love being able to live life on this earth while knowing that my destiny in heaven is certain. Our part? To believe on the name of the Son of God. His part? To secure that salvation by offering his sin-free life as a sacrifice for our sins.
How about you? Do you struggle with doubts about your eternal destiny? Is it because you are trying to earn your own way? Relax: Jesus has already done it for you.
For I am sure that neither death nor life, nor angels nor rulers, nor things present nor things to come, nor powers, nor height nor depth, nor anything else in all creation, will be able to separate us from the love of God in Christ Jesus our Lord. – Romans 8:38-39
God may allow some terrible things to happen, but life circumstances, even when we don't understand them, should never give us license to doubt God's love for us. Why? Because His word promises His absolute love. Our part? To believe that word. His part? To love us unconditionally.
How about you? When your world comes crashing in around you, do you doubt God's love for you? Remember: you may never understand the "why's" in this life, but your lack of understanding doesn't diminish His love for you.
You might not be going through a tough time in your life today, but, hopefully, when that time comes, these bible promises will give you the assurance that everything is going to work out.
Readers, which of these promises are easy for you to believe? Which are a challenge to believe? Any additional bible promises which you love to cling to?