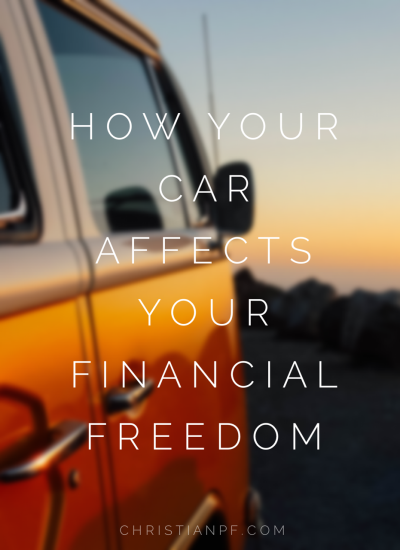 I had a revelation about cars that has caused me to not really care about what mine looks like.
It's not that I don't want a really fast car, it is just that there is something I want a bit more: financial freedom.
Is any car worth your financial freedom?
The thing I have noticed is that so many people give up financial freedom for their whole lives solely because of the decisions they make with their cars.
I know it sounds like a bold statement, but I think it is frightening how true it is.
For most people, a car is the second-largest purchase they ever make. Second only to their home.
The huge difference is that even if they make a bad home purchase, generally speaking, it will go up in value over time.
Car Depreciation, on the other hand, is a beast. Regardless of whether you buy a new or used car, it is going to go down in value, but the key is how fast does it go down in value?
So, if you compare a new car vs. a 6-year-old car, the new car will lose a couple thousand dollars in resale value each year. The 6-year-old car, on the other hand, will lose several hundred each year.
If you think about it from an investor's perspective, it is easy to see that if you must have an investment that loses value, you will probably pick the one that loses LESS each year.
What if your car choice costs you $1 million?
Years ago a friend of mine illustrated this concept perfectly.
He bought a 10-year-old Ford Taurus for $500 from his grandma. He drove the car for 4-5 years and then sold it for $800.
Not a bad investment at all.
It is an especially good investment when during the same period I saw friends buy brand new $25,000 cars and trade them in when they got sick of them a couple years later.
My first friend had a monthly payment of $0 for 5 years and sold his car at a profit, while the other friends were paying $400+ a month on a car payment and ended up selling their cars for less than they owed.
My first friend had that $400 to invest each month. The amazing thing is that one simple decision very well could have made my first friend $1 million in retirement.
That is why I am okay with driving an older car. The new car smell is nice, but not worth $1 million.
Should I never buy a new car?
Dave Ramsey would say yes. I don't necessarily feel that strongly about it, but financially speaking it isn't the best decision. I do realize that there are other "nonfinancial" factors that could be affecting the decision.
But, I will say this – IF you do buy a new car…
Research it (I like consumerreports.com the best) and find a reliable one
Maintain it
Take great care of it
Plan on keeping it for a decade
These are the best ways to get your money's worth out of it.
Break the car-payment cycle
The key is to break out of the car payment cycle. Far too many Americans believe that they will always have a car payment.
The goal should be to get the cars paid off as fast as possible, then start saving to buy the next one with cash.
It is a nice feeling to have all your cars paid off and be in a position where you can save $400 a month to buy your next car with cash, rather than using that $400 to pay off a loan.
We have been fortunate to be able to buy our last two cars with cash, and I can tell you it is really fun. I hope you get to do the same soon!
Linda and I continue this topic in the video below, where we debate "new car smell" and why we continue to avoid buying new cars.