A 6-Week Bible Study To Better Manage Your Money!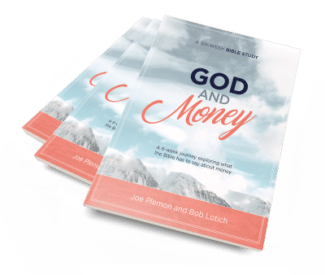 If you want to get a better understanding of what the Bible says about our money, get a copy of God & Money today.
Designed for both small groups and individuals, God & Money will teach you invaluable financial lessons, encourage discussion, and offer action items to help you get results.
Take a peek inside with Bob!
What"s in the Book?
God & Money is broken up into 6 short chapters that make it perfect for a six-week small group study or individual use. Each chapter shines a light on a particular Biblical principle, offers action steps that will help you put what you learn to action, and provides discussion questions to help you gain a deeper understanding.
These are just a few of the topics covered:
Practical steps to not have such a tight grip on "our stuff"
The pros and cons of percentage giving (including tithing)
5 tips for achieving giving goals
How to give more when you don"t have it to give
6 things we should be saving for
The truth about whether or not debt is a sin
How to know if you are in one of the extremes of saving
How to find true biblical contentment and be happy with what we have
The true cost of our debt "" it"s way more than we think
The top predictor of divorce
How to manage money with your spouse
About the authors
Bob Lotich used his passion for Biblical personal finance to launch SeedTime.com in 2007. His writing and advice have been featured in Forbes, Yahoo Finance, Men"s Health, Real Simple, and others.
Joe Plemon has been a Christian Financial Coach since 2006 and has helped hundreds of individuals and families create workable plans to eliminate their debt and get control of their money.
Individual Packages