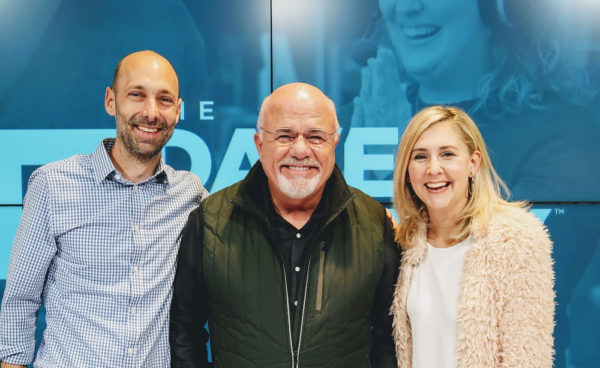 Let me start by honoring Dave Ramsey because he has been a big influence in my life and I am so grateful for the millions of people that he has helped over the years.
But to be honest, for a while I struggled… wondering if I should even go through the work of writing a book or creating courses because "is it really needed if Dave Ramsey has one?"
As a creative, it is easy to feel like what we have to share and offer doesn't matter because someone else is already doing it.
But if you apply that logic to many other areas, it doesn't hold up. Let's take restaurants, for instance.
We probably have 10-15 tex-mex restaurants within 20 mins of my house.
And just last week, another one opened up.
There wasn't a single part of me that was annoyed or even thought that was a bad idea on their part.
I am just excited to see how they will create a taco. Sure, countless others have created a taco in a million different ways, but I am excited to see what they do differently.
And I enjoy the variety.
Dave, SeedTime, & Suze Orman
And if we take this analogy down a level, I might even say that Dave and SeedTime are both the same type of restaurant. So we might be Tex-Mex, whereas Suze Orman might be a burger joint.
But within this Tex-Mex category that Dave and SeedTime both reside (because we have a lot of similarities) Dave might be a beef burrito while we are fish tacos. Both good, many similarities, but also distinctly different.
And if all you have ever eaten is beef burritos, you might enjoy trying a fish taco.
Or maybe not.
But I think it's nice to at least have that option…
And that's why we wrote a book. That's why we create courses.
It's not because we don't like beef burritos. It's just that we think some people like fish tacos, too.
And we want to serve the people who love fish tacos as best as we possibly can.
And at the end of the day, Dave, his team and the SeedTime team all work for the same restaurant owner. And I believe that He loves His customers enough that He wants to give them some different menu options.
The challenge: can we sell more books than Dave in a single day?
One of the fun things about Amazon's best-seller list (as opposed to the old standards like NYT or WSJ) is that Amazon updates their list much more frequently and is constantly showing the results.
And so when you launch a book and have an amazing community of supporters like we have in the SeedTime family, you get to watch the book climb the charts throughout the day.
I was curious to see if we could grab the best-seller spot on the Amazon list, even just for a day.
Dave Ramsey consistently sits at the top of this list and so grabbing the #1 spot is a pretty big feat considering he has a team of 900 (we have a team of 4) and his book has been on the market for nearly 20 years.
And not to mention all the other great books out there selling loads of copies…
But apparently some of y'all like fish tacos…
So from the bottom of our hearts, Linda and I just want to say thank you to all of you who decided to try fish tacos this week.
We hope you enjoy your fish taco!
And if you have yet to try our fish tacos, I recommend starting here.