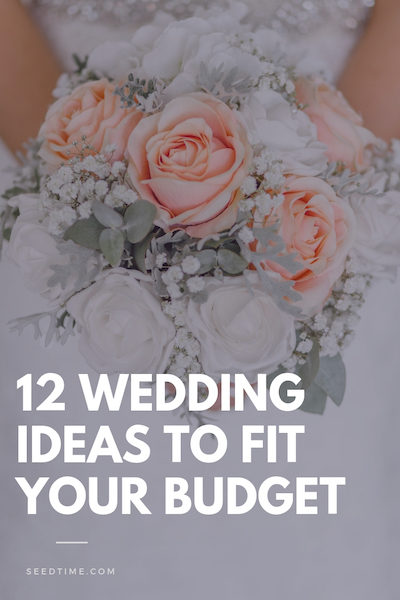 My husband asked me to marry him in November and we planned a February wedding. My younger sister, however, had already been engaged for over a year with a June wedding planned. I was accused of trying to upstage her wedding, steal her guests, and use up Daddy's money. Of all things, I better not use up Daddy's money.
Whatever your reasons for needing wedding ideas on a budget, I have the ideas for you. From the dress to the dip to the daffodils, I did it to save Daddy's money.
The Gown
Wedding gowns can cost as much as a new car; and you don't get near 100,000 miles out of them. My mother made mine. But even brides without seamstress mothers can save big on this expense.
Borrow a gown. Has your older sister, or a friend, already tied the knot? If you are close in size, that could be an option. As a courtesy, have it cleaned and boxed before returning it.
Purchase a used gown. You can purchase wedding gowns in thrift stores for as little as $25. Check consignment shops or the newspaper. One week our paper listed 14 gowns for sale. The prices ranged from $80 to $500 and the sizes from 2 to 22. If you find one you like but it doesn't quite fit, ask a seamstress if it could be altered. Also, remember that embellishments like beads, sequins, etc. can be changed or added.
If you know how, sew your own; or find someone to make your dress. Provide pictures of what you want and get an estimate. I guarantee the price will beat the one in the magazine.
Finally, go non-conventional. Anything that does not look like a wedding gown costs considerably less. Plan a themed wedding and dress accordingly, e.g.: a western outfit for a cowboy wedding. Or, if you never wear dresses, wear a nice pants suit and stylish hat.
The Flowers
Every girl likes flowers; but fresh flowers cost a lot of money. Here are a few ideas to save on this wedding essential.
Make your own arrangements using silk flowers. If you don't feel confident enough to do this, enlist the help of your crafty friends.
Raid the gardens of family and friends. Several years ago, when my neighbor's niece married, she came the day before the wedding and gathered arm loads of English Ivy from my neighbor's garden. Ask everyone you know to donate a vase full of flowers and you will have plenty.
Think outside the box. For an evening wedding, carry candles.
Grow your own. Another friend's daughter planned an August wedding. That spring she planted a big bed of Black-eyed Susans. Her attendants carried little nosegays of them, she set vases of them along the aisle of the church, made boutonnières for the men, and used them to decorate the reception hall. Her cost? A few seed packets, ribbons and vases.
Invitations on A Budget
My father owned a print shop. He printed our invitations free of charge. I never realized how much they cost until my son got engaged. With home computers and paper choices at the mega craft supply houses, you can drastically cut invitation costs.
My daughter-in-law bought a package of parchment card stock, another package of vellum, some rolls of ribbon and a box of envelopes. My daughter designed the wedding invitations on our home computer. They printed them on the vellum, punched holes at the top through the vellum piece and the parchment piece and attached the two with a length of ribbon tied into a bow. They used a decorative corner punch on the vellum to dress it up. Under the vellum piece they tucked their engagement photo. Also in the envelope was a card with response and reception information. To save on postage, they had responses come to an email address.
You can also purchase ready-made invitation cardstock for printing on your home computer, but my daughter-in-law found her way to be less expensive.
The Menu
Food cuts another big chunk out of any wedding budget. If you want more than cake and punch at your reception, here are a few ideas to keep it simple.
Do it yourself. A young lady in our church married in September. She and her mother spent several weeks prior to the ceremony cooking and freezing for the reception. What you cannot freeze ahead, purchase already prepared at your local warehouse store, e.g.: vegetable platters, fruit platters, dips and salads. Enlist a helper to do the last minute preparations.
Order what you need from your favorite grocery store's deli. My mother picked up the food for my wedding, already arranged on trays and platters, on her way to the church. The preparer? Publix supermarket. They made my cake, too, for a fraction of the cost.
Make it a covered dish. This works great for informal ceremonies. For instance, you provide the barbeque ribs and lemonade. Your guests bring the potato salad, coleslaw and baked beans.
The Pictures
To save on photography, ask a friend skilled with a camera to take your pictures. After the wedding, he need only give you the memory card. You can then sort through all the pictures on your computer, add any special effects you want, save them on a CD, and have them printed at the shop of your choice.
I hope these tips help you get going. After all, no girl's wedding should use up all of Daddy's money.