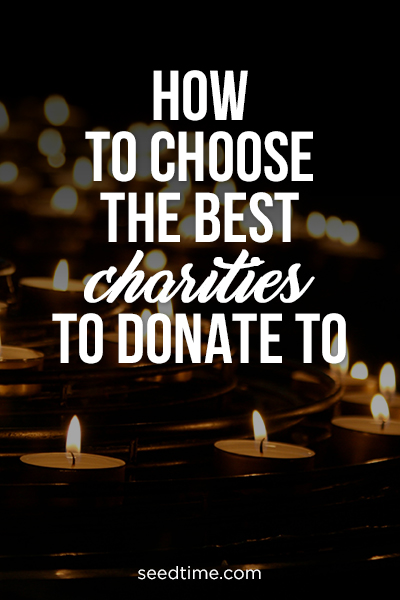 There are currently over 1.5 million nonprofit charities in the United States, according to the IRS.
All of these organizations purport to do good work and make a difference, so how do you decide which ones are the best charities to donate to?
Back in 2005, an email began to circulate on the Internet imploring people to "Think Before You Donate."
The email targeted specific charities whom it claimed were not worthy of your donations because of how much compensation their CEO received, and other charities who were more worthy because of how little compensation the CEO received.
The email went viral and, eleven years later, is still being circulated. Unfortunately, much of the information in it is inaccurate, outdated, and out of context.
But because it was on the Internet, people believed it and kept forwarding it without verifying its claims.
And groups like Goodwill, who were unfairly maligned, have to keep fighting it to set the record straight.
Despite the fact that people didn't think (or verify) before forwarding this email on to others, the premise behind it was good "" we should think before we donate. But what criteria should we use before donating to charity? And how can we be sure that our money will be used well and go to the people who need it?
Choosing the Best Charities
Here are four things to consider when choosing which charities to donate to…
1. Affinity
Give to charities that you're personally connected to or affiliated with somehow. Like your church or denomination, your alma mater, an organization you volunteer with, a listener-supported radio station you listen to, etc. The closer you are to the organization, the more confident you can be that they're really doing what they say they're going to do, and in the way you hoped they'd do it.
2. A Cause You Care About
Give to charities that are working on causes or passion areas you really care about. Like evangelism and missions, abortion prevention, cancer research, the environment, politics, the arts, children, fraternal organization, the symphony, museums, etc. The more you care about what they do, the more you'll want to stay engaged and informed.
3. Good Financial Stewardship
Give to charities that spend the majority of their income on programming and lesser amounts on overhead costs like fundraising and administration. There is no hard or fast rule on how much is acceptable for overhead "" it varies depending on the type of organization and where it is in its life cycle.
For example, new organizations often spend more on fundraising and administration for the first few years because they're just getting started. But a general rule of thumb for the best charities is to spend 80-90% on programming and just 10-20% on overhead (including staff salaries and fundraising costs).
Another factor to look at is how much the organization pays in salary to their CEO, which is what that "Think Before You Donate" hoax was getting after. But compensation is somewhat subjective because it all depends on the context like the CEO's experience, the organization's size, scope and budget, the cost of living in the community where the organization is located, etc.
4. Good Board Governance and Accountability
Give to charities that have an active, informed, and independent board. A good rule of thumb for the board is to have at least five members who are not employees of the organization or family members of the CEO.
If the board is made up of several staff or family members, there is greater risk that they will not act independently or in the best interests of the organization. Also, look to see if they submit to an annual independent audit or review of their financial records.
Researching Charities
So how do you know if the charity you're interested in supporting practices good financial stewardship and board governance? Should you really be giving to them? Here's how you find out.
1. Contact them for information.
Don't be afraid to call and ask to speak to someone about the work they do, how much of their income goes to programming expenses, etc.
2. Research their website.
Many organizations are open and transparent about their financial and management practices and post their most recent financial audit report or IRS 990 form online for all to see.
The audit report is a report of their finances and financial practices, which is conducted by an independent accounting firm.  The 990 form is an annual tax return that most tax-exempt organizations (excluding churches) are required to file with the IRS each year.
3. Check third-party sources.
It's easier than ever to research charities online thanks to charity evaluator and accreditation sites like GuideStar, Charity Navigator, and the Evangelical Council for Financial Accountability (ECFA). Each site offers an easy way to look-up your favorite charity to see if they're listed and to learn about their governance, finances, programming focus, and more.
What are the best charities to donate to?  For me, they do work I believe in and am passionate about, are financially responsible, and open and transparent. What do you look for when deciding which charities to donate to? Leave a comment!