(The following is a transcription from a video I recorded. Please excuse any typos or errors.)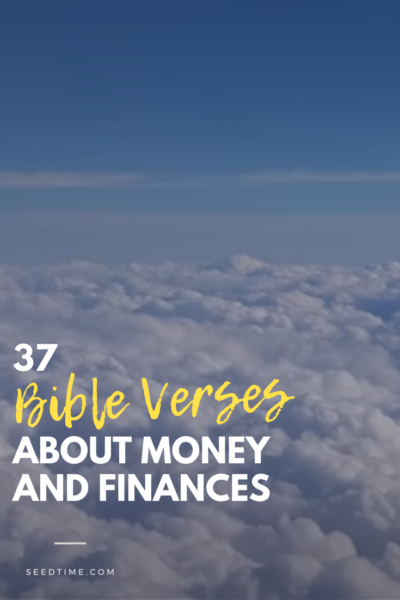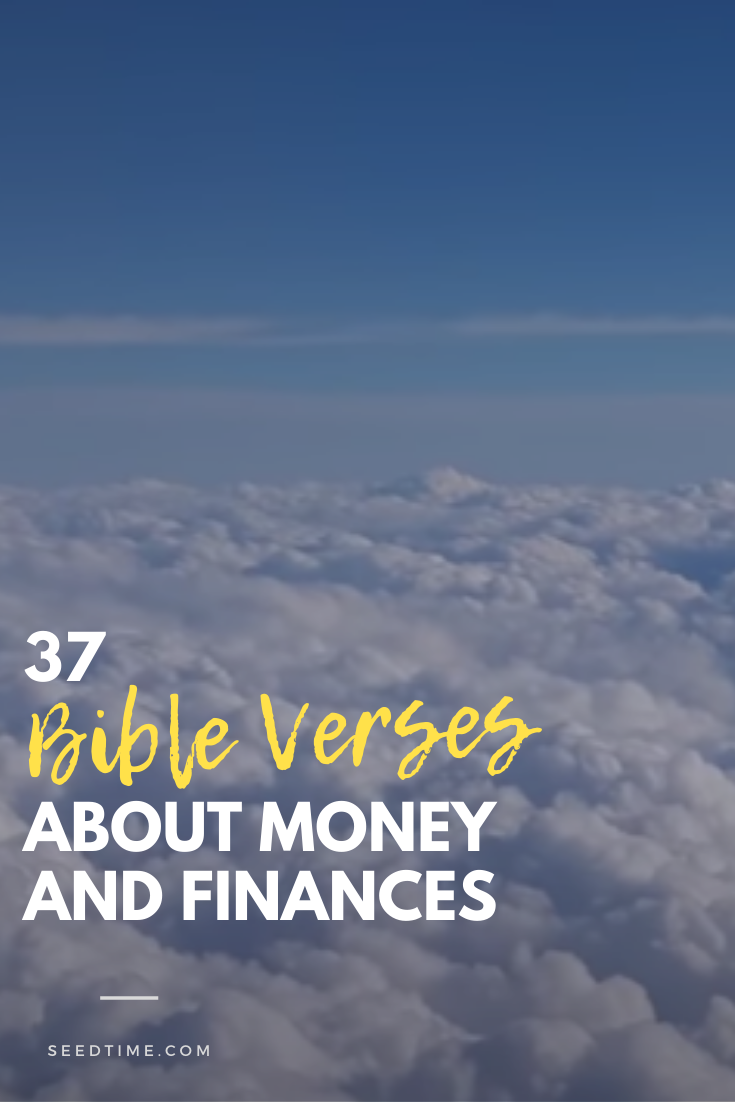 Finances. No matter who we are, what we do, or where we come from, money is a major subject in one's life.
How will I earn money? What are the ways I can save money? Where and when should I give?
In any financial circumstance, the first place I turn to is The Bible. God has given us the blueprint for our finances in scripture.
And, I want to share with you 37 Bible Verses about money and finances that have affected me the most when it comes to money. The Bible has give me a great structure in managing money God's way!
If you would like to watch our YouTube video of the 37 Bible Verses About Money And Finances, you can do so here:
1. Philippians 4:19

And my God will supply all your needs according to His riches in glory in Christ Jesus"
2. 1 Corinthians 16:2

On the first day of every week each one of you is to put aside and save, as he may prosper, so that no collections be made when I come"
3. Proverbs 12:11

He who tills his land will have plenty of bread, but he who pursues worthless things lack sense."
4. Ecclesiastes 5:10

Whoever loves money never has money enough; whoever loves wealth is never satisfied with his income. This too is meaningless."
5. Matthew 6:31-32

Do not worry then, saying 'What will we eat?' or 'What will we drink?' or 'What will we wear for clothing?' For the Gentiles eagerly seek all these things; for your heavenly Father knows that you need all these things."
6. Proverbs 10:4

Poor is he who works with a negligent hand, but the hand of the diligent makes rich."
7. Deuteronomy 15:6

For the Lord your God will bless you as He has promised you, and you will lend to many nations, but you will not borrow; and you will rule over many nations, but they will not rule over you."
8. Proverbs 28:19-20

He who tills his land will have plenty of food, but he who follows empty pursuits will have poverty plenty. A faithful man will abound with blessings, but he who makes haste to be rich will not go unpunished."
9. Psalm 37:25

I have been young and now I am old, yet I have not seen the righteous forsaken or his descendants begging bread."
10. 2 Corinthians 9:8

And God is able to make all grace abound to you, so that always having all sufficiency in everything; you may have an abundance for every good deed;"
11. 1 Timothy 6:10

For the love of money is a root of all kinds of evil. Some people, eager for money, have wandered from the faith and pierced themselves with many griefs."
12. Psalm 112:5

It is well with the man who deals generously and lends, who conducts his affairs with justice."
13. Proverbs 13:11

Dishonest money dwindles away, but he who gathers money little by little makes it grow."
14. Philippians 4:16-17

…No church shared with me in the matter of giving and receiving but you alone; for even in Thesssalonica you send a gift more than once for my needs. Not that I seek the gift itself, but I seek for the profit which increases to your account."
15. Luke 3:14

Some soldiers were questioning Him, saying 'And what about us, what shall we do?' And He said to them, 'Do not take money from anyone by force, or accuse anyone falsely, and be content with your wages."
16. Philippians 4:11-13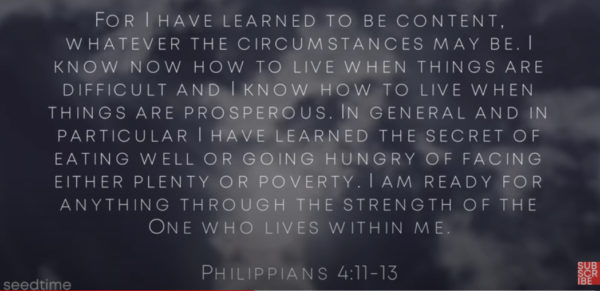 For I have learned to be content, whatever the circumstances may be, I know now how to live when things are difficult and I know how to live when things are prosperous. In general and in particular I have learned the secret of eating well or going hungry of facing either plenty or poverty. I am ready for anything through the strength of the one who lives within me."
17. Hebrews 13:5

Keep your life free from the love of money, and be content with what you have."
18. Proverbs 21:5

The thoughts of the diligent tend only to plenty; but the thoughts of everyone who is hasty only to poverty."
19. Psalm 37:21

The wicked borrows and does not pay back, but the righteous is gracious and gives."
20. Proverbs 28:27

He who gives to the poor will never want, but he who shuts his eyes will have many curses."
21. Malachi 3:10

Bring the whole tithe into the storehouse, so that there may be food in My house, and test Me now in this,' says The Lord of Hosts, 'If I will not open for you the windows of heaven and pour out for you a blessing until it overflows.' "
22. Deuteronomy 28:12

The Lord will open for you His good storehouse, the heavens, to give rain to your land in its season and to bless all the work of your hand; and you shall lend to many nations, but you shall not borrow."
23. Proverbs 22:9

He who is generous will be blessed, for he gives some of his food to the poor."
24. 2 Corinthians 9:10

Now He who supplies seed to the sower and bread for food will supply and multiply your seed for sowing and increase the harvest of your righteousness."
25. Galatians 6:7

Do not be deceived, God is not mocked; for whatever a man sows, this he will also reap."
26. Deuteronomy 8:18

…Remember the Lord your God, for it is He who give you the ability to produce wealth."
27. Proverbs 6:6-8

Go to the ant, sluggard; consider her ways and be wise; who having no guide, overseer, or ruler, provides her food in the Summer and gathers her food in harvest."
28. Luke 16:10

He who is faithful in very little thing is faithful also in much; and he who is unrighteous in very little thing is unrighteous also in much."
29. Proverbs 22:7

The rich rules over the poor, and the borrower becomes the lender's slave."
30. Proverbs 22:26-27

Do not be a man who strikes hands in pledge or puts up security for debts; if you lack the means to pay, your very bed will be snatched from under you."
31. Ecclesiastes 5:5

It is better that you should not vow than that you should vow and not pay."
32. Romans 13:8

Owe nothing to anyone except to love one another; for he who loves his neighbor has fullfilled the law."
33. Proverbs 23:4

Do not weary yourself to gain wealth, cease from your consideration of it."
34. Luke 6:38

Give, and it will be given to you. They will pour into your lap a good measure, pressed down, shaken together, and running over. For by your standard of measure it will be measured to you in return."
35. Proverbs 3:9-10

Honor the Lord from your wealth and from the first of all your produce; so your barns will be filled with plenty and your vats will overflow with new wine."
36. Acts 20:35

In everything I showed you that by working hard in this manner you must help the weak and remember the words of the Lord Jesus, that He Himself said, 'It is more blessed to give than to receive.' "
37. Proverbs 11:24-25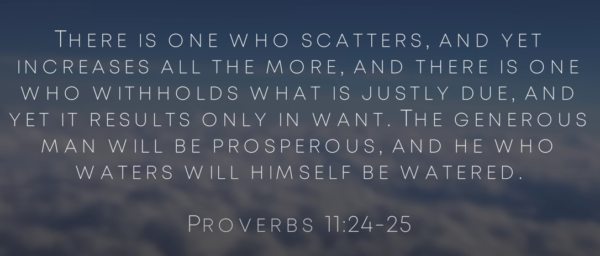 There is one who scatters, and yet increases all the more, and there is one who withholds what is justly due, and yet it results only in want. The generous man will be prosperous, and he who waters will himself be watered."
Our Gift To You
We hope you enjoyed the 37 Bible Verses About Money And Finances to help you in your financial journey from best resource when it comes to our finances, The Bible. If you would like to download these verses and print them out for reference, get the FREE PDF here: https://SeedTime.com/verses.
Do you have any other Bible verse about finances that should be added to this list? Just let us know in the comments below!