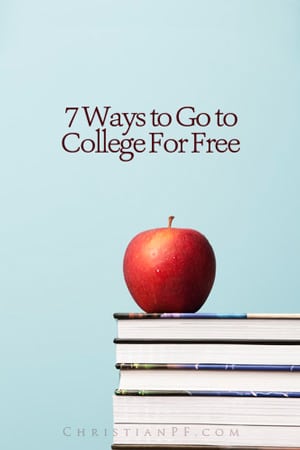 Tuition. Fees. Books. It all adds up!
College can be ridiculously expensive, but it doesn't have to be.
Don't accept the idea that you're going to pay an arm and a leg for college.
You can go to college for free.
How to Go to College for Free
Take a look at some of these methods that have the potential to put you through college for free. Some will work well with your circumstances, others won't – think through them to decide what's best for you!
1. Serve Your Country
The Air Force, U.S. Coast Guard, Air Force, Merchant Marine, Military, and Naval Academies offer a free college education to those who serve after college.
The requirements vary, but military training is required and those serving must commit to up to 10 years of service. That's a lot of service, but it's for a great cause.
Serving your country is a noble endeavor, and should you choose to do so, you absolutely deserve a free college education.
2. Work at Your College
While colleges charge students tuition, it's not always the same for college employees.
That's right, you might be able to get a free college education by working at your college of choice. Even if you don't get an entirely free college education, many colleges offer at least some degree of tuition assistance to those who help around the school.
3. Have Your Employer Pay
Some employers offer tuition reimbursement programs, especially for areas of study related to their industry. For example, if you're working for a medical clinic, your employer may pay all or part of your education to become a registered nurse.
Ask your employer (or future employer) if they offer tuition reimbursement (if you're shy, read through the benefits online).
4. Secure Grants
By applying for FAFSA, you'll find out if you qualify for the Federal Pell Grant.
But there are many more college grants available, and you can find them at Edutopia.org.
5. Apply for Scholarships
There are also scholarships available at many colleges, offered by generous donors. Talk with your college to see what scholarships are available. Check out a college scholarship guide to learn where to apply, and then apply for as many as you can!
You can also find scholarships through Fastweb.com, a database of scholarships that automatically matches scholarships with your Fastweb profile.
6. Find a Tuition-Free College
It's surprising, but they do exist.
There's a good list on U.S. News, although many of the tuition-free colleges require some kind of special condition – such as enrollment in a music program.
Barclay College is one example of a Christian institution that, upon acceptance into the program, gives all resident students a $11,000 full-tuition scholarship.
7. Try Fundraising
Are your friends and family extra generous? Try fundraising!
GoFundMe is a great way to fundraise that allows you to create your fundraising campaign, share it with family and friends, accept donations, and withdraw funds to your bank account (or you can request a check).
Many people use GoFundMe for their college fundraising campaign, and the website even advertises this as an option.
Also, you won't have to worry about your donors getting charged anything extra beyond their donation amount. Other online fundraising services sometimes charge donors an extra fee. Instead, GoFundMe charges you a 5% fee from each donation you receive. That's not bad, and would probably be made up by increasing donations through the use of their well-designed website.
Final Thoughts
Many who sign up for student loans end up paying those student loans for years to come. Even if you can afford to pay in cash, college can take a huge chunk out of your bank account.
You can go to college free of charge. Brainstorm your plan, work hard to achieve it, and be amazed at the results!
Are there any other ways to go to college for free? Leave a comment!