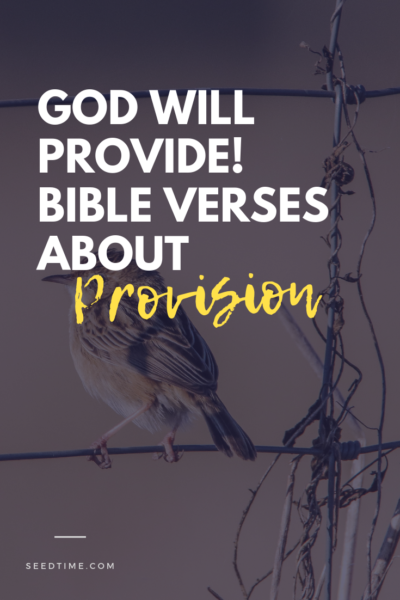 God will provide! Even when you cannot see God at work in your life, He is there! His ways and timing are not our own. Here are some Bible Verses about Provision for you.
Nehemiah 6:9
They were all trying to frighten us, thinking, "Their hands will get too weak for the work, and it will not be completed." But I prayed, "Now strengthen my hands."
1 Kings 17:13-16
Then Elijah said to her, "Do not fear; go, do as you have said, but make me a little bread cake from it first and bring it out to me, and afterward you may make one for yourself and for your son. For thus says the Lord God of Israel, 'The bowl of flour shall not be exhausted, nor shall the jar of oil be empty, until the day that the Lord sends rain on the face of the earth.'" So she went and did according to the word of Elijah, and she and he and her household ate for many days. The bowl of flour was not exhausted nor did the jar of oil become empty, according to the word of the Lord which He spoke through Elijah.
Psalm 37:25
I have been young and now I am old, yet I have not seen the righteous forsaken or his descendants begging bread.
Matthew 6:31-32
Do not worry then, saying, 'What will we eat?' or 'What will we drink?' or 'What will we wear for clothing?' For the Gentiles eagerly seek all these things; for your heavenly Father knows that you need all these things.
Matthew 7:11
If you then, being evil, know how to give good gifts to your children, how much more will your Father who is in heaven give what is good to those who ask Him!
Luke 12:7
Indeed, the very hairs of your head are all numbered. Do not fear; you are more valuable than many sparrows.
John 21:6
And He said to them, "Cast the net on the right-hand side of the boat and you will find a catch." So they cast, and then they were not able to haul it in because of the great number of fish.
2 Corinthians 9:8
And God is able to make all grace abound to you, so that always having all sufficiency in everything; you may have an abundance for every good deed;
Philippians 4:19
And my God will supply all your needs according to His riches in glory in Christ Jesus.
Related articles about God's provision:
The operating manual I followed to pay off $400k of debt
This book is teaches everything I did to go from stranded with only $7 to paying off $400k of debt and giving 40% of my income. Hint: it was God.
It lays out the 4-part formula we followed (that you can copy) to be great stewards with what He has entrusted us with to be in a position for Him to do miracles.
It'll help you earn more, save more, and have more fun giving than you dreamed possible