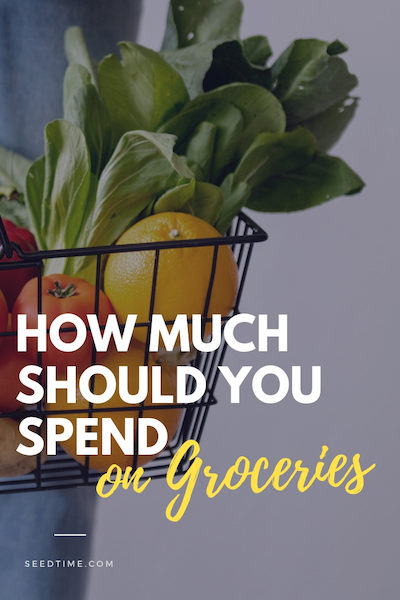 Our groceries budget has fluctuated over the past couple of years. It started high, then went down pretty low, and now it is up again. I want to ask you, the readers, how much you spend on groceries so that we can all learn some valuable tips!
Our Grocery Budget Story
When my wife and I got married, we knew we had to start a budget. To be on the same page in our finances, a budget was something we could both look to for guidance when we were out and about shopping. It was an exciting time figuring out our income and expenses (although both looked pretty grim).
Looking at my pre-marriage expenses, I found that I spent just a tad too much at Burger King and KFC (understatement). And Starbucks was on my wife's list of regular stops throughout the month. So, we realized that we were spending way too much on food – especially eating out.
I estimate I alone was spending about $400 to $500 on eating out. Yikes! Something had to change.
So we set up our "fun money" envelopes to be designated for anything including eating out. We also grabbed an envelope for groceries to keep those expenses in line.
If I remember correctly, we started out around $600 which was designated for groceries and worked our way down to bare bones over the next couple of months. Our grocery budget went down to about $300.
But then I read a book by Jack LaLanne on nutrition and fitness. Uh oh, now I had to spend more on whole foods. I realized that saving money wasn't really worth losing my health to diabetes.
So our grocery budget went back up. Right now, we budget $460 for groceries for the two of us. That's $230 per person per month. This seems like a good amount that can stay the same over the next few months if food prices don't adjust too much.
Keep in mind that all our grocery money goes toward food – not any other items you'd find at the grocery store. We have separate categories for household items like toilet paper and toothpaste.
How Much Should You Spend on Groceries?
It depends. What are your goals? Are you looking to just scrape by so that you can follow a plan to get out of debt? Or are you looking to improve your health and spend a little more on your grocery budget?
Another thing that affects how much you spend on groceries is how you pay for groceries. We pay cash because it's a great way to see quickly how much money we have left for the month.
Others spend using a debit card. If you're going to take this route, you can save some money by getting a cash back debit card!
Where you live also has an affect on how much money you should spend on groceries.
As you already know, there are so many variables that go into determining how much you should spend on groceries. I think the answer is going to be different for everyone, so that's why I'd like to ask for your input in the comments.
Share Your Grocery Budget Below!
Okay, here's the deal. We can all benefit from learning about each other's grocery budget, so leave a comment below with the following information:
How much you spend on groceries per person per month in your household.
Share how you typically pay for your groceries: the envelope system, a card, or another means?
If you're in the United States, share what state you reside in.
It'll be interesting to get feedback from so many of you. If you're reading through the comments, do us a favor and leave your own comment! I'll meet you there and I'm looking forward to hearing from you!
This article was originally published on ChristianPF on November 6, 2011.