I have noticed that since I've started using the envelope system, I'm spending about $60 less per two-week period than when I used a debit card. I think it's because when I lay three $20s down for groceries, it hurts! When I paid with debit, it didn't really register with me.

—My Total Money Makeover member mgtyjoe
What is Dave Ramsey's "Envelope System?"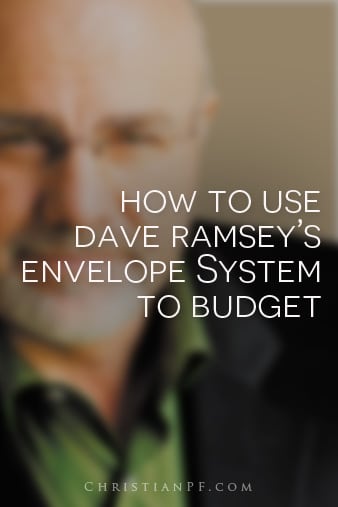 Glad you asked. It's a simple and effective way to budget by using envelopes to organize your cash. The envelope system has no doubt been popularized by financial expert, Dave Ramsey, but he will be the first to let you know he didn't invent it.
Dave says, "I found out that Grandma's way to handle money still works. People used to always use cash envelopes to control their monthly spending, but very few do in today's card swiping culture."
I first learned about the envelope system in 2005 from a couple from my church who were successful business owners. I later completed Financial Peace University with my wife where we learned even more about the power of paying cash versus using a card.
Here is how to get started:
1. Review Current Expenses
If you already track your expenses, this part will be easy. If not, you can pull up your online banking and do your best to categorize your expenses over the last three months. Once you've done that you will have a better idea how much money to allocate for each category going forward. Click here for a printable budgeting worksheet.
2. Find Out How Much Cash to Withdraw
Before you go to the bank and cash your paycheck you need to know how much cash to withdraw. When you first start using the envelope system your goal is to pay cash wherever possible and practical. It's more practical to pay certain bills online every month (i.e. cell phone, rent, car insurance and life insurance). So leave enough funds in your bank to cover for these.
After you subtract the amount you need in your bank from your net pay then you know how much cash to take out. For example, if your net pay was $3,000, rent was $1,000, cell phone $80, car insurance $100 and life insurance $35; then you would withdraw $1,785 cash.
3. Create Envelopes
Now the fun part. Take a marker and label your envelopes. Here is a list of the most common budget categories:
Tithe (10% of gross income)
Offering (you decide)
Gifts (i.e. Birthday, Christmas, Anniversary)
Food
Gas
Vehicle Maintenance
Clothing
Coffee
Personal Care (toiletries, makeup, etc.)
Home Supplies
Entertainment
Books/Music/DVDs
Blow Money
4. Fill the Envelopes
Now refer back to your last three months of expenses. On average, how much did you spend on food, gas, coffee and so on? When you fill your envelopes, be realistic. If you're spending $500 on food you may be able to get by on $300 if you don't eat out as much. But do you think you can really go from $500 to $100/month?
5. When an Envelope is Empty…
You guessed it – it means you are done spending in that category until payday. If you want to go to the movies but realize your entertainment envelope is empty it doesn't mean you steal from your food envelope. It means you get to stay home and read a book or play some board games with friends. I know, you have it rough now.
Benefits of Using the Envelope System
So why go through the trouble of stuffing a bunch of envelopes with cash? I'm glad you asked. And no the answer isn't Because Dave Ramsey says to. There are several benefits to using the envelope system:
Psychologists have found that people spend less when they spend cash rather than use a card.
You will have cash leftover. It's common to forget that you put cash in an envelope only to realize a few months later, Hey, I have $80 in clothing. Time to go shopping!
It works. Your financial situation will improve if you stick to this for at least six months. If it doesn't, what have you really lost?
No more waiting for the waitress to return your card at restaurants. Just pay and leave.
You get better deals. Many businesses give discounts when you pay cash. Sometimes they advertise it and other times you just need to ask, "Hey, do you guys give a discount if I pay with cash?"
Get Started Today
If you're ready to get started then just keep on reading about some of the wallet options that you can use – though they are NOT necessary and envelopes for budgeting will work just fine.
4 Great Cash Envelope System Wallets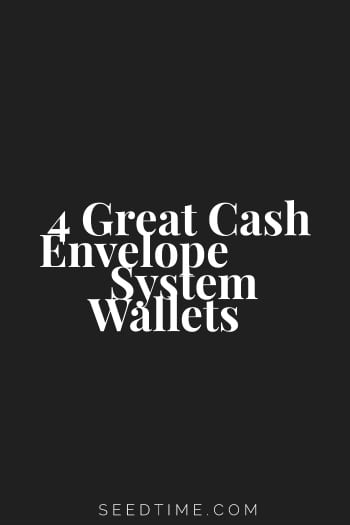 Carrying around a bunch of envelopes can be cumbersome, to say the least. Also, since my sister-in-law once threw a large sum of cash into the garbage thinking she was throwing away an empty envelope, my husband has his hesitations about the system.
We've used the system anyway.
Paper clipping bills together and labeling with a sticky note helps. But then, what do you do with the change?
And who wants to be in the checkout line behind someone trying to juggle paper clips and sticky notes with their wallet and their bags of stuff? Not me, and I consider myself a pretty patient person.
Enter the Envelope System Wallet . . .
Recently, I discovered the envelope system wallet.
Now I have an organized way to, once again, implement this budgeting system without all the obstacles.
An envelope system wallet is designed to be used with the cash envelope system of budgeting. Here are four great envelope system wallets I've found…
4 Envelope System Wallets
1. Dave Ramsey's Envelope System
Personally, I don't care for Dave Ramsey's Designer Envelope System. I prefer natural materials like leather or fabric and his wallets are vinyl.
I also cannot appreciate the huge Financial Peace University logo embossed on the outside. But since I know that a lot of readers are Dave Ramsey groupies, I've included it. Actually, he has several envelope systems to choose from, plus a coupon organizer and they are all reasonably priced.
2. SavvyCents
If you want your wallet to stand out in the crowd, choose one from SavvyCents. These envelope systems come in black, pink, or polka dotted patent leather or zebra stripes.
However, if you're a firm believer in the idea that it's the inside that counts, SavvyCents wallets have the goods. Inside the zippered wallet are an accordion-style file system, six debit/credit card slots, and room for your checkbook. Included are pre-printed and blank labels for the tabs on the accordion sections. SavvyCents wallets measure 8"x4" and sell for $28.
3. Etsy
A search on Etsy for "cash envelope wallets" returned over 300 hits. Ranging in price from $12 to $76, most of the wallets featured are for women. At least my man wouldn't carry any of them. I did see one labeled "Man Organization Wallet Carhart." The fabric on the exterior resembles a Carhartt® coat. One other is made of camouflage fabric and is more like a zip-shut bank bag with fabric envelopes inside. I think it would be something a man would keep in the glove box of his car, but not carry around in his pocket.
Two crafters' wallets were my favorites. CitrusDesigns makes the camo one already mentioned and another style made of vinyl. Her design looks less bulky than those with zippers on all the pockets; plus I really like her choice of fabrics. TheLaughingHouse is the other crafter. Her accordion design is my absolute favorite because you don't have the bulk of a bunch of envelopes to contend with.
4. Make your own!
For those of you with a creative touch, or at least a little sewing/crafting know-how, make your own wallet. Craftsy.com sells a great pattern for a wallet that includes six zipper-shut pockets, slots for credit/debit cards, and a place for your checkbook. The pattern sells for $1.61 and you can choose any fabric in the store to make it out of—even zebra-striped.
If you enjoy crafting, but not sewing, consider modifying a wallet you already own. Kelleigh Ratzlaff is a work-at-home mom that designs papercraft templates to sell. On her blog, she has a free template and tutorial for making your own envelope insert that will fit into a standard-sized wallet. She also has an Etsy store where she sells pre-made envelope sets for your cash budget system.
I'm excited about this wallet discovery because, honestly, I've gotten a little lax with the use of my debit card lately. Now, I have a true reason to go shopping—with cash, of course.
Do you use the cash envelope system of budgeting? What do you carry your cash in? I'd love to hear about it in the comments.