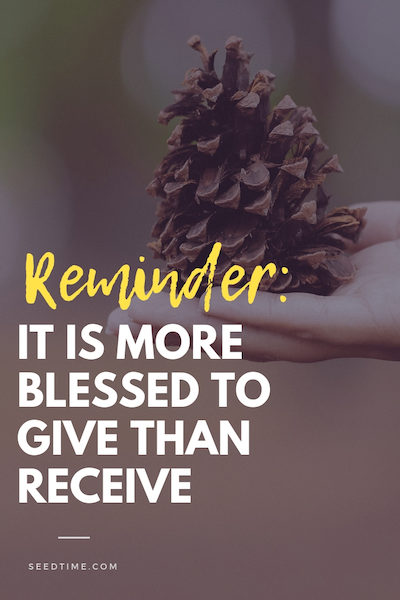 Philippians has always been one of my favorite books of the Bible and I have always had a particular fondness towards the 4th chapter. It is one of the most joyous books in the Bible and even though we might expect that it was written during wonderfully joyous circumstances, it was actually written while Paul was in prison. Add to that the fact that Paul was imprisoned unjustly and that a Roman prison would make an American prison look like a country club, and you it proves that there must have been something to what he was writing.
Anyway, in Philippians 4:17 [AMP] Paul says this to the Philippian church…
"Not that I seek or am eager for [your] gift, but I do seek and am eager for the fruit which increases to your credit [the harvest of blessing that is accumulating to your account]"
When reading this verse yesterday, I was reminded of the blessing that comes from giving. It is a wonderful thing to give out of discipline and obedience, but sometimes we need to be reminded that there is a blessing that comes as a result of our giving!
It is better to give than to receive!
Apparently Paul learned this from Jesus…
"In everything I did, I showed you that by this kind of hard work we must help the weak, remembering the words the Lord Jesus himself said: 'It is more blessed to give than to receive.'" Acts 20:35
And I love how the Amplified version adds a little more detail about what it means to be blessed…
"It is more blessed (makes one happier and more to be envied) to give than to receive."
Maybe I just needed a little encouragement in this area, but I was blessed by this reminder that God has a "blessing account" for us that is accumulating as we give!
For more encouragement here are 21 giving bible verses.