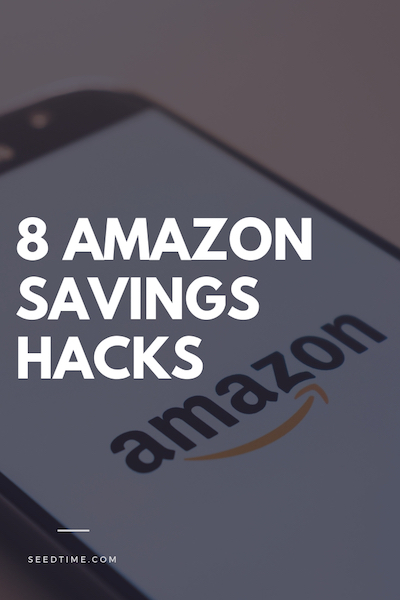 My frequent Amazon purchases had me wondering, "How can I save money when shopping on Amazon?"
So, I have put together my top 8 Amazon savings strategies that I have found to be quite useful in saving money. And, I know these hacks will save you some money too!
If you would need any further information on the items listed below, be sure to check out our corresponding YouTube video for more details…
Amazon's huge marketplace appeals to so many online shoppers, myself included. From the wide variety of products offered to the programs they offer (i.e. Amazon Prime) and even the various ways one can save money on Amazon, it really does make it so convenient to shop with them. I'm willing to bet you're an Amazon shopper as well, so I want to let you know some of the Amazon money saving tips and tricks that I use to save money, and you can, too!
Let's dive in and discuss the money-saving Amazon hacks that can save you a lot of money!
1. How to Save Money on Sales Tax
There's a little known Amazon hack to save money when it comes to paying sales tax. If you are like me and live in a state where you are required to pay sales tax on your Amazon purchases, this tip is for you!
Find a third party seller who is selling from a state that does not require an Amazon sales tax. Even if the sticker price is a bit more for the item you are buying, often times it will save you more money by just eliminating that sales tax!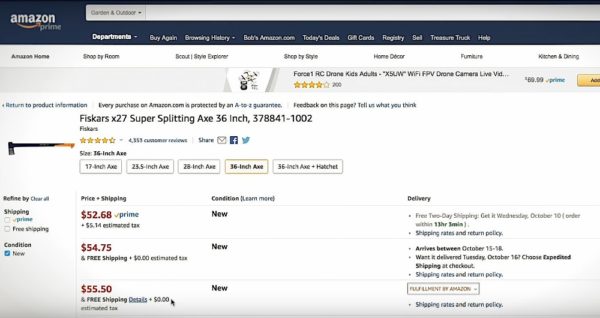 2. Use the Money Saving Tool: Earny
When you sign up for Earny, they will check for receipts in your e-mail inbox. If the price you've paid drops, Earny will get you a refund on the difference! They will claim the difference on your behalf and then notify you about every refund coming your way.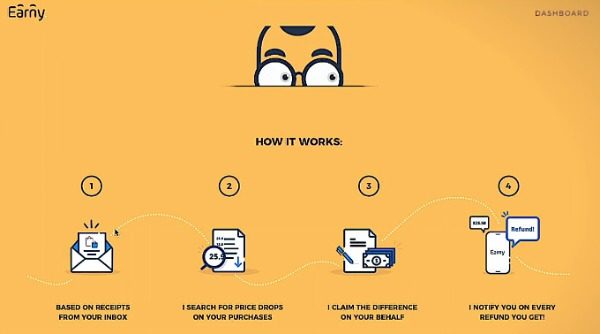 3. Students: Sign-up for Amazon Prime Student Savings
Attention students! Amazon will give you 6 MONTHS of Amazon Prime for FREE! If you have ever been curious about joining Amazon Prime, why not try it out for 6 months with Amazon Prime Student?
You can always cancel, but it's a great way to try before you buy! And who knows – you may love the program like I do!
4. Amazon Rewards Visa Signature Card
If you are a frequent Amazon shopper, this may be the credit card for you! Not only can you get 3% back on Amazon.com purchases, but the Amazon Rewards Visa Signature Card also gives you back 3% on what you buy at Whole Foods Market (5% if you're an Amazon Prime Member)! But, the credit card rewards don't stop with just Amazon and Whole Foods – you can also get 2% back for purchase at: restaurants, gas stations, and drug stores… plus, 1% back on all other purchases!
Be sure to read the fine print on how to save with this credit card.
5. Use the Money Saving Tool: CamelCamelCamel
Never heard of CamelCamelCamel? No worries, I am here to let you know about this AWESOME site!
Just type in the particular item you are looking to buy and this money saving tool will show you the price fluctuation of the item, including from third party sellers! You can even set a price of what you are willing to pay for an item, and CamelCamelCamel will track the price of the item and notify you when the item reaches the price point of what you are willing to pay.
Now, how cool is that?!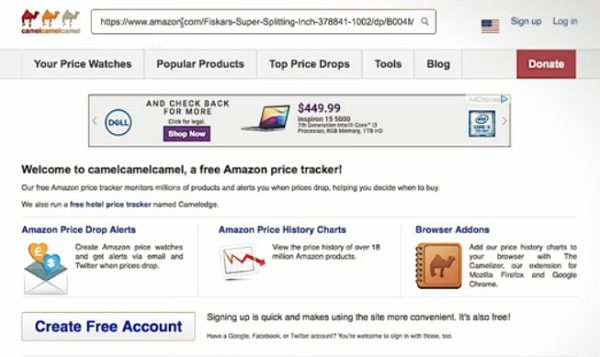 6. Check Amazon's Warehouse Deals to Save with Open Box Items
In Amazon's Warehouse, they list items you can purchase that have been previously owned (or items that have just simply been returned – Open Box Items) at a pretty significant discount. In the Warehouse, you can also find a Bargain Bin – where items are listed up to 50% off or more! Check out what you can save money on with Amazon Warehouse Deals, and you just may be surprised!
7. Utilize Amazon's Subscribe & Save Program
When you subscribe to an item on Amazon, you will see the price reduced from what it would be if you made a one time purchase of that same item. What I also like about Amazon's Subscribe & Save Program is that I can get household staples delivered to my home without having to bulk up my cart at the grocery store (examples: paper towels, toilet paper, cereal, etc.).
Not only are most of the products cheaper through this program than in the brick and mortar stores, but I can be assured that the items I'm subscribed to show up on my doorstep in the frequency I determine (some items I have delivered every month, others I choose to be delivered every 6 months, etc.). I no longer worry about running out of some staples, and it has really made the running of my household a little smoother!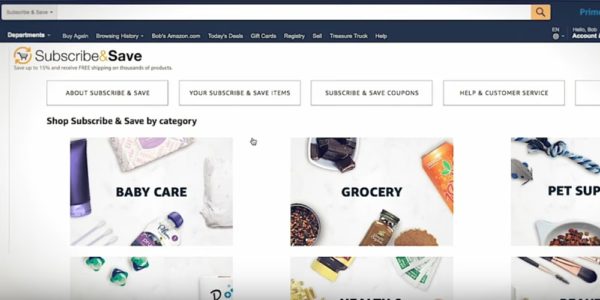 8. Amazon's Digital Coupons
Yes, Amazon has coupons! Amazon tends to have coupons on various products, so before you buy anything, be sure to double check Amazon's Digital Coupons page. It's a very easy process…search for the item, click to clip the coupon… and boom, your coupon will be applied! This is a super easy way to save some money.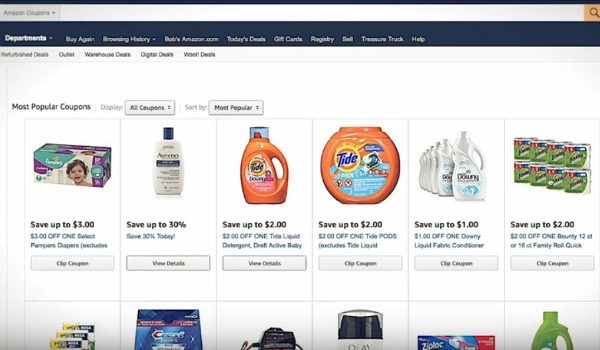 *BONUS WAY TO SAVE*
Tell Amazon about a Lower Price!
If you find an item you've bought on Amazon for a lower price on another website, tell Amazon! When you tell Amazon about a lower price, Amazon will confirm this price and they will match the price. They want to be the LOWEST price and they do not want anyone to sell at a lower price point than what they do!
Did you know Amazon will pay you for your stuff? Check out our video…
Do you have an Amazon savings hack that we have not mentioned? Let us know in the comments below!