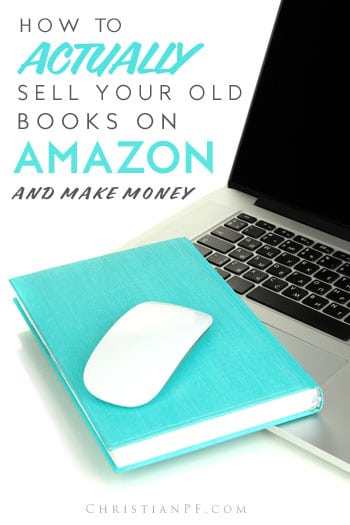 I just recently did some spring cleaning and decided to unload a bunch of old books to make a few bucks.
Whenever I am getting rid of books, I take a couple steps…
See how much the book is selling for
I look the book up on Amazon.com using the ISBN number to see how much used copies are going for…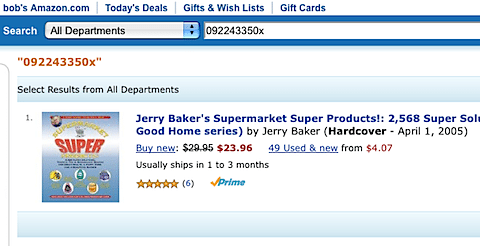 As you can tell, the cheapest used copies are selling for $4.07. As I will explain below, you probably shouldn't sell anything for less than a few bucks. You will find that some people sell books for as cheap as a penny. I am not sure why, but it definitely happens.
If the lowest used price is worth my time, I then go to my Amazon seller account homepage (you can open an account here). Once logged in, you will get to your dashboard – see the image below…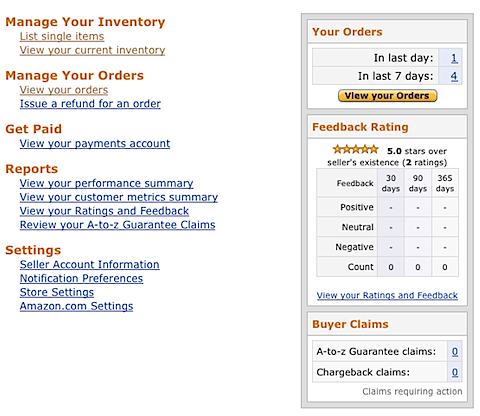 Listing your first book on Amazon
Looking at the Dashboard above, if you just click the "List single items" link, it will take you to this screen…
Here, you can select the item type, but I mostly use the ISBN number – it is quicker and more accurate. Once you pull up your specific item, Amazon will take you through a few more steps asking questions about your item. They will want to know…
What condition the product is in. Is it new, like new, used, torn to shreds, etc…
Comments about the condition of your product. This is where you will want to write specifics about the product. Is the dust cover missing? Is the entire book underlined in hot pink?
The price and quantity of your product. I always recommend setting your product at the lowest price. If you don't, you will have a very slim chance of selling it. Most buyers just look for the cheapest item and buy that.
Select your shipping method. Here you can choose to expedite shipments or ship internationally if you choose.
That is about it! I just repeat that process until I have all of my books (items) listed.
A few things worth mentioning
Amazon gives you a $3.99 shipping credit for each book. I always use Media Mail from the USPS and it normally costs about $2.50 or so to ship each one. Even including packing materials and other incurred expenses, it should be fairly easy to ship books for under $3.99.
Amazon charges lots of fees (only on items that sell). This is why you probably don't want to sell an item for less than $2-$3. Unless you sign up for a pro account, you will be paying Amazon a fee of $2.35 + 15% of the item sale price. So, selling anything for less than $3.00 will not yield much profit.
To speed up the book-selling process
This step is optional, but will definitely increase the chances that your books will sell and will help you sell them quicker. Normally every day or so I log into my account and adjust the prices of my items to make sure they are the lowest priced.
On the Seller Account Dashboard, click the link called "View your current inventory" and it will take you to a page like this…
Here you will see all of your listed books. It will show you your current selling price and whether or not you have the lowest listed price. If you see a green ball under the low price column, you are in good shape. If you see a lower price, then you will want to click the edit link and lower your price a penny lower than the current lowest price.
If you want, you can waste your life away doing this all day long, but I prefer to do it in early evening – when many of the businesses selling these books are closed. That way I can normally have the low price until morning when they come back in.
Do you have any other tips for selling stuff on Amazon?