The Chase Sapphire Preferred® Card has been around for over a decade and is consistently listed as a top pick for a credit card that gives fantastic rewards.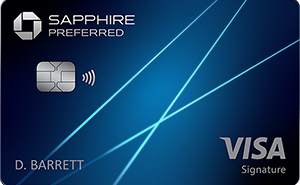 I have personally used it for over 8 years now and it has been the primary card I used to get over 100 hotel nights and 100 flights for free.
It"s a great card for those who are looking to travel for free, but it also has a cashback option that allows you to convert points for cash back as well.
I've tried 34 credit cards and this is my favorite
Over the years of running this website and being the money nerd I am, I've literally opened 34 different credit cards and tested them out.
And from that I learned a lot and ultimately decided that if I were only going to have one credit card, this is it.
If I were going to use 2 credit cards (which we do), the other one would be the Chase Freedom Unlimited®.
Chase Sapphire Preferred® Card vs Chase Freedom Unlimited®
Like I mentioned if I am only going to have one card in my wallet, the CSP is my top pick, but at the moment I have a 2nd spot in my wallet that the Chase Freedom Unlimited® fills.
There are 2 things that Chase Freedom Unlimited® does better than the Chase Sapphire Preferred® Card.
It has a $0 annual fee (vs $95)
It pays 1.5 points per dollar spent on everyday purchases (vs 1 point with CSP)
So I can earn Chase points a bit faster with the Chase Freedom Unlimited®.
And the points can be combined for each of these cards in the Chase Ultimate rewards portal.
If you only look at the earning rate, the Chase Freedom Unlimited® card looks like the one to go with.
But the Chase Sapphire Preferred® Card has a lot of extra benefits:
The biggest one being the perks of being able to transfer your points to a bunch of other travel partners (like Hyatt, Southwest, United Airlines, Marriot, IHG).
Here are just a few of the options: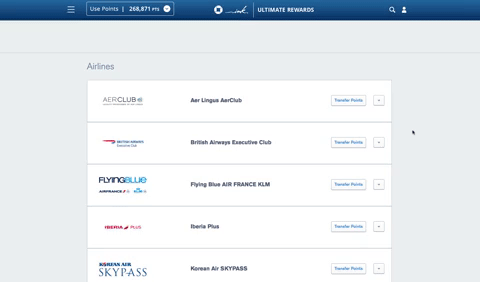 I go into this in much more detail in our article about how we travel free, but suffice it to say, if you want to travel free the Chase Sapphire Preferred® Card is the card to get. If cash back is your only goal, and you don't travel, then go with the Chase Freedom Unlimited®.
Other fantastic perks the Chase Sapphire Preferred® Card offers:
extended warranty and purchase protection
no foreign transaction fees
primary auto rental insurance
baggage delay reimbursement
trip delay reimbursement
lost luggage insurance
trip cancellation and trip interruption insurance
These benefits can really help you save money and get peace of mind as you travel, no matter how frequently you do so. If you use your card to pay for travel expenses, you can call on these benefits in case something goes wrong.
For example, the Auto Rental Collision Damage Waiver can make car rentals cheaper because you can decline the rental company"s fee for this service.
If, God forbid, there is damage to your rental car, you can submit the claim directly to Chase instead of going through your personal insurance company.
Booking your travel with your card can also help you breathe easier as you make your plans. This card offers trip cancellation insurance of up to $10,000 and trip delay insurance of up to $500 per ticket.
And if your baggage is delayed or lost, you can receive up to $100 per day for five days (to buy what you need until your bag is retrieved) or up to $3,000 to replace what was lost.
Many credit cards offer Zero Liability Protection, and the Chase Sapphire Preferred® Card is no exception.
All that to say, even though we don't travel as much as we used to, this card is still my favorite by a longshot.
Oh and then there is the insane signup bonus they are currently offering…
The Chase Sapphire Preferred® Card 60k point bonus
The 60k signup bonus points equates to $600 cashback or up to $750 in travel if you book on the Chase website (which by the way, I've found tends to actually have pretty good deals to boot.)
Like I mentioned, the card has a $95 annual fee, but for us the signup bonus pays for that so many times over, that I don't even care. The benefits I get from this card so far outweigh the annual fee that it is an afterthought for me.
To earn this signup bonus, you"ll need to spend $4,000 during the first three months that you have your new card.
So Who Should Get the Chase Sapphire Preferred® Card?
This credit card is a great one for travelers, considering all the travel benefits included. Not to mention, the highest points earning categories and redemption categories fall under the travel umbrella.
But it really is a great all-around card because it has so many perks like extended warranties and purchase protection.
And then when you add in the fact that you can do an endless number of things with the points, it ends up just being a fantastic all-around-card.
The screenshot below is from the Chase portal where you can use your points.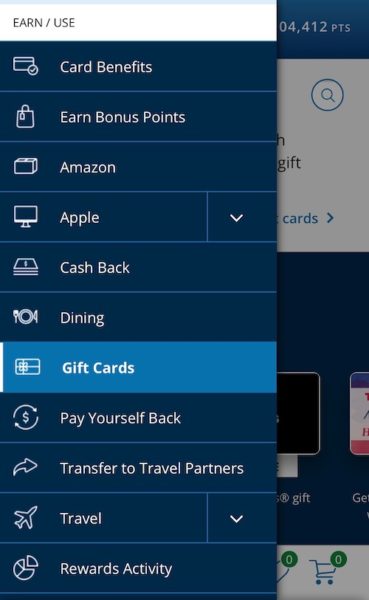 You can use them at Amazon, Apple, get cash back, buy dinner at a nice restaurant, book a hotel or flight, transfer them to other programs, or even book unique experiences like taking a flight in a fighter jet. Yes you read that right.
It's also a good one to start with
If you"re new to the world of earning points by using a credit card, this is a great one to get you started.
The annual fee is relatively low, especially in comparison to the points earning opportunities you"ll have available to you.
There are other cards out there that have fancier travel benefits, but they also typically carry higher annual fees.
If you are hesitant about paying an annual fee for a credit card, don"t worry "" there are other options out there for a cash-back credit card with no fees. This just isn"t it and you"ll want to look elsewhere.
But if you"re interested in finding out more about this card, let"s get going!
Requirements to get the Signup Bonus
Like I mentioned before the Chase Sapphire Preferred® Card is currently offering a significant signup bonus. You"ll earn 60,000 Ultimate Rewards points, which is equivalent to $600 cash or $750 when you use your points to book travel through Chase.
To earn this signup bonus, you"ll need to spend $4,000 during the first three months that you have your new card.
NOTE: Certain purchases are excluded from the $4,000 threshold: balance transfers, money orders, lottery tickets, etc.
How to spend $4,000 in 3 months
Some quick math: $4,000 in three months is a little over $300 per week. You should be able to hit this minimum by paying for gas, utilities, insurance, your cell phone bill, and other regular expenses with your new credit card.
Sometimes we look for a big purchase (like a home improvement project) to meet the minimum in one fell swoop.
NOTE: The sign-up bonus is only available to you if you a) don"t have any other Sapphire card and b) haven"t received a new cardmember bonus for any Sapphire card in the past 48 months.
Earning Points with the Chase Sapphire Preferred® Card
You"ll earn points every single time you swipe your card, but you"re probably curious as to which purchases give you the most points.
Here"s a quick breakdown of what you"ll earn:
5 points per dollar on travel purchased through Chase Ultimate Rewards
3 points per dollar on dining
3 points per dollar on select streaming services and online grocery purchases
2 points per dollar on other travel
1 point per dollar on everything else
This card is marketed as a travel rewards card, so it makes sense that travel would earn you the most points. If you book your travel through Chase Ultimate Rewards, you"ll get 5 points per dollar.
But even if you don"t book your travel through Chase, you"ll still earn on lots of travel spending, including airfare, buses, car rentals, cruises, hotels, parking garages, taxis, tolls, trains, travel agencies, and more.
And whether you like to dine at restaurants, roll through the drive-thru, or get your food delivered, the "dining" category covers most of it "" eligible delivery services, takeout, and dining out.
How to Redeem Chase Points
Once you"ve earned your points, it"s time to redeem them. The simplest way is by turning your points into cash or gift cards.
When you do it that way, 1 point = $0.01. So that signup bonus of 60,000 points turns into $600.
But you"ll get the biggest bang for your buck when you redeem your points toward airfare, car rentals, cruises, and hotels through Chase Ultimate Rewards.
This adds 25% more value, which means that 1 point = $0.0125. Your signup bonus is now worth $750 if you book through the Chase travel portal.
This portal is run by Expedia, so if you have experience booking airfare, car rentals, or hotel stays through that platform, you can see just how simple it is to use.
I also love that I never have to worry about blackout dates or jumping through any other hoops to use your points through Chase Ultimate Rewards. If you see an available hotel room or a seat on a flight, you can pay for it with your points.
Another option is to use Chase"s "Pay Yourself Back" feature. You can always redeem your points toward a statement credit of 1 point = $0.01.
If you"re not quite ready to travel yet, this is a great way to easily maximize your points earned since it"s the same rate you would get when you book your travel through Chase Ultimate Rewards.
How to Transfer Points to Travel Rewards
Now, you can stick with redeeming your points for travel through Chase. That"s a simple option for getting more out of your rewards.
However, I"ve found that transferring those points to another program can oftentimes get us even more value. We typically transfer our points to Southwest Airlines to book flights and to Hyatt to book hotels. These points transfer at a 1:1 rate.
Obviously, each program is going to be different, but the points can go sooooo far with those two. We can often get a hotel stay through Hyatt for as little as 5,000 points a night and even flights through Southwest for as cheap as 3,600 points.
Just to put that in perspective this single 60k signup bonus could get you 12 nights in a Hyatt hotel.
Things to Note
The Chase Sapphire Preferred® Card has an annual fee of $95. If you are used to credit cards with no annual fee, it may seem strange to pay for a credit card.
But even if you just hit the signup bonus, collect your 60,000 points, and cash them out for statement credits, gift cards, or cash ($600), you"re already well ahead of what you would spend on the annual fee.
In fact, you could pay the annual fee for 10 years with the signup bonus.
You may wonder if your points expire "" they don"t if your account remains open. However, you will immediately lose all your points if your account status changes, or if your account is closed.
Some Final Words of Caution
Anytime I talk about credit cards, I always bring out the "Know Yourself" speech.
If you are someone who gets in trouble with credit cards skip this and use a debit card instead. Know yourself.
The benefits of the card are great, but they"re nullified if you"re carrying a balance. Sure, you might earn rewards on your purchases, but if you don"t pay off your card in full each month, you"ll need to pay interest.
And we don't want that.
Consider this: APR is a variable 15-22% (the ongoing APR is 18.24%-25.24%), and your rewards earn you at most 5%. I trust you can do the simple comparison and see that what you"ll pay in interest easily eclipses what you"ll earn in rewards.
I'd recommending following our 3 credit card rules if you aren't already.
So please take a hard look at your spending habits first to make sure that you can use it responsibly.
With that out of the way, you can apply I opened 34 credit cards to see which was best. This is what I found… the card by clicking below:
If you have any questions about it, feel free to post them in the comments below or send me a DM on instagram (@seedtime).