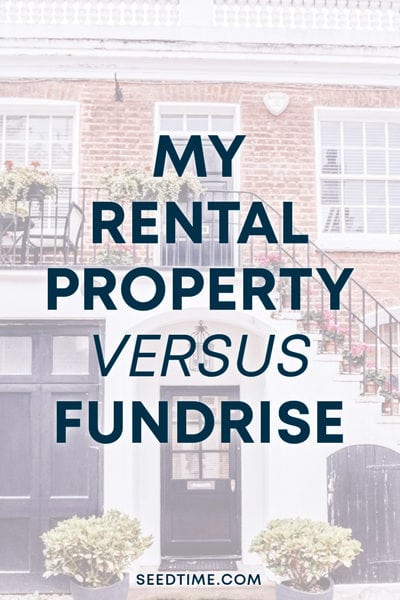 Ever since I read Rich Dad, Poor Dad about 15 years ago, I have been itching to get into real estate investing.
While I don't agree with everything in that book and he makes it seem just a little too easy, I do think some of the principles of building wealth with real estate are sound.
So in 2015 when we packed up and moved to Nashville, I thought it was the perfect opportunity to get my feet wet – we decided to hang onto our old house and see if we could rent it out.
Being in a completely different state, I wanted to have a property manager who would take care of finding the renters, dealing with all their issues, and do the most important part of his job: mail me checks! 😉
The trade-off, of course, is that he eats into our profits. He charged 10% of rents, which was a little painful, particularly since we had such low-maintenance tenants.
But, since we were out of town, it just made the most sense.
Within a month he found someone who appeared to be a great tenant and told me all about him and asked for my go-ahead. Having never done this before, I just said, "I trust you – if you think he looks good, then let's do it!"
A month later, I got my first check in the mail, and it was far more exciting than I thought it would be. It was truly passive income that I didn't have to do anything for other than deposit the checks.
Over the last two years, I have realized that we really had found great tenants. They paid every single month – and on time! And only had 2 minor maintenance requests during that time as well.
Calculating Our Rental Property Returns
Keep in mind that this is my first rental property and that I didn't seek out a property that would have a great ROI.
I just used our first house because it was easy.
Now that we have had our renter for over two years, I decided to run the numbers and see what kind of ROI (Return on Investment) I was getting.
After calculating out all our expenses (they add up fast) we have been sitting with an average return of 5.4% on the cash we have invested in the house.
Side Note: I know many Real Estate pros would suggest using the equity in the house to buy more properties and use leverage to grow those earnings, but that is not how I roll. 😉
When I discovered that we weren't getting the 10+% returns from the property that I was hoping for (especially when we had GOOD tenants), I realized that while this was a great house to live in, it wasn't the best earning rental property.
Stepping back to July 2017…
Enter Fundrise
(This is a testimonial in partnership with Fundrise. We earn a commission from partner links on SeedTime.com. All opinions are my own.)
Simply put, Fundrise is the simplest way I have seen to passively invest in real estate for most people.
It is kind of like crowdfunding for real estate investments.
As investors, we "own" a small percentage of each of the dozens of rental properties that Fundrise has in their portfolio.
I am oversimplifying it, but you can think of it like this:
Instead of needing $50,000,000 to buy a massive real estate development, they try to get $500 from a 100K investors to acquire the property.
What this means to you and me is that we can get in on their returns with a far smaller investment.
Watch below as I dive deeper into my experience with Fundrise and if they are right for you!
Opening my Fundrise account
In July of 2017, I opened a Fundrise account. Basically, my idea was to take some of our rental profits and have it invested there so that it could grow until we had enough to buy another rental property.
The account opening process was surprisingly simple – especially since I opened a business account (which usually is much more of a hassle).
I don't think I spent more than 15-20 minutes on the entire process and within a few days, I had gotten email notifications that my investment had been divided up into 8 different properties that I now "owned" a small part of.
Fundrise minimum investment
For those interested, you need a minimum of $10 to get started with their Starter Plan (which is different than the plans listed below). You do not need to be an accredited investor to invest with Fundrise.  Just a $1,000 investment gets you into the advanced portfolio.
Getting paid
About three months later I got an email from them saying that I would be receiving a dividend payment – woo hoo!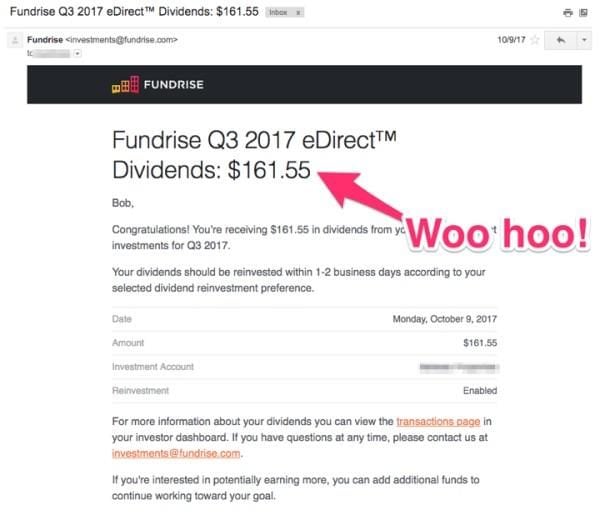 It turns out that they pay out dividends every three months.
I chose to have all the dividends reinvested to keep things growing.
Calculating my investment returns
Fundrise returns and performance
Fundrise advertises very strong historical returns: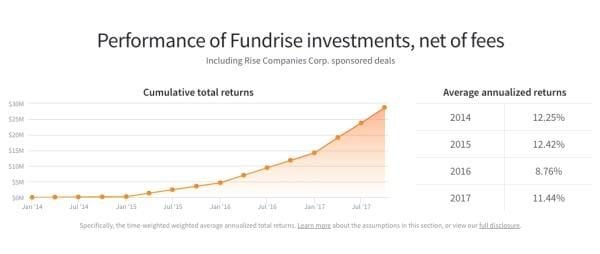 And those numbers sound really nice, but I wanted to see what kind of returns I got from Fundrise myself.
I should also mention that they have three separate investment approaches:
Supplemental Income – (Lower Risk)
Balanced Investing – (Middle Risk)
Long-Term Growth – (Higher Risk)
I opted for the 'Balanced Investing' option with mine.
Here is a look at the projected returns for the 'Balanced Investing' option: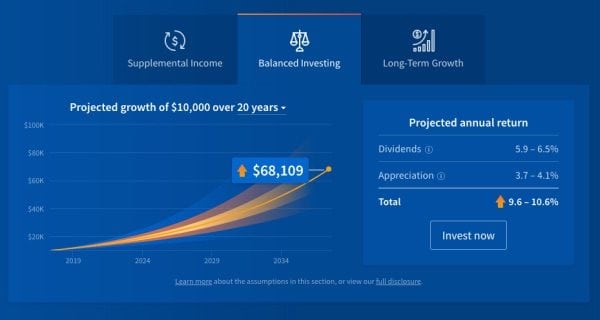 As of the time of this writing, here are my total dividends since I opened the account in July 2017: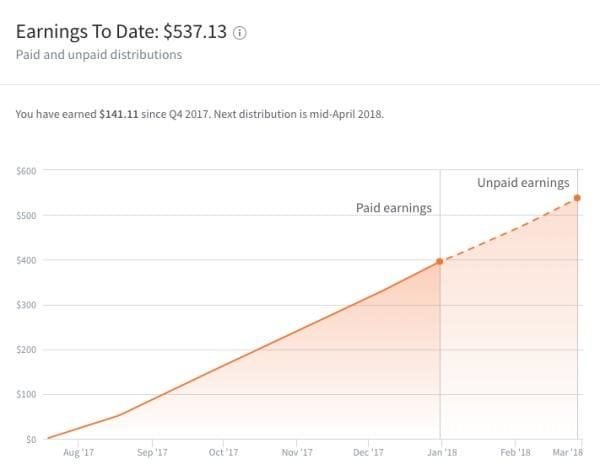 How have your returns been on Fundrise?
Because I have dividend reinvestment turned on as well as an auto-invest each month, it is a little messy trying to calculate my ACTUAL returns so far.
But getting deep into a spreadsheet and taking a fairly conservative approach, I calculated annual earnings right at 6% from my investments in Fundrise.
Since this doesn't take appreciation into account, this is right in line with the 5.9-6.4% in dividend earnings that the reference in the blue graph above.
As with all investments, I know past returns are not a promise of future results, and I am interested to see how the Fundrise does during hard times.
Is fundrise a scam?
I have been reviewing financial companies long enough that I know some of you are automatically thinking it is a scam. I am pretty skeptical by nature myself and have been burned in the past, so I get it.
Here is why I am very comfortable that Fundrise is not a scam or a fraud, but an actual legit company worth working with.
I have gotten paid from them already.  Most scams do NOT play the long game, they try to get your money quickly and never give any back.
They have had an IPO – and raised over 14 million from legit investors.
The Fundrise reviews out there are generally fantastic and they have an A+ rating at the BBB:

Comparing the Returns
In case you just scrolled all the way down to see which one won, here is your answer:
Rental Property: 5.4%
Fundrise (Mid-Risk): 6.0%
The reality is that both of these could be increased pretty easily:
With the rental property, I could just use more leverage and get more properties and minimize my cash invested to increase my ROI, but I am done with adding debt so that won't happen.
And with Fundrise, I can click a button and change my investments to the Long-Term Growth option to get higher overall returns, or use the Supplemental Income option if I were trying to increase my dividend payments.
Even more enticing than the Fundrise returns
Even with having a property manager for our rental property, it still has surprised me how many times I have had to spend mental energy thinking about the rental.
On the other hand, my Fundrise investment is 100% passive income. I don't have to think about it at all and even with the middle-risk option selected it beat out my rental property.
At some point, I might be interested in building out my own massive real estate portfolio, but for now, the ridiculous ease and returns of using Fundrise has me putting more of my money there.
Let Me Mentor You in Investing
If you appreciate my perspective on investing, let me mentor you through my 10x Investing Course.
Any Fundrise investors out there?
If so, can you let us know in the comments what kind of returns you have seen with them?