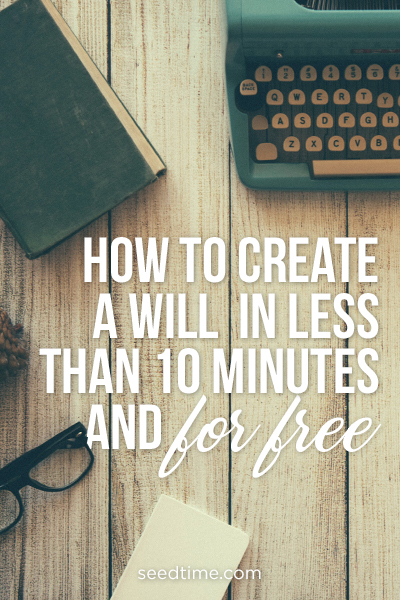 Well, if you didn't know (and I am sure you didn't), this month is National "Make-A-Will" month.
And while I tend to think manufactured holidays and "months" like this are silly, in this case I think it is a good reminder for those who haven't taken this critical and simple step.
So today I am going to show you what I did to create my will in less than 10 minutes and without spending a dime.
Do you know what happens if you die without a will in place?
According to Forbes:
"If you die intestate–meaning without a proper will or living trust–your assets will be divvied up according to the law in the state where you live…

Some states have stuck to the traditional approach of giving a one-third share to the spouse, with the children dividing the rest. Others give spouses one-half. Mississippi gives an equal share to the surviving spouse and each child; if there are nine children, the spouse gets a measly one-tenth of the estate…

Even if you have no kids, your spouse may not get everything; in some states, the deceased spouse's parents, siblings, nieces or nephews and even more distant relatives receive a cut."
Regardless of how your state handles it, just NOT knowing is pretty scary.
So let's get it done, shall we?
How I did it
I created my will at RocketLawyer a couple years ago and it was a very quick and easy process.
And if you follow a couple simple steps you can do it completely FREE!
Step 1: Pick your state
Just select your state and click "Make Document" and you are on your way.
Step 2: Just Answer Questions
If you have used Turbotax for filing your taxes, then this will appear very familiar. Basically you just answer a series of simple questions and the software does the work of filling in all the gaps for you.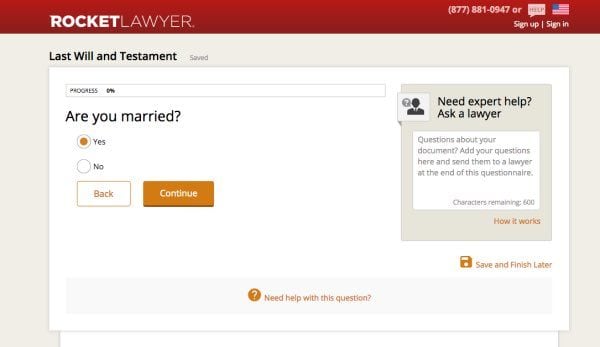 Step 3: Download your will
Once you answer all the questions they will ask you to sign up for an account.
Basically they charge a monthly fee of $39.95 to use their legal forms, but they offer a free 7-day trial that allows you to cancel at anytime.
So just download your will and make sure to cancel your account within a week and you won't pay a dime!
My challenge to you
If you haven't created one yet, I challenge you to get it done this weekend.
If you use this method it can be done is as few as 10 minutes depending on how quickly you can make some decisions.
Let me know in the comments if you are up for the challenge and will be creating one this weekend!