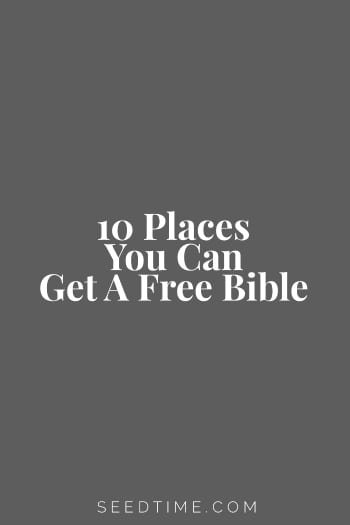 The Bible gives hope, changes lives, and encourages people each and every day. The Word of God is living and active and still applies to us today.
But even if we or an angel from heaven should preach a gospel other than the one we preached to you, let them be under God"s curse! "" Galatians 1:8 NIV
No other books are needed to support the truth in the Bible. If anyone tries to supplement the Bible with another book or resource, refer back to the verse above.
If you want a Bible, you can get a copy for free! Here are 10 places that you can find a free Bible.
1. Your Local Church
The absolute best place to go is your local church. They should have a Bible for you to have. If you need help finding a Bible-believing church, use the church directory at Believe.com.
2. Free Online Bibles
If you"re reading this article, you can read the Bible online for free! Here are the two free online Bible resources that I use all the time:
3. BiblesforAmerica.org
Bibles for America will send a free Bible to you (New Testament only).
4. Free Audio Bible
AudioTreasure.com has a free mp3 audio version of the Bible. You can listen online for free and even download the zip file to listen to the Bible on your iPod.
5. MadeitKnown.com
Made It Known will send you a brand-new quality Bible for you to be able to read, study, and grow in your relationship with God!
6. FreeBibles.net
If you cannot afford a Bible, FreeBibles.net promises to send a Bible to you free of charge. Their focus is to provide free Bibles to people who are poor, sick, or incarcerated.
7. Lesea.com
Lesea.com is an organization that provides free bibles for people who are overseas. If you live outside of America, this organization will ship a free Bible to you!
8. Your Hotel Room
The Gideon Bibles you see in hotel rooms are for you to use or to keep. They are replaced often and are put there for you.
9. Your Local Library
You can always find a Bible at your local library. They might have multiple copies for you to borrow and may have free copies for you to keep!
10. Ask a Friend
I always keep an extra Bible or two in my house in case someone visits me or asks where they can get a Bible. Don't be ashamed to ask a friend for a Bible!
3 Free Online Bible Study Tools
If you"re looking to strengthen your faith in God and need help in understanding the Bible, here are some excellent online Bible study tools that are absolutely free.
With over 30 Bible translations and multiple commentaries, you"ll have everything you need to further your studies in the scriptures.
I like Blue Letter Bible because you can search for studies by topic, and find devotionals in a few clicks.
Studylight.org gives resources for studying the scripture as well as articles that will help strengthen your faith.
If you know of any other ways someone can get a free Bible, leave a comment below!