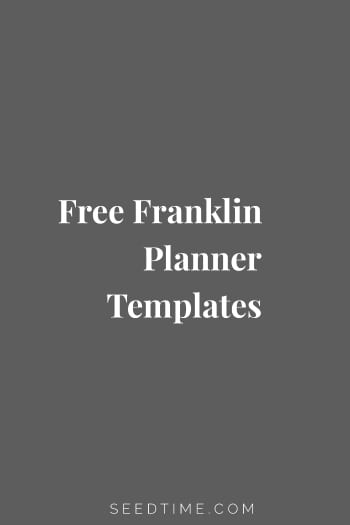 If you are like me and a little bit taken back by the high price of replacing the pages in your Franklin planner, I just found a great alternative.
It does require a little bit of an upfront investment and some elbow grease, but it should pay for itself very quickly.
This website called DIYplanner.com has tons of free Franklin Planner templates for every size.
Basically all you have to do is print them out, cut them down, punch holes and you are good to go.
What you need to create your own planner pages
Paper – probably a thin stock, to keep your planner from becoming too bulky
A printer – most printers should work for most planner sizes
Paper trimmer – this probably will be the biggest expense in this project for most people. You can find some paper trimmers for less than $20, but to get a good quality one, you will probably want to spend a bit more.
Adjustable hole puncher
I dug around and played with the site for a while because I was intrigued at all they had to offer. They have planner template kits that you can download that include all the pages you need. It looks like the calendar pages are dated back to 2007, but you can get the 2009 calendar pages here – and just like the rest of the site, they are free! If you are just starting out with the whole "print your own planner pages" thing you should read their beginner guide.
All kinds of other free template stuff
GTD – For all the Getting Things Done fans out there, they have a bunch of GTD planner templates too.
7 Habits – There are also templates to help you implement the 7 habits method of time management
Dieting, health, and exercise tracking templates
Anyway, if you are fed up with the high prices of replacing your planner templates, I suggest taking a look.
Technorati Tags: Free Franklin planner templates