(The following is a transcription from a video I recorded. Please excuse any typos or errors.
This is a testimonial in partnership with Fundrise. We earn a commission from partner links on SeedTime.com. All opinions are my own.)
This article will help you decide if you should invest in Fundrise.
And I'm going to tell you about my experience with Fundrise. I will compare the numbers of my Fundrise earnings versus my actual physical rental property earnings. You'll get a ballpark for how the two compare and then you can make your own decision.
As we're going through this, if you have any comments or questions about this, and about my experience, definitely leave them down in the comment section down below. I will get back to you and answer you as soon as possible.
I would love to make that comment section a good resource for other people who are investigating Fundrise and trying to figure out if it's actually a good investment.
If you prefer to watch our YouTube video about this very subject, you can view it here:
Before we dive into my current earnings with Fundrise and comparing them to a rental property, let me step back just a little bit.
Our Rental Property
In 2015, we lived in St. Louis and we moved to Nashville. We kept our old house in St. Louis, and we turned it into a rental property. And that was my first stab at having a rental property and trying to see if we could earn some passive income from doing that.
Because I wanted it to be passive, we hired a property manager who took 10% of all the monthly rents. That way I was able to completely step out of it. I didn't have to deal with phone call in the middle of the night when the plumbing broke or any of that stuff. Our property manager took care of all that for us.
He took care of finding a good tenant, which he actually did. Did a great job. Found somebody who paid every single month and all was really good with that. And it was super passive and it was really convenient.
Our Earnings
From 2015 to 2017, we had that rental property there. And in 2017, I decided, I should actually calculate the returns and see what we're actually earning from this property. The amount of cash we have invested in it, see what the actual return is. It took some time to add everything up and figuring out: what the total expenses were, what the income was, kind of getting that and then figuring out our actual return.
After I calculated it all up, I determined that our earnings were about 5.4% on the cash that we had invested into the property. Now, somehow in my mind, I had been thinking that we were earning about 10% on our cash invested and it must be because there were more expenses. I'm not really sure why, but I was just way off.
We were actually only earning 5.4% on that investment. Obviously we didn't pick this rental property because it was one of the best earning ones. It was because it was the easiest. It was our property we already owned. It was easy to just transfer it into a rental property. And I do know that we could have bought another property that could have had a higher ROI, but this is what we had and this is what we started with and this is what we were earning.
Fundrise
Now in the middle of 2017, I decided to open a Fundrise account and just out of curiosity and I wanted to take the rent payments that I was getting and I would just start reinvesting the rent payments into Fundrise.
Once I had enough to buy another property, I would do that. When I opened my Fundrise account, I believe I needed to have $10,000 in order to open the account. And they've since lowered that to $10, I think.
And as you would expect from one of these new financial startups, the account opening process was super easy, super quick and it was just a really, really good experience, just opening the account. And honestly just getting started investing with them was really easy.
Investing Options and Earnings
I don't know exactly what I was thinking in terms of earnings from Fundrise when I signed up. Really, I was just trying to reinvest some of the money that was coming from my rental property, but they pay out every quarter. And as these payments started coming in and it's like, oh, this is kind of fun. We're actually earning some money here.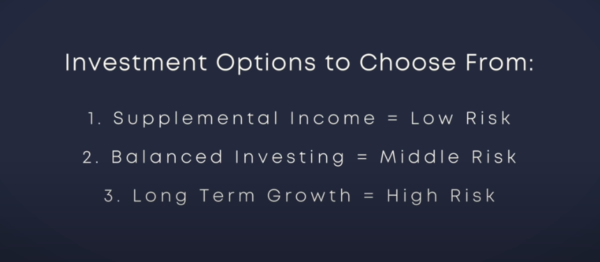 I should also note that Fundrise has three different investment options that you can choose from. They have the supplemental income, which is kind of the lower risk one, then the balanced investing, which is the middle risk and then the longterm growth, which is a little bit of the higher risk one. And I opted for the balanced investing option with mine.
Here's a look at their projected returns for the balanced investing option. As you can see, this is way better than my rental property was. I decided to actually calculate the returns that I was getting from Fundrise. And so once I went back and actually ran the numbers on this, I actually found that my earnings from the dividends only with Fundrise was 6%, 6.0% versus the 5.4% on my rental property.
Consideration Of Appreciation
In both of those scenarios, appreciation is not really taken into consideration. But my hunch is, the appreciation for a lot of the properties that Fundrise is investing in is actually going to be considerably better than my property and the location that our property was on.
Changing Investment Options
Additionally, I should add that with Fundrise I can always change my investment option over to the higher risk one and higher reward one. And in theory, increase earnings even higher.
Once I discovered this and saw the simplicity of Fundrise, I realized how much easier it is then having our rental property and all the work that comes with that.
Because what I didn't realize, being a new property owner, is that even with a property manager who takes care of almost everything, there's still stuff that comes up. There's still things that I had to deal with, taxes and there's having to have a separate LLC to house it. And just a lot of just random things that come up, and that it's just something I don't have to think about with Fundrise.
Our Real Estate Investment Focus
Long story short, we have sold off our rental property and we now use Fundrise as our primary means of investing in real estate.
For us, I probably will get back into physical real estate at some point. But for right now, the simplicity of using Fundrise is just really attractive to me. And so that's why we're focused on that.
It's just a great way for people who want to get started investing in real estate, but don't want to take on the huge risk of actually buying a property and dealing with all the stuff that comes with that.
Like I said before, if you have any questions about Fundrise that you think I can answer, I'm happy to answer down in the comments and you can definitely check out their website and find a whole lot more.