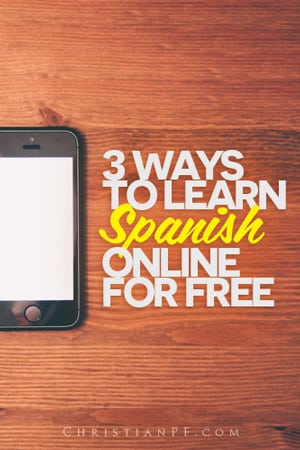 Spanish is a fantastic language to learn (it's one of the top spoken languages in the world), but it isn't always easy.
Besides the difficultly of learning a new language, there are cost considerations. Taking Spanish classes at a university or community college certainly costs money – not to mention transportation costs.
Thankfully, the internet has made learning a new language convenient and, in some cases, free.
Here are three unique ways you can learn Spanish online, absolutely free of charge. Pick the method that's right for you!
1. Duolingo
If you haven't heard of Duolingo, you're in for a treat.
Duolingo is perhaps the most beautiful, fun way to learn a language online. And that's right, it won't cost you a penny.
You can learn from your desk or laptop computer, iPhone, iPad, or Android device. The apps work very well, and everything syncs so you won't lose your course progress.
Duolingo is effective, too. Check this out from their website:
An eight week study was independently conducted to assess the effectiveness of Duolingo as a language learning tool. The participants took one university placement Spanish language test at the beginning of the study and one at the end. The improvement of language abilities was measured as the difference between the initial and the final language test results.

The study estimated that a person with no knowledge of Spanish would need between 26 and 49 hours (or 34 hours on average) to cover the material for the first college semester of Spanish. Since a one semester university course usually takes more than 34 hours of work, this study suggests that Duolingo is more effective than university.
You'll encounter a variety lessons, including opportunities to speak, listen, translate, and answer multiple choice questions. Plus, you'll get feedback on each lesson so you know how to improve.
Duolingo encourages you to keep learning through the use of "streak counts" which records how many days in a row you spend learning Spanish. You'll also lose "hearts" when you answer incorrectly; but don't worry, you can try the lesson again if you lose them all.
httpv://www.youtube.com/watch?v=8OebgtUjLg4
Duolingo also promotes that you can: "Learn a language for free. Forever." That's a powerful statement, and means that they won't start charging you once you're signed up.
2. iTunes U
iTunes U offers free courses in Spanish that you can listen to online or on your iOS device (your iPhone or iPad).
One such course is Basic Spanish: SPN101, SPN102, SPN103, which can help expose you to spoken Spanish to enhance your learning. This would be great to listen to while doing chores around the house, on your commute, or while working out.
Another course called Spanish I provides video of written Spanish to help you learn. This would be fantastic for more in-depth study.
3. YouTube
Many times, you can find just about anything you want to learn on YouTube. Learning Spanish is no exception.
The YouTube channel, The Spanish Blog, offers thirty excellent lessons on how to speak Spanish. Of course, they are free of charge, and the instructor does a great job going slowly through each lesson. These lessons teach the basics, and gradually get more advanced.
httpv://www.youtube.com/watch?v=7uzrQ0QJKcI
You can also search YouTube for common Spanish phrases to supplement your knowledge.
It may help you seeing a person speak Spanish instead of just hearing it. If that's the case, YouTube is probably the right choice for you.
Final Thoughts
Learning Spanish online isn't for everyone. Sometimes you might find yourself needing some feedback or having questions with no one to answer them. Plus, you may find that being accountable to an instructor can help you learn faster.
However, if you have the drive to learn Spanish, and can push yourself to learn Spanish without the oversight of an instructor, why not give online learning a whirl? After all, it's free!
Have you discovered any other resources online to help you learn Spanish? Would you recommend them to others? Leave a comment!