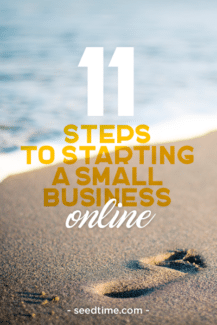 Let me start by saying that these were the steps I took to start my small business and they will vary depending on the type of business you are wanting to start.
Hopefully they will give you ideas of some things you need to keep in mind as you progress!
PRE-Step 1. Figure out what you are passionate about.
This can be difficult, but following your passion is – in my opinion – absolutely critical to a successful business that you are still enjoying a couple years into it.
Sure there are ways to make money doing things you hate, but I did plenty of that while working for someone else in a cubicle – how about you?
The goal shouldn't be to just make money, but to make money doing something you enjoy. As anyone with any common sense knows, money does not equal happiness.
For me (and probably for many others) my passion was easy to spot for others, but not so easy for me to spot.
But if you would have asked my wife what I was talking about all the time, what I was reading about, what I was doing after I got home from work, she would have said I was obsessed with learning about personal finance and money management. My hobby was figuring out how we could better manage our money and how we could cut our expenses.
Even if you don't feel like you have something that you are that passionate about, at least focus in an area that interests you.
PRE-Step 2. Do something – ANYTHING – to move forward
Once I found my passion, I didn't really know what to do with it, but I figured starting a website was probably a good place to start. I don't even think I knew that you could make money blogging, but I just figured writing about the subject would build a little bit of a platform while forcing me to learn more and organize my thoughts a bit.
Regardless of what online business you are wanting to start, getting a website is probably a good first step. After trying out a lot of different hosting companies, Hostgator is my favorite and they also are great for newbies as they have hosting packages that start at just $3.96 a month.
Starting a website was a turning point for me as it pulled me out of months of thinking and wondering about starting a business to a tangible action step that helped propel me forward. I was like many others who deliberate and wait around for the timing and the circumstances to be perfect before taking any action.
So regardless of whether it is starting a website, advertising your services on Craigslist, or anything else – just take a step of action to move forward.
11 Steps to get started with your small business
Assuming you have your business idea in mind and are ready to get rolling, these are some things that you will want to check off your list.
They are not all necessary for all businesses, and obviously this isn't an all-inclusive list, but they will give you some ideas of things that you need and may want to do.
One of the worst mistakes I made was that I was intimidated by a lot of these things because I didn't know how to do them.
So much so that it caused me not to start a business years before I should have. Please do not do this! Focus on growing your business and do not let these things be obstacles that prevent you from moving forward.
Additionally, if you don't have money to invest in the business off the bat, then many of these things can wait until you start making some money.
1. Business plan (sort of)
I am an avid planner. But if you aren't going to borrowing money from a bank or pitching your idea to a VC firm, I would question going through the typical business plan creation process.
The process definitely has some benefits, but I would argue that it might be better to spend 9 days trying to grow your business and a day on planning, rather than spending 2 weeks creating the "perfect" business plan.
Many online business owners may be better suited just setting annual and monthly goals. I have a whiteboard in my office that has my goals for this year listed, which are broken down into monthly goals, and which are then broken down into actionable daily goals.
Since it is about 3 feet from my head, I look at it all day long and it is really motivating when I can check some off the list. (Read more about how I run my business here).
2. Get an EIN (tax id number)
A lot of places will charge you to do this, but you can apply for an EIN for free here.
3. Form an LLC
This may or may not be necessary for you right away depending on the type of business that you will be running. By default, just starting out you will be a sole proprietor and you can claim your business earnings on your 1040 tax form.
I did this for about 2 years and then I switched to an LLC. You can create it pretty cheap using a site like MyCorporation.com or LegalZoom.com.
4. Get business cards
Yep, even with an online business you should probably get them. Believe me, it is a lot easier just handing someone a business card than trying to spell out your website URL and hoping that they will remember it. Luckily you can get 250 of them for under $20 at places like VistaPrint or OvernightPrints.
5. Get licenses, permits, etc
Depending on your business, you want to investigate the licenses and permits that you may need to operate.
6. Get Business Insurance
Depending on the type of business you are in you might want to look into getting business insurance. Check out Bolt Insurance for quotes.
7. Open a business bank account
I looked long and hard for a free business checking account and I finally found one at US Bank. I used that exclusively up until about a year ago and now I primarily use Paypal as my business bank account. They even have an iPhone app that allows me to deposit checks by taking a picture of them – pretty cool.
8. Think long and hard about borrowing
The beauty of online business is that many can be started VERY cheap and without borrowing anything. The days of being forced to borrow $50,000 from the bank to get your business up and running are gone. I started this business without any money and it has been run without borrowing anything.
I understand that not all businesses can be built without borrowing, but if you must do it, be very cautious about how you spend the money. The problem is that I see so many businesses "spend money like they are in a rap video" when they haven't earned a dime. I would rather earn the dime and then spend a nickel.
9. Get some accounting software
I waited a little too long to do this and it resulted in a very time consuming tax time. QuickBooks is the standard that most people (and accountants) still use.
10. Get a logo
Pretty much any online business will need a logo and you can find logo-designers at Upwork.com.
11. Get a business address
Rather than having my home address posted all over the internet, I chose to get a mailbox at the UPS store for about $10/month that functions as my business address.
More related reading:
What other tips for starting an online business do you have?