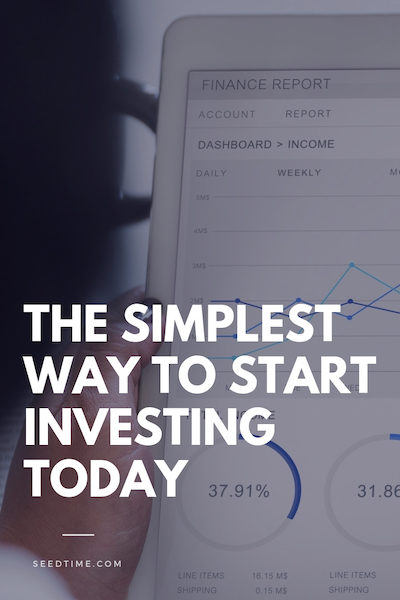 Over the last few years, I've been hearing about an investment company called Betterment, so I decided to take a look to see what they're all about.
If you're not familiar with Betterment, they're a brokerage firm with one goal: make investing better.
How? By making it easier!
There are a lot of people who want to invest, but they just don't know where to start, what type of account to open or how to manage their investments.
If you have put off investing because of these reasons, you may want to consider Betterment.
How Does Betterment Work?
Betterment simplifies investing with its goal-based investment strategy. Here's how it works:
1. Open an Account
When you open a Betterment account, they ask you what your goals are. Are you saving for retirement, vacation, new car, or college? Since Betterment is a Registered Investment Advisor, they use your age, investing time frame, starting balance, and monthly contributions to suggest a strategy for each goal that you have.
2. Fund Your Account
Funding your investment with Betterment really is simple. After you create a goal, they show you how much you need to save each month and give you the option to draw it monthly, weekly, or every other week from your bank account.
Yes, that means you need to sync up your bank account but that's simple too – they walk you through each step.
3. Select Your Investment
This is where Betterment shines. Their interactive asset allocation tool gives you a visual picture of how aggressive or conservative you can invest your money. They even have an interactive demo that you can use to see how easy it is to use Betterment.
How Your Money Is Invested
I mentioned that Betterment gives you an easy way to visualize how aggressive or conservative your investments are. They use stocks via ETF (exchange traded funds) and bonds via U.S. Treasury Bonds as investments. Instead of choosing individual companies and risking your entire savings on the performance of one stock, you're well diversified among 3500+ companies that are represented in the ETFs.
Here's a breakdown of the actual ETFs and bonds that Betterment uses.
For Stocks:
25% VTI: Vanguard Total Stock Market
25% IVE: iShares S&P 500 Value Index
25% VEA: Vanguard Europe Pacific
10% VWO: Vanguard Emerging Markets
8% IWS: iShares Russell Midcap Value Index
7% IWN: iShares Russell 2000 Value Index
For Bonds
50% TIP: iShares Barclays TIPS Bond Fund
50% SHY: iShares Barclays 1-3 Year Treasury Bond Fund
It's important to know that, like any investment in the stock market, nothing is guaranteed. Investments in the market can lose value, which is true with the investments used with Betterment.
Are There Fees, Minimum Balances, or Transaction Costs?
Fees: You're always going to pay a fee to invest somewhere. Some places try to hide the fees, but Betterment is up front about it. Their fees range from 0.15% to 0.35% per year.
Minimum Balance: The nice part about Betterment is that they don't have a minimum balance rule. You can set up an account with $25, $100, or $1,000+ and add money as you go based on Betterment's recommendations.
Transaction Costs: Nope. You won't find $7 trades here because Betterment doesn't charge you a transaction cost to invest your dollars.
My Thoughts on Betterment
I had the chance to meet the CEO, Jon Stein, and personally talk with him about Betterment, how it works, and the investment philosophy of the company. Betterment has turned a once-intimidating practice of investing into an accessible tool that is customer focused 100% of the time.
Jon called it smart, intuitive, and accessible, and I agree. I had to try it myself, so I opened my account in about 5 minutes and created my first goal. It seriously couldn't have been any easier. Plus, I got a $25 bonus just for signing up with just $250 – an awesome return right away :). Here's a look at my account (before the $250 cleared):
I really am excited to use Betterment because it's simple and automatic. You don't have to be an investment guru to save and invest your money. You just have to have the right tools, and I'd encourage you to explore Betterment to see if it helps you reach your goals more easily.