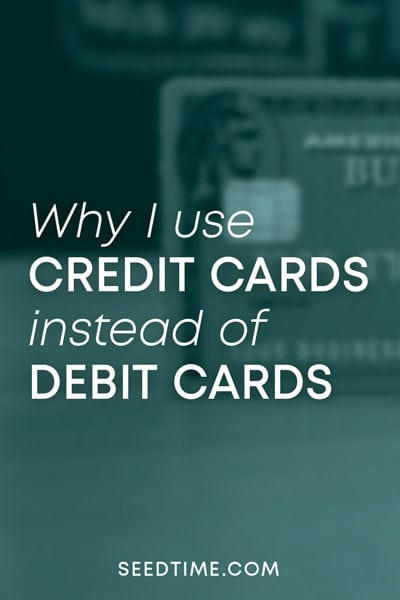 The simple truth is that while they cost me a lot of money early in my life in interest charges (because of my bad financial habits), at this point, they save me far more money than I could have ever imagined.
This is another one of those articles that I should have written years ago, but I was a little scared.
There are some people out there that don't fully understand what the Bible says about debt and whether or not Christians should use credit cards.
Yes, they absolutely need to be used with caution and you really have to "know yourself" and be honest about whether or not you will pay off the balance each month.
Because if you don't pay off the balance each (and EVERY) month, you will quickly negate any benefit that you would get from using credit card bonus points.
But, if you have the self-discipline to pay them off each month AND you don't actually spend more using them than cash, then you can benefit big time from the rewards that many cards offer.
Do credit cards actually make you spend more than cash?
On numerous occasions, I have heard (and even found myself repeating) a quote from a supposed study from Dun and Bradstreet that states that:
"People spend 12-18% more when using credit cards instead of cash…"
But when I actually began looking for the source of that info (the study itself) I wasn't able to find it anywhere. And I am not alone – a quick google search revealed lots of financial experts discussing it, none being able to find it and even some questioning if it ever actually existed.
Regardless, knowing my own behavior, it does make sense to me that I could spend more on plastic than using cash. However, at this point, I know of no conclusive studies proving that.
Again, the key is to "know yourself" and determine honestly for yourself whether or not you do spend more when using plastic.
A DIY debt consolidation using credit cards
The first real benefit I got from using credit cards was when I did a makeshift debt consolidation using credit cards.
10-15 years ago, I was paying off my consumer debts and I didn't have the option of using Lending Club for a debt consolidation, so I used 0% credit card offers instead.
At the time there were a bunch of great balance transfer credit cards offering 0% for 12 months with no balance transfer fee.
So I got as many as I could and I transferred my higher interest rate cards to the 0% cards. I even transferred our car loans to our 0% cards as well. It took a good amount of tracking and Google calendar reminders to make sure I transferred to a new 0% credit card before the 0% promotional offer expired.
But the couple hours of effort each month allowed us to move all of our debt to a 0% rate, saving us many hundreds if not thousands of dollars in interest charges.
We used that process to pay off all of our remaining $46k of debt.
Once all our non-mortgage debt was paid off (working on paying off our mortgage!), I decided that I wanted to make sure that I never got into credit card debt again, so we got rid of all our credit cards.
I honestly think I was disciplined enough at that point to NOT get myself in trouble with them, but since I didn't see any benefit to them now that our credit card debt consolidation was complete, we just got rid of all of them.
I cut them all up and got them out of my life.
We used a debit card and cash and generally had no issues (other than trying to rent a car with a debit card).
And it was all working out just fine.
Why I started using credit cards again instead of a debit card
Over the next few years, I would often hear some of my personal finance buddies talk about how they were getting so many perks and rewards with their credit card points.
For a while, I didn't think much of it because I was using (the now defunct) Perkstreet debit card that at one point gave 2% cash-back on all spending.
So, in my mind, I didn't really think I was missing out on much.
But when Perkstreet went out of business (it was just too good to last), I found myself missing those rewards – 2% really adds up to a lot of money each month!
So, I started investigating the whole world of credit card rewards…
My mind was blown.
I had no idea how valuable some credit card points were.
I began looking for credit cards that were offering bonus points for new customers and began opening as many as I could.
I opened 9 different credit cards over the next 6 months and began collecting points from all these cards.
I created a system of Google calendar reminders and a spreadsheet to help me make sure that I closed them all at the appropriate time to avoid the annual fee.
Over the next few years, I would figure out which cards are worth the time, which ones are not, and how to maximize point usage.
This led to us getting (by my best estimates) about $45k-$60k in free travel.
In the next article "How we travel for free" I go into detail about:
How we 80/20 the process so it takes next to no effort and maintenance
The only credit card reward program you need (that is best for 95% of Americans)
How we got 161 FREE hotel nights at Hyatts and 97 FREE Southwest flights over the last 5 years