Technology is changing everything – even the well-worn process of getting a loan through a bank.
You can now streamline the whole borrowing process and consolidate your debt with Lending Club.
Lending Club is the largest and most well-known of the rising class of direct lending platforms that enable both borrowers and investors to bypass traditional banks.
It just could be the better way to get a loan for millions of people.
How Does Lending Club Work?
Lending Club is a Peer-to-Peer (P2P) lending site that enables investors to invest in the loans of the club's borrowers. Since this is a form of direct lending between the investor and the borrower, there is no "middleman" skimming profits along the way.
That means that the interest rate charged to borrowers can be lower than what it is for typical credit cards, while investors get higher returns than they can on traditional bank investments.
Loans are risk rated, and assigned interest rates accordingly. The grade is based on credit score, income, employment, length of credit history, debt-to-income ratio (DTI) and other factors.
Lending Club started in 2007, and since that time it has handled more than $20 billion in loans, while paying nearly $600 million in interest to investors. The service has been growing at a rate of over 100% per year for the past several years. The process of P2P lending may eventually become the new normal in personal lending, especially since bank lending policies have become tighter in recent years.
The Lending Club Borrower Advantage
Getting a loan on Lending Club is a simple process:
Customers interested in a loan complete a simple application at LendingClub.com (step-by-step below)
Lending Club evaluates the information (with no impact to the applicant's credit score), determines an interest rate and instantly presents a variety of offers to qualified borrowers
Investors ranging from individuals to institutions select loans in which to invest and can earn monthly returns
The entire process is online, using technology to lower the cost of credit and pass the savings back in the form of lower rates for borrowers and solid returns for investors.
Lending Club offers borrowers the following advantages:
Easy online application
Low fixed rates, starting at 6.16% on the best credit grade for personal loans
Fixed monthly payments
Flexible terms
No prepayment penalties
No hidden fees
Friendly service
Personal loans up to $35,000
Business loans, up to $300,000 at rates starting as low as 6.16%
Home improvement loans
Your privacy is protected – investors and borrowers never know each other's identities, and the site never sells, rents or distributes your information. The only information that is shared is what's necessary to complete the requested transactions.
How to consolidate your loan
They really couldn't make it much easier. In fact, you can probably do it in a small fraction of the time it would take you to get a traditional debt consolidation loan. Just follow the 4 steps below to see how to get started.
1. Figure out how much debt you want to consolidate.
Add up all the outstanding debt you have that you want to roll up into the loan.
Next, fill in the amount of loan you are going to get, then select "Debt Consolidation", and then select your credit score. If you don't know your credit score, there is an option for 'not sure'. Then click "Get Your Quote"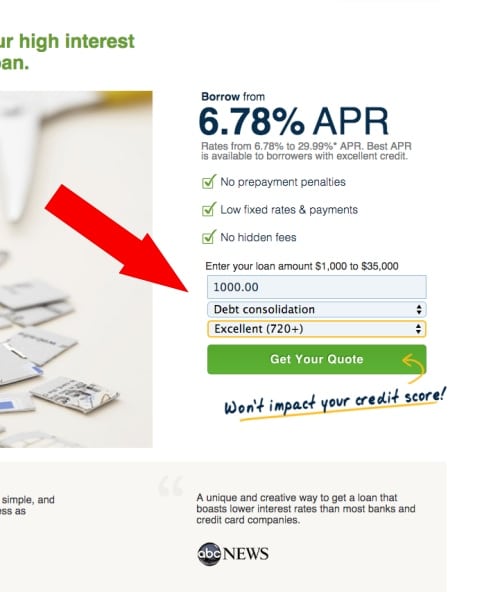 3. Get your rate
Now fill out the remaining fields and then click "Get Your Rate" to see what rate they can offer you.
4. See if you are approved and what rate they offer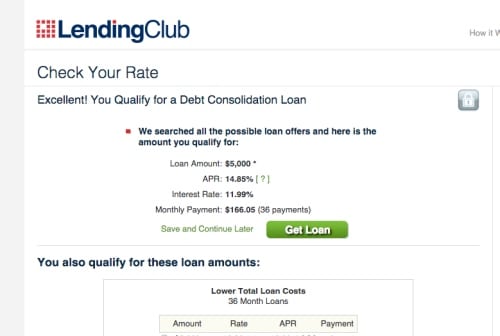 Now you can just click "Get Loan" and you will be off to the races!
A Real-life Example From a Fellow Blogger
Source: Debt Free Adventure
Fellow blogger Matt Jabs provides his own Lending Club debt consolidation loan experience on his blog, Debt Free Adventure.
Matt and his wife, Betsy, wanted to consolidate four separate loans into a single debt consolidation loan with Lending Club to lower their interest costs.
Here were the four loans they needed to payoff:
Auto Loan – Capital One @ 10.5%
Credit Card 1 – JP Morgan Chase @ 14%
Credit Card 2 – Capital One @ 16.25%
Credit Card 3 – Citigroup @ 19%
Based on their credit profile, they were able to secure an $11,000 loan from Lending Club to pay off the above debts. They were charged a rate of 9.32%, which was a serious reduction from the high interest credit cards they were paying off. They paid a total of $85 in origination fees to obtain the new loan, but ultimately saved $500 in interest expense for their efforts.
There are success stories like Matt's all over the web, and on the Lending Club site. A lot of people are finding it faster, easier and more private to get a loan through Lending Club rather than endure the cumbersome and often embarrassing process of going the traditional bank loan route.
Some Caveats on Debt Consolidation Loans In General
Before taking on a debt consolidation loan, make sure that you are aware of a few important realities:
Debt consolidation isn't a get-out-of-jail free card – once you've done the consolidation, you still owe the same amount of money that you did before.
The loan should either provide you with a lower monthly payment or a quicker payoff of the combination of the loans that you are consolidating.
A payment reduction should be used to increase your principal payments, so that you repay the debt consolidation faster than the original term.
You should not borrow money from any other sources until the debt consolidation loan is completely paid – otherwise the debt consolidation will become just another loan.
The overriding purpose of the debt consolidation should be to get you out of debt – not make your debt easier to live with.
If you keep those realities in mind, then a debt consolidation loan can work for you. And if it will, then Lending Club is an outstanding place to make it happen.
Have you done a debt consolidation with Lending Club? Would you?