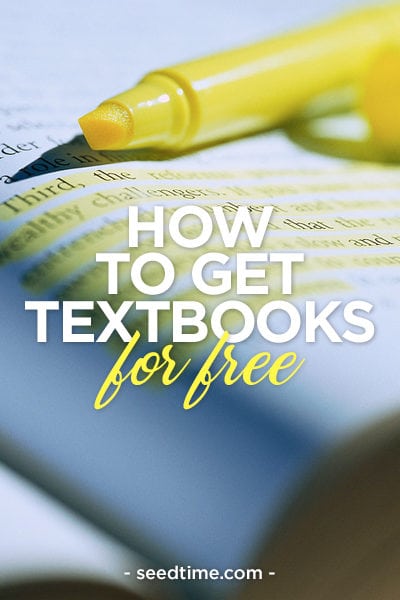 This was a trick I discovered late in college, that I wish I would have known about earlier because it could have saved me thousands over my college years.
It shouldn't take more than a hour and could save you hundreds each semester.
Basically, the goal is to buy and sell the textbook for the same price – making it ($75-$75=$0) FREE!!
1. Find the cheapest priced textbooks.
Get the ISBN# from the barcode of the book and do a search on both for the cheapest used book.
Feel free to look other places like textbooks.com or Barnes and Noble, but Amazon and eBay are likely to be the cheapest.
Make sure you are getting the right edition for the class (I had many classes that it didn't matter, but for the purposes of reselling, the newest edition will help).
2. Use it, but don't abuse it
Folded pages, highlighting, rounded edges don't affect the price very much, but missing covers or pages do. Don't eat your book!
I know you are in college and probably short on cash, but if you are resorting to eating paper as a dietary supplement, stick with looseleaf; it is cheaper.
3. Get ready to sell those textbooks
After the fall semester you are going to want to sell them right away, because other anxious college kids will be looking to buy them up for the spring semester.
After the spring semester on the other hand, you should probably wait a couple months before looking to sell.
Remember: supply and demand.
How many college kids are looking to buy their textbooks for fall, when classes let out in May?
4. Don't trade them in to the Campus Bookstore!
You want to list and sell them for best possible price, and that is NOT it.
There are many options for selling your books, but you want to find one where YOU are selling to the customer.
What you will find is that as long as every school in the U.S. hasn't switched to a newer edition, you shouldn't have a problem selling them for what you paid.
I like Amazon's textbook store
the best. They move a lot of books and if priced appropriately, you should be able to sell it quickly.

eBay is another good option, but I don't think it is quite as easy as Amazon.
Once you go to Amazon's textbook store
you can begin the selling process by entering the ISBN#.
The whole process is pretty easy
It shouldn't take more than a couple minutes for each book.
When setting your price, look to see what the lowest price is and go a few cents below that. This will help you to sell your book as quickly as possible. Check back every week or so and adjust your price so it is the cheapest listed. If your book is not in the 5-10 lowest priced books, it is unlikely that it will sell.
When you do sell your book, you will receive a notice via email with the buyer's info. It is your responsibility to get it shipped ASAP. Not doing so will result in poor ratings and will make it more difficult to sell the next book.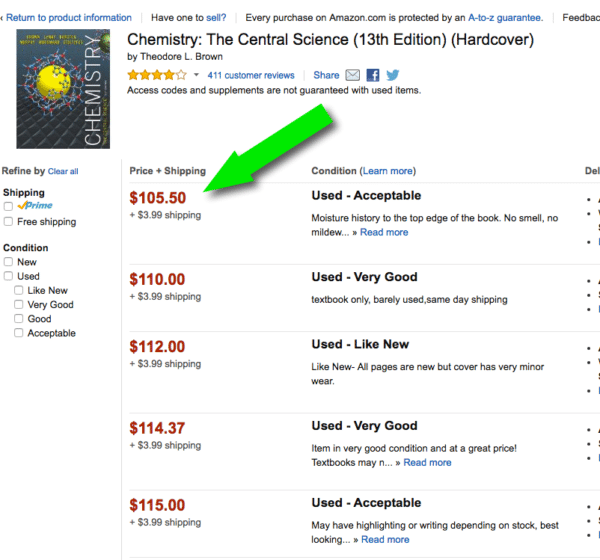 I did profit off a few books over my last year in college doing this.
You will find that some are winners and some are losers, but no matter what, I suggest that you sell textbooks online – you will be doing a whole lot better than those who buy their books new and sell them back to the campus bookstore.
Making this even simpler
If you don't have time to actually go through the selling process (which does take a little time and energy) Amazon has a trade-in program. Occasionally this can work out REALLY well and is a LOT quicker.
In the example we used, you can actually buy the book right now for $105 and trade it in for a $123 Amazon gift card (see image below).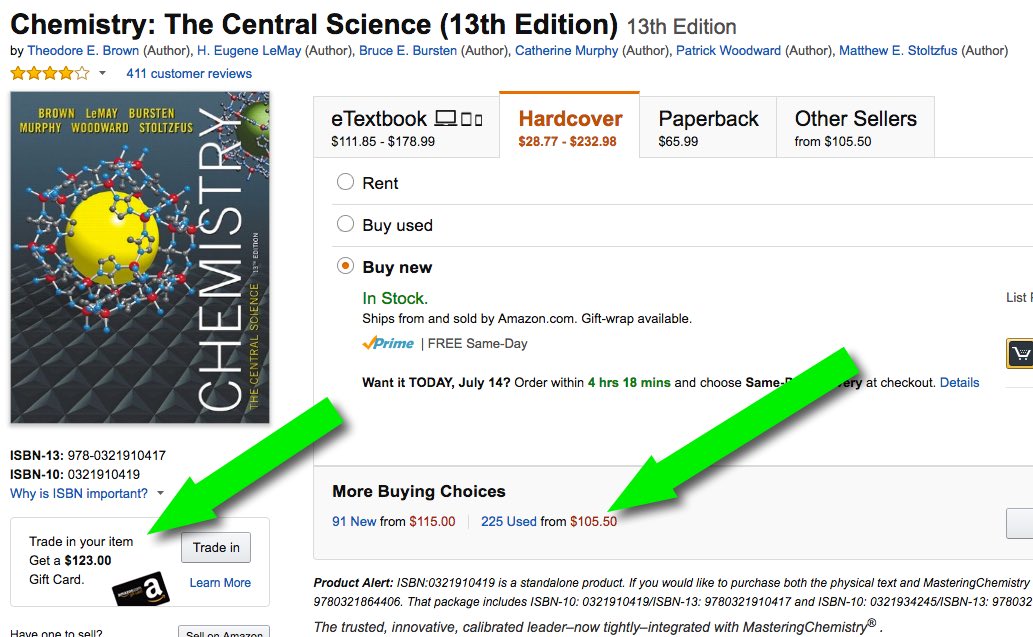 So definitely pass this along to any college kids you know, every college student would like to get their textbooks for free!