Every time I have been late paying a bill, it wasn't because I didn't have the money, it was because I forgot about it!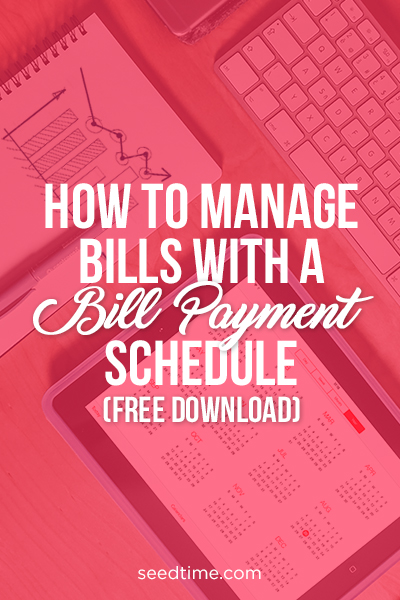 My hunch is that most late-fees occur for that same reason. Back in those days when I lived in financial chaos, I didn't have a system in place to help me remember to pay my bills. For me this was just like playing roulette with my bills – I remembered to pay them sometimes and sometimes I would forget. It goes without saying that paying bills late (especially for
credit cards
) is terribly expensive. Most
credit card companies
charge something like $40 each time it is late as well as jacking up your interest rate to 25%.
Batching the Process
Anyone who has ever forgotten to get something from the grocery store realizes that it requires a lot less time to buy everything one day than having to go get something as you need it. It requires a grocery list and a bit of foresight, but it saves you hours throughout the week by NOT having to go back to pick up missed items. Why not implement the same type of planning to the paying of your bills? Rather than sporadically paying them as they come in or checking a pile on your desk every few days, you should be able to designate 2 days a month to pay your bills. And of course, if you want to save even more time, use your bank's online bill pay.
4 Steps to Manage your Bills
1. Make a list of all of your bills
Next to each one write the day that it is due. If there is not a due date just leave it blank.
2. Decide on 2 days per month that you will pay your bills
I recommend the 2 days you when you get paid (if you receive a regular bi-monthly check).
3. Organize them by due dates
Assuming the days you get paid are the 1st and 15th – you would then take all of your bills due the 22nd through the 6th and pay these on the 15th. And on the 1st of the month you would pay the bills due from the 7th -21st. This will give each bill at least a week to get to you through the mail.
4. Figure out what your monthly dollar amount needed for bills is and divide it by 2.
If your monthly bills total $2000, then you will want to pay as close to $1000 worth of bills on the 15th and $1000 worth on the 1st. Use the bills that don't have a due date (i.e. savings accounts) to balance this out as best as possible.
Download a bill pay template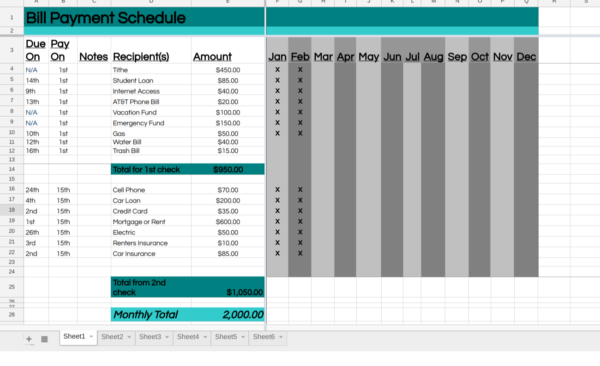 To see an example, download my bill payment schedule Excel spreadsheet, (or
see these 10 FREE household budget spreadsheets I've found).
Just enter your info below to get an XLS version of it! I also suggest having a designated checking account specifically to pay bills from. That way you can know exactly how much comes out (the monthly total of your bills), therefore you can know exactly how much to deposit. Of course if your bill paying days don't balance out perfectly (paying $1000 both days), don't spend the money! If you paid $700 this time, you know you will have to pay $1300 next time. If you don't touch it, you know it will be there waiting.
Homework:
Follow steps 1-4 above and get your bills organized!