A while back I wrote a pretty thorough article on how to make a budget, but it didn't really answer the question of how to set up a budget when you don't have a regular paycheck. Interestingly, I seem to get this question a lot.
The fact is, it is more difficult to set up a budget when you never know how much you are going to make each month – but it still can (and in my opinion) should definitely be done.
Budgeting Tips for the Commissioned-Only or Self-Employed
In the good times money management is important because you can easily let down your guard and spend more then you realize. The optimist in you can mistakenly believe that it will always be like this from now on, only to find out a few years later that things can change suddenly without notice.
The wise see trouble coming from far off and make plans. On the other hand, when times are tough you need to manage your money well. Sometimes, things can get so tight financially that we really do not want to face how bad things really are. So, we just continue down the road making things worse financially.
I happen to think it is far more important for those with irregular income to set up a budget because of the quick damage that can be caused if you don't.
I have heard stories from readers who really got themselves into a mess by having a few prosperous months and assuming that it would just stay that way. Then when things go back to "normal" they can't adjust back to those "normal" spending levels.
How to set up a budget with irregular income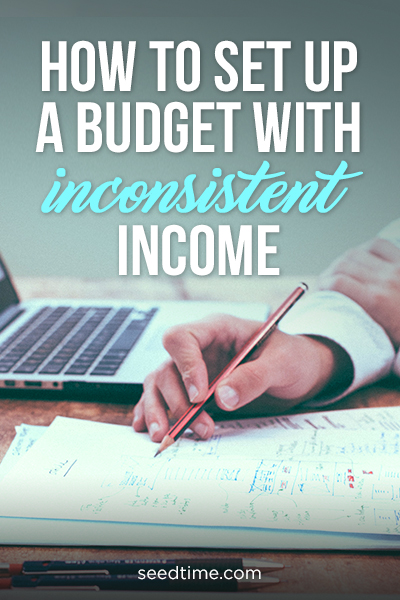 1. Get the average of your last 12 months' earnings
Add them up either in a spreadsheet or piece of paper. Once added, divide the total by 12 to get your average monthly earnings for the year. (If you have 24 months of data, you may consider using that)
This is the figure that if everything stays the same the next 12 months, you should be able to use to set up your budget. But, as we all know, things rarely stay the same and even if they did, you could have a few of the low months in a row that could make things quite challenging.
2. Multiply by 0.8 (or less)
So, for added protection and safety, I like to multiply the average monthly earnings by 0.8 (or less for more safety). As you can see in the example to the right, this would give you $772 as your number that you base your budget off of.
If after tweaking your budget and cutting your expenses like crazy, you still can't live off of that amount, then you can multiply it by 0.9, but the higher you go, the higher the chance of things not working out.
3. Open a buffer savings account
This is an account that is going to function a little like an emergency fund, but it's sole purpose is to store up the surplus earnings on good months, so that you can pay the bills on the bad months.
It can be a savings account or money market account, but it should be money that you can easily access and ideally it would be at the same bank you have your checking account – so you can make quick transfers between the accounts.
4. Try it out
Using our example above, we are going to live off of $772 each month. So assuming January is the same, we would have a $78 surplus ($850-$772) which we would then transfer to our surplus account. In February we would have a $428 surplus and in March a $278 surplus – which would give us $748 in our surplus account.
Then when April & May come around we would be able to handle those deficits ($374) just by pulling the funds from our surplus account.
The challenge
The hardest part of all this is being disciplined enough to sock the money into the surplus account and not using it to buy a new entertainment center. It is so easy to think that after a couple good months, it will always stay that way. But, as they say, the best time to put a new roof on your house is when it is sunny. It is a lot easier filling an account up with money after a good month, than after a bad month.
The flaw
And the truth is, while I think this is the best way to try to budget when you don't have a regular paycheck, it is far from perfect. I mean in reality it is very unlikely that your earnings are going to be EXACTLY the same as they were 12 months ago. Sometimes things trend upwards or downwards over years. But, even though it isn't perfect this is the best way that I know how to budget in situations like this.
This is just part of the price we pay for being self-employed, in sales, etc. Sometimes we make more, sometimes less, but personally I would choose the challenge of handling irregular income over a steady paycheck any day. It was easier budgeting with a regular paycheck, but I generally only got to see my income increase once a year by 5% (and then saw it go down by 100% when I got laid off).
I like living on the edge a little more – don't you?
More on setting up the budget
Since I wrote such a thorough article about creating and setting up a budget – you can just check that out for more detail. It will show you how to set up the budget after you figured out your income – which I guess what this article is really about.
I used a paper budget (like I mention in that article) for a while, but am now using the Real Money Budgeting method and I am loving it. So if you are willing to pay for a budgeting tool, it might be worth checking out.
A few more tips to help you budget with inconsistent income
Don't spend it all when you get it.
I know that this should go without saying, but something happens mentally when you have a few thousand extra dollars in the bank. I know some of you are wishing for that problem to come into your life. I believe that time and chance happens to us all so you still need to be prepared now. Once money stats to come in, you can develop a false sense of security and can easily let your guard down.
The book of Proverbs (22:3 NIV) tells us that, "The prudent see danger and take refuge, but the simple keep going and pay the penalty." Do not foolishly let your guard down when times are good. Decide now that you are going to be smart with surplus.
Use cash for anything that is not a bill.
After you have your necessities budget set up, determine a reasonable monthly amount for anything that is not directly related to a bill. Get that amount out from the bank either weekly or monthly.
This will help you in many ways. It creates discipline because once the money runs out you have to wait until your next cash withdrawal. It also keeps you better organized as you will not be pulling your hair out with all of the small charges on your bank statement.
Rank your expenses in order of importance.
If money becomes extremely tight, then take out a piece of paper and rank all of your expenses in order of importance. This is a great exercise to do for many reasons. It helps you to know who to pay first when some money does come in the door. Try your best not to have automatic withdrawals in your account. While it might appear simpler, you have less control. Also, take a look at the very bottom of the list. Maybe the last five items on your list you could be cut out altogether as they are not as important to you to begin with.
Apply some of these principles today and you will have a better piece of mind even with an irregular income.
A few other tools to help you:
If you have any other helpful ideas for budgeting with inconsistent income, let us know in the comments below!