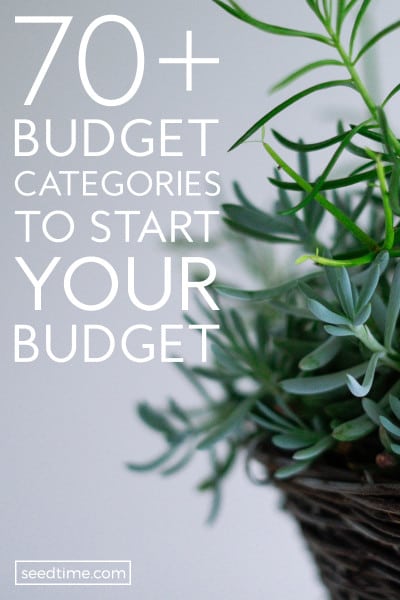 In order to have an effective budget, you're going to need some basic personal budget categories to start.
Determining the budget category to use isn't always easy, especially if you've never made a budget before.
Start your budget off right . . . here are some of the best budgeting categories to set you off on the right foot.
Making Your First Budget
The budgeting categories listed below won't do you any good unless you have some sound principles behind them.
Bob has written a great article on how to make a budget that includes how to make the "world's easiest budget" and other budgeting methods designed to save you the most money possible.
And if you prefer, you can download one of these free budgeting spreadsheets or take the Real Money Budgeting online course as well.
70+ Basic Personal Budget Categories
Below I've listed many basic budgeting categories, but understand that these are not necessarily prioritized. Some are essential, some are recommended, and some are discretionary – it's up to you to figure out which are which beyond what I've said below. I've added subcategories to each major category so you can further define your budgeting categories as needed.
Remember, these are just to get you started, nothing more.
Giving
Giving puts money in perspective – and it also helps the community at large. It should be the top priority on your budget.
Offerings
Charities
Specific Needs – Consider creating a Giving Fund.
Food
You can't survive without it. Food needs to be very high on your prioritized budget list.
Groceries
Restaurants
Pet Food/Treats
Shelter
Nothing like a roof over your head. This one is important too, and make sure that you can afford whatever dwelling you choose!
Mortgage
Rent
Property Taxes
Household Repairs
HOA Dues
Utilities
Don't forget the importance of utilities. Some of these are more important than others. For example, you might choose to go without cable!
Electricity
Water
Heating
Garbage
Phones
Cable
Internet
Clothing
Wear something. It's kind of socially important. But don't go overboard here with all the latest trends – that's for your Fun Money category to manage.
Children's Clothing
Adult's Clothing
Transportation
Commute to work? Transportation is important. But you're going to need more than gasoline and oil changes . . . .
Fuel
Tires
Oil Changes
Maintenance
Parking Fees
Repairs
DMV Fees
Vehicle Replacement – This should be for reasonable vehicle replacements; fancy add-ons should come from your Fun Money category.
Medical
Even if you are healthy and don't have many medical expenditures, make sure you consider these categories.
Primary Care
Dental Care
Specialty Care – Think orthodontics, optometrists, etc.
Medications
Medical Devices
Insurance
The goal of insurance is to pay for expenses you can't afford but desperately need to cover. Raise your deductibles to save some money if you have a fully funded emergency fund.
Household Items/Supplies
Look at your bank account and determine what household items and supplies you purchase throughout the month. Here are some common supplies . . . .
Toiletries
Laundry Detergent
Dishwasher Detergent
Cleaning Supplies
Tools
Personal
This is just as it sounds. This category is a sort of "catch all" for anything having to do with you or your family personally. It can include subscriptions to personal items or services as well as other personal expenditures.
Gym Memberships
Hair Cuts
Salon Services
Cosmetics
Babysitter
Child Support
Alimony
Subscriptions
Debt Reduction
Reducing your debt is a vital part of your overall financial health. Adding and maintaining debt causes you to pay more for items and services than you should.
Retirement
It's important to have a retirement plan you can depend on. With Social Security wavering, who knows if you'll be able to depend on the government for assistance. It is often recommended to save and invest for retirement as a high priority in your prioritized budget.
Education
Funding your family's education is a great return on investment. Raise your income through education! Beware of funding your education through debt. Instead, save money up for your education needs.
Financial Coaching
Children's College
School Supplies
Books
Conferences
Savings
Many financial experts recommend saving at least 10% of your income for various expenses. Here are the most common ones.
Hill and Valley Fund – For people with variable incomes.
Other Savings – You can add other specific saving categories here where needed.
Gifts
Whether you're saving for gifts for your spouse, family members, or friends, make sure you write out how much you intend on spending per person per occasion. You might need a spreadsheet for this to include in your budget.
Birthday
Anniversary
Wedding
Special Occasion
Fun Money
Everyone needs a little fun. If you don't budget some fun money, you'll end up spending money from categories you shouldn't. Keep this category reasonably funded.
Entertainment
Games
Eating Out
Spontaneous Giving
Vacations
Subscriptions – Such as Netflix.
Editor's Note: Need a revised and expanded list of these categories? Check out my Budget Category Brainstormer – a beautiful worksheet for printing with 80+ time-tested categories and plenty of blank spaces for your own!