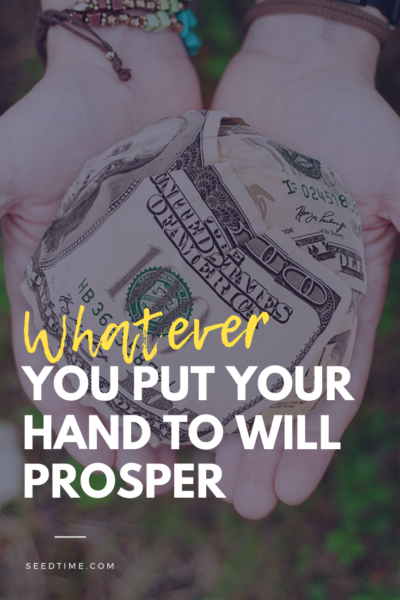 The Bible is amazing and I never cease to be amazed at all the wonderful promises that God has for us. I was recently doing a study on God's promises to bless the work of your hands.
One of the things that stood out to me, that I think many Christians miss is that most of these verses about blessing are contingent on something.
For example, in Psalm 1 it is says that we need to be doing things God's way and staying in the Word and then what we put our hand to prospers.
Or like Deut 30:9 says, "Then the LORD your God will make you most prosperous in all the work of your hands and in the fruit of your womb, the young of your livestock and the crops of your land. The LORD will again delight in you and make you prosperous, just as he delighted in your ancestors,"
It's easy to say that we want God to prosper what we are doing, but I have noticed that most times in my life when things aren't prospering like I want, it isn't because God didn't hold up His end of the bargain, but that I didn't hold up mine.
Usually after prayer and re-evaluation, I can quickly figure out what I was or wasn't doing that was preventing things from prospering like I wanted.
Obeying God is for our benefit, not His
Personally, I think God views the small things as major things. I can't even count how many times I had a little issue in my life, that I didn't think was a big deal – but that apparently was to God.
What makes it worse is when you see everyone around you doing it, and just like a 10-year old you think, "well everyone else is doing it – why can't I?" And just like any good parent, the answer is, "because I told you so."
What I am finally starting to realize is that it is all for our benefit! God doesn't give us a bunch of rules just to make our lives challenging, He instructs us, not for His benefit, but for ours!
When He says not to gossip, it is because He knows what it leads to – and how it ultimately makes our lives worse. When He says to give, its because He knows that the most fulfilling and joyful life is one of giving.
Now I am not suggesting that we should just serve God to see what we can get out of the deal, but it is nice to know that He is really is looking out for our benefit!
Here are a few scriptures I found about being blessed in what you do…
Psalm 1:1-3 (NIV) – Blessed is the man who does not walk in the counsel of the wicked or stand in the way of sinners or sit in the seat of mockers. But his delight is in the law of the LORD, and on his law he meditates day and night. He is like a tree planted by streams of water, which yields its fruit in season and whose leaf does not wither. Whatever he does prospers.

Genesis 39:3 (NASB) – Now his master saw that the LORD was with him and how the LORD caused all that he did to prosper in his hand.

1 Kings 2:3 (NIV) – and observe what the LORD your God requires: Walk in his ways, and keep his decrees and commands, his laws and requirements, as written in the Law of Moses, so that you may prosper in all you do and wherever you go.

Deuteronomy 12:7 (NASB) – "There also you and your households shall eat before the LORD your God, and rejoice in all your undertakings in which the LORD your God has blessed you.

Deuteronomy 29:9 (NASB) – So keep the words of this covenant to do them, that you may prosper in all that you do.

Joshua 1:7 (NIV) – Be strong and very courageous. Be careful to obey all the law my servant Moses gave you; do not turn from it to the right or to the left, that you may be successful wherever you go.
I think the next verses sum the whole prospering thing up very well…
Deuteronomy 30:8-10 (NASB) "And you shall again obey the LORD, and observe all His commandments which I command you today. "Then the LORD your God will prosper you abundantly in all the work of your hand, in the offspring of your body and in the offspring of your cattle and in the produce of your ground, for the LORD will again rejoice over you for good, just as He rejoiced over your fathers; if you obey the LORD your God to keep His commandments and His statutes which are written in this book of the law, if you turn to the LORD your God with all your heart and soul.
So my question to you is, are you holding up your end of the bargain so God can bless the work of your hands??
A 4-part formula to prospering financially
This book is teaches everything I did to go from stranded with only $7 to paying off $400k of debt and giving 40% of my income. Hint: it was God.
It lays out the 4-part formula we followed (that you can copy) to be great stewards with what He has entrusted us with to be in a position for Him to do miracles.
It'll help you earn more, save more, and have more fun giving than you dreamed possible