This article is a great compilation of the best ways to get the best use out of your kitchen. Below are a few of my favorite kitchen organizing accessories – all can be found on Amazon for less than $50!
Cabinet Organizers
Your cabinets will hold more when you use shelves, dinner plate organizers, pan and lid organizers and hardware-free door mounts.
Spice Rack and Stackable Organizer
Can you imagine seeing all your spices at a glance? Spicy Shelf, As Seen on TV, makes that possible.
Sink Caddy

Yes, please! A cute sink caddy with drain holes so your sponges and brushes stay fresh longer.
Tiered Cabinet/Spice Organizer
This tiered shelf could get all your sprinkles and baking supplies organized or use it for spices (I actually own one of these and love it).
When I think about the the room that has the most traffic in our home, it has to be the kitchen.
So many activities take place there, from cooking to eating and game playing to homework. The kitchen seems to be the hub of the household. And, everything seems to collect there.
A kitchen functions so much better when it is organized. Do you agree? When things are in their place, my stress reduces greatly. Although memories are made in the kitchen, and things will get messy from time to time… a clean and organized kitchen makes things so much better.
I went on a mission, a Pinterest mission. My pursuit was to find the best Kitchen Organization Tips! There are so many good ideas presented, let me share with you what I have found to harmonize my kitchen…
Kitchen Command Center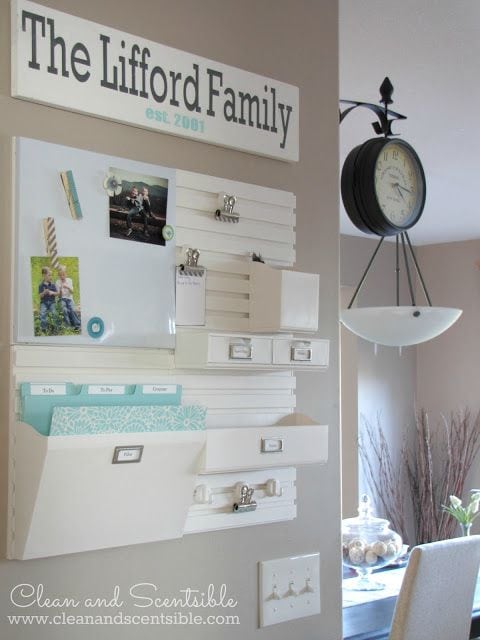 This Avery wall mount system designed by Martha Stewart looks so pretty in Jenn's house from cleanandscentsible.com. It's also available in black.
Small Appliance Cubby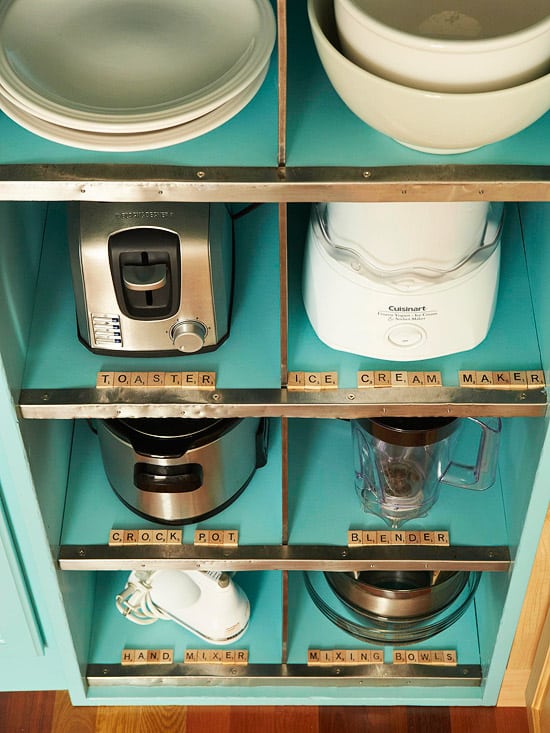 It would be so fun to label your small appliance cabinet with these Scrabble letters like bhg.com shared. Plus, your kids could use the extras to practice their spelling words!
Refrigerator Organization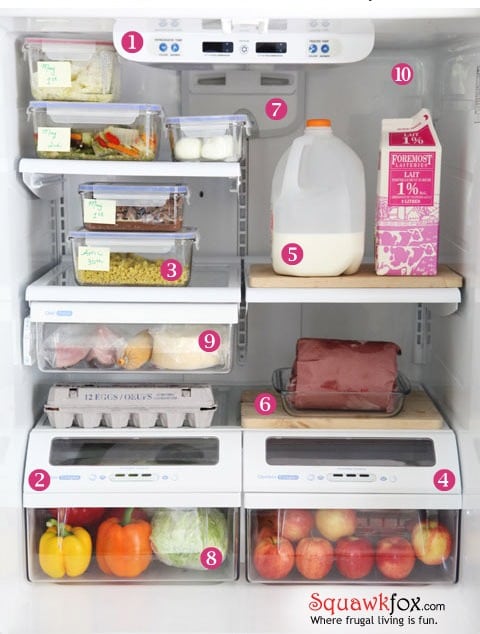 Glasslock snap-and-seal containers, a fresh set of Rubbermaid plastic containers and post-its can become your fridge's best friends. Thanks to Sqwuakfox.com for the idea. Don't forget some small plastic baskets for storing the lids for your containers.
Making and Maintaining a Freezer Inventory
Knowing what's in the freezer – including the make-ahead meals you tucked in there weeks ago, but forgot about 🤦"â™€ï¸ – can be such a money-saver and a lifesaver in a pinch. Grab a clipboard and get busy. Embracinghomemaking.net has a how-to tutorial.
Pantry Organization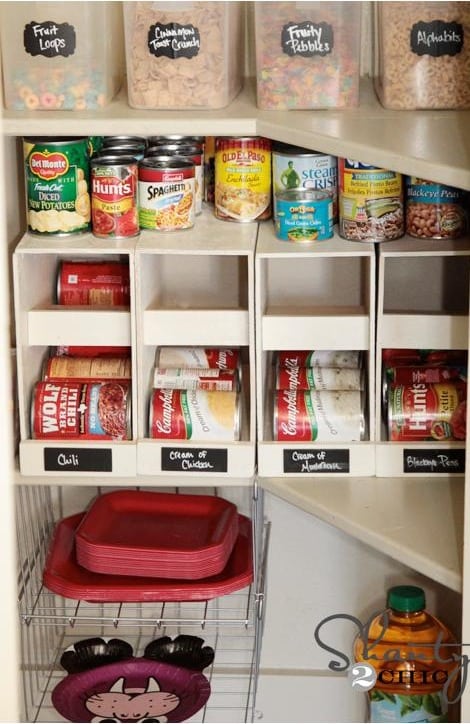 Whitney at shanty-2-chic.com made those can organizers, but I'm not so handy and would prefer this plastic one that does the same thing. It's the chalkboard labels that I love!
Lazy Susan Installed in Pantry Corners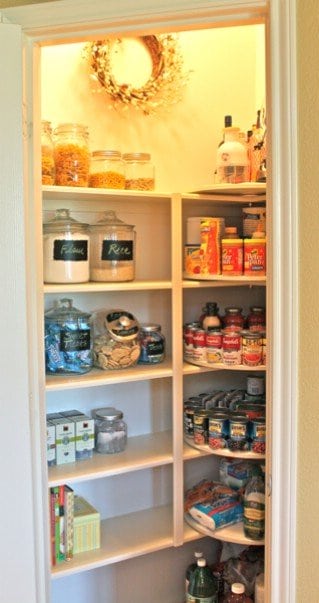 Emily at Decor Chick has an ingenious way to use otherwise wasted space. These 18″ lazy susans come in four different colors and would work well.
Storing Baking Staples
Anchor Hocking's glass jars come in different styles with various colors of lid. They'd work great in a pantry.
Mason Jar Dry Food Storage
Blue mason jars are not cheap, but they are stunning. This 3-canister set could be a good alternative (it would work in my kitchen!) or opt for these large clear jars with screw-on or clamp-down lids. This idea came from apartmenttherapy.com.
Storing Food Packets in the Pantry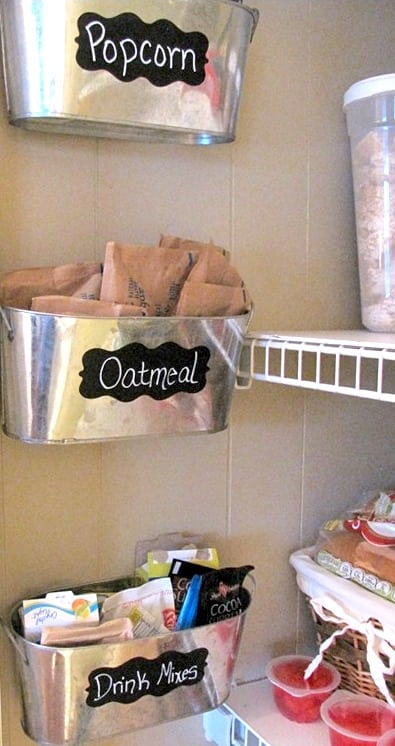 Traci at Beneathmyheart.net uses small-ish galvanized metal tubs,but these slightly larger tubs would work too depending on your cabinet width. Plus, remember the chalkboard labels.
Grab'N Go Snack Station
Make this snack station happen with this set of cloth-lined wicker baskets.
Creating a Spice Drawer
Organize your spices in these matching jars with matching labels. The idea of it just makes my matchy-match self happy.
Cabinet Door Vertical Storage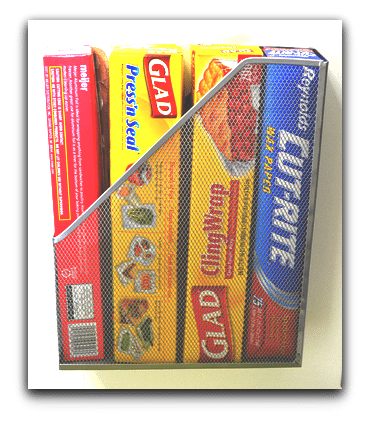 Mount a kitchen wrap organizer to your cabinet door and sneak in extra storage space.
How to Store Cupcake Liners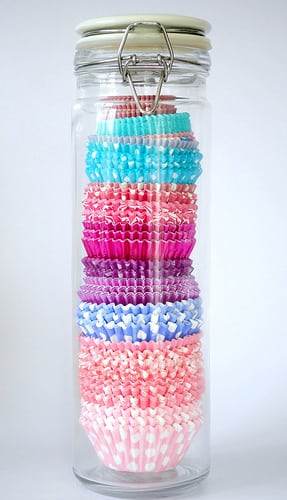 Torie Jayne has a great idea in turning this spaghetti storage jar into a cute display of cupcake liners.
Bakeware Storage
Something like this pegboard cabinet organizer could transform your storage. Or, get a ready-made cookie sheet organizer. Given how much Lizzy bakes, this idea is well-tested.
Horizontal Silverware Storage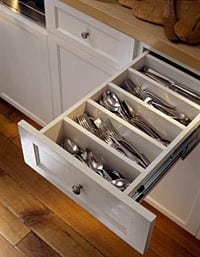 Transform your drawer with this horizontal utensil holder that comes in multiple color options or make your own with this set of four drawer dividers.
Think Diagonal!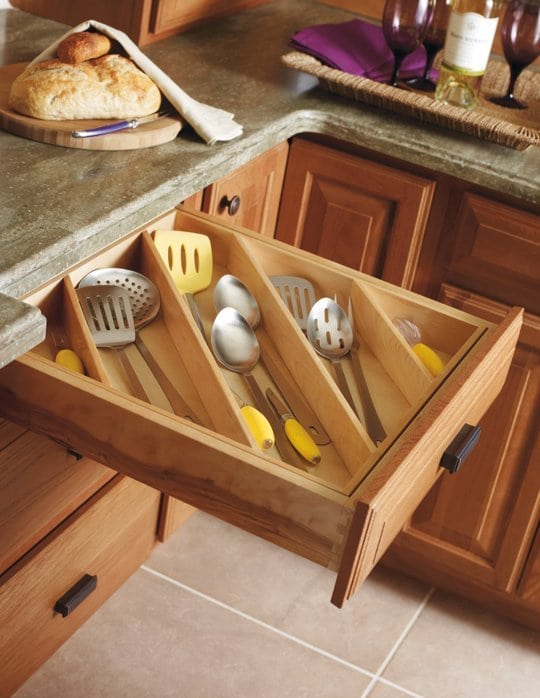 For this one you either need to make your own, go high-end custom or use this utensil dock from Bed, Bath and Beyond.
Cookware Organization
These pull out racks look so neat and tidy! This one we can't keep under $50 as you're looking at something like this Rev a Shelf system. But, we understand living within a budget and this smaller rack would be a great starting place. Kicthens.com tipped us off to this idea.
DIY Lid Racks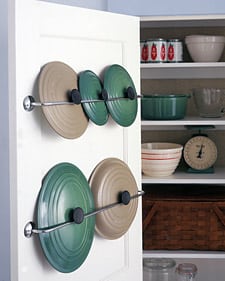 Turn basic towel racks into lid holders. Thanks, Martha Stewart for the creative idea.
Clever Cutting Board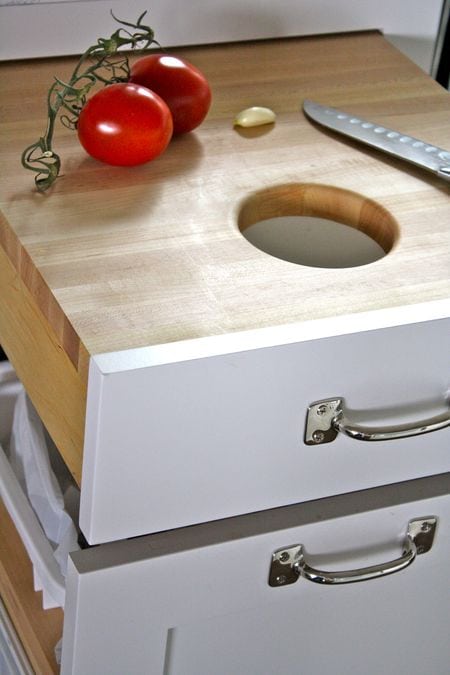 You can certainly make your own hole in a wood cutting board, but this bamboo board with removable strainer would be a ready-to-go option.
Measuring Station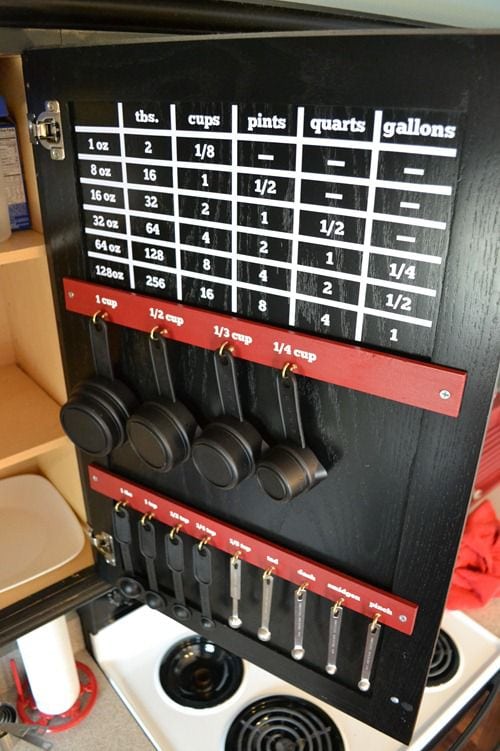 I wouldn't have the patience Rebecca of Infarrantlycreative.net did to put this together myself, but I *could* put up these cute measurement conversion decals.
Grocery List Tear Off Board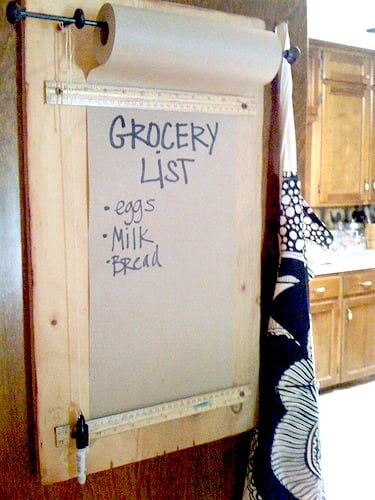 From grocery lists to kid's to-do lists, this is a great idea. You can pick either brown or white butcher paper.
Cookbook Storage
This Old House always has great ideas including turning the end of your kitchen island into cookbook storage.
Maximize Storage Options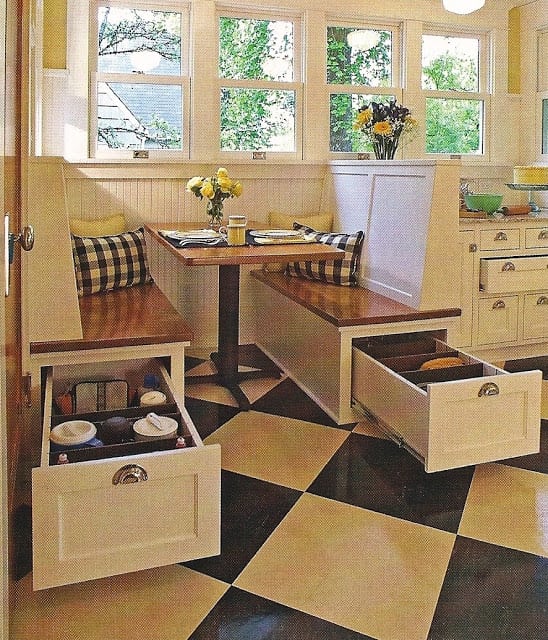 If you are designing a new kitchen, then be sure to think about built-ins. Mydesigndump.blogspot.com has more ideas for kitchen designers to consider.
DIY Coffee Bar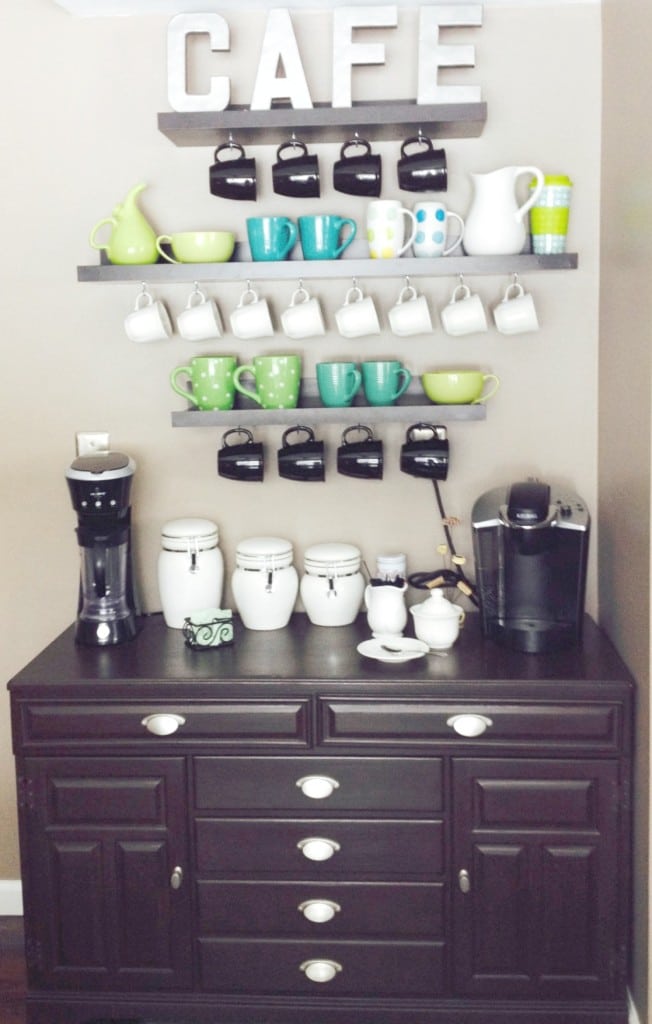 Instead of DIY-ing this, you can buy a farmhouse Coffee Bar sign, use these floating shelves with hooks or these bars with hooks and voila, you're set.
K-Cup DIY Organizer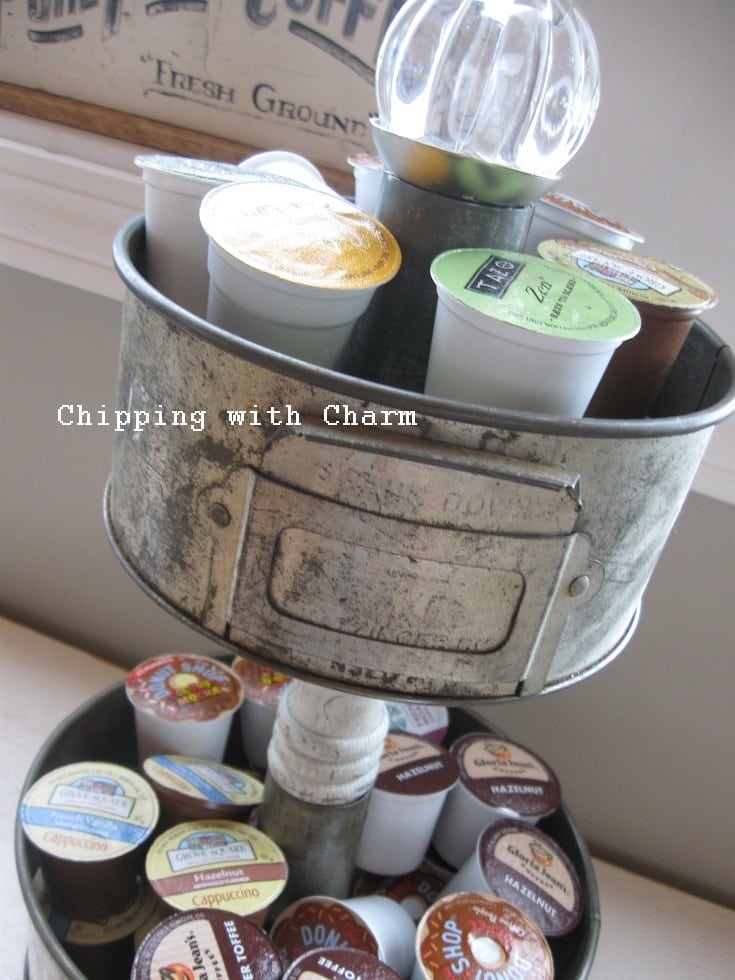 Laurel walks you through how she made this cute K-cup organizer, but I'd prefer to just pick up this wood farmhouse-style K-Cup holder or this cut metal one.
Kitchen Towel Space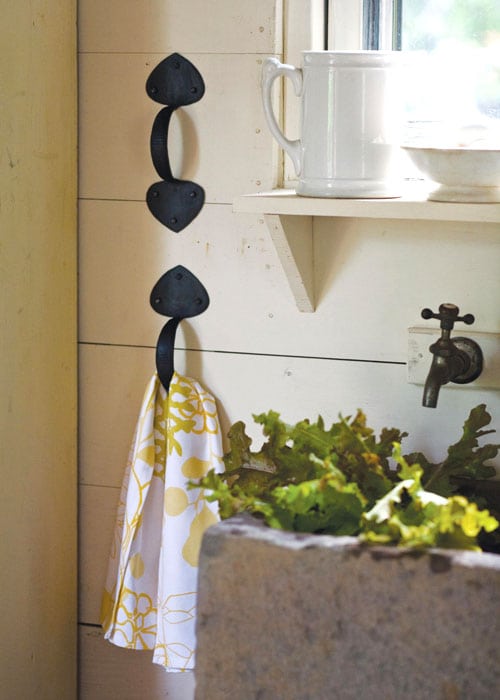 Use spade iron door handles is an easy way to up your towel holder game. Image and idea from placesinthehome.com
Soap Dish Cake Stand
Another simple, but innovative idea. Amazon has melamine cake stands in various colors.
Kitchen Cleaning Central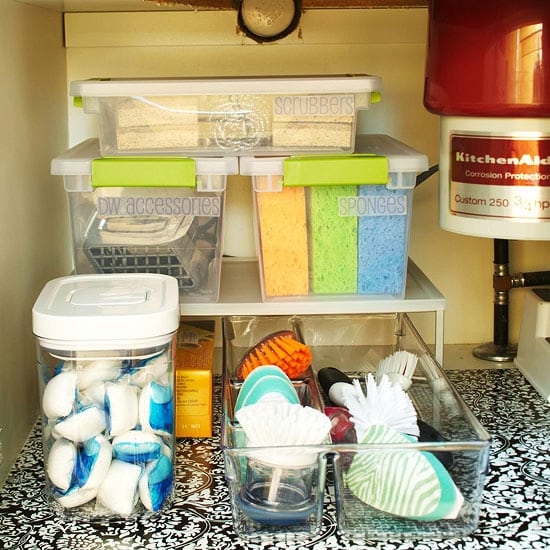 Use Glasslock snap-and-seal containers for more than just keeping your leftovers fresh. I love see through storage so I know when we are running low. This idea is from bhg.com.
Easy Access Trash Bags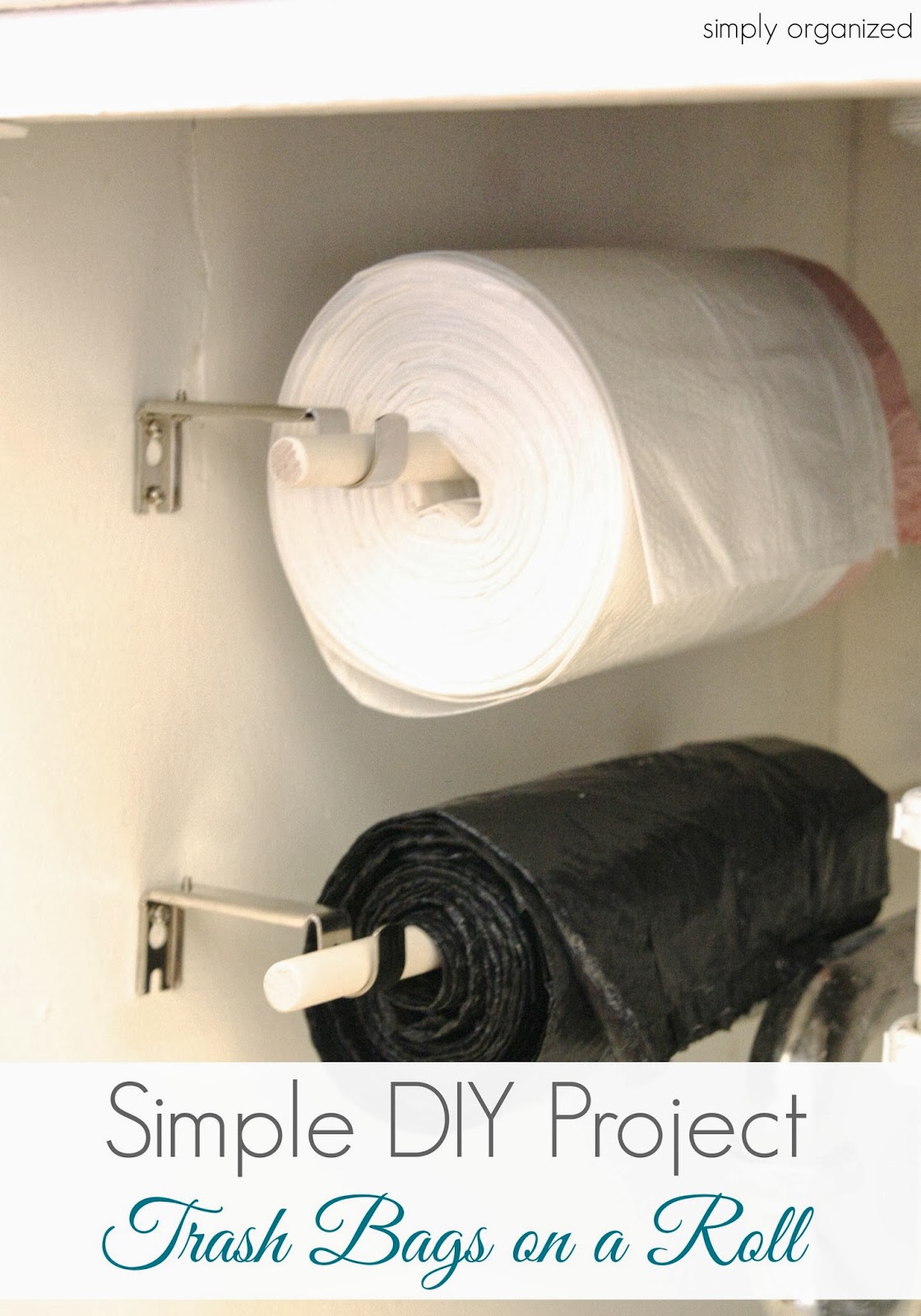 Natalie made her own trash bag dispenser, but I would prefer to repurpose one of these paper towel holders.
Let us know if you have a Kitchen Organization Tip that did not make The List!