Personal Capital is an online personal finance tool that allows you to track all of your finances (budget, bank accounts, credit cards, and investments) all in one place.
Best of all, it's free!
The Benefits of Personal Capital
It's a convenient web-based tracking tool that you can access anywhere you have Internet service. Yes, this includes your smartphone, tablet, laptop, and computer. This is ideal for people who travel or people who want to have access to their information on multiple devices.
Real-time updates. After opening a Personal Capital account, you'll be asked to enter your information. You'll activate online access with your bank accounts, credit card accounts, and investments. This allows Personal Capital to automatically update all of your information every time you sign into your account. There is no need for you to initiate an account sync as that happens automatically.
Manage all your financial accounts in one place. As a Personal Capital user, you'll see all your financial accounts and transactions in one easy-to-find account. This also makes it easy to keep up with your net worth.
It's free. Need I say more?
As you can see from the desktop image above, when you sign into your account, you'll see all your accounts listed on the lefthand sidebar. Your financial accounts will be listed as:
Cash

Investments
and Credit.
From the sidebar, you can quickly review your bank account balances, investment totals, and total credit card charges. You can see the numbers by account (for example, how much you owe Citi and Chase) or the total across all accounts.
This is a quick and convenient way to get an overall sense of your financial movements.
Using Personal Capital to Budget
Since Personal Capital automatically downloads every transaction from your credit cards and your bank, you'll find it a useful tool for budgeting. However, if you usually spend money in cash, it will be a little bit more cumbersome to use this to budget. Once the transactions have posted, you'll be able to assign an appropriate category (assuming the preassigned category isn't correct). You'll also be able to mark if an expense is business, medical, reimbursable, or tax related.
You'll also be able to see what percentage of your budget you're spending on each category within your budget.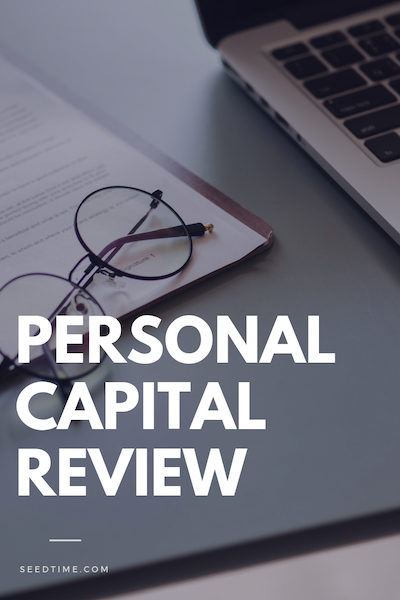 The one main thing that's missing (or I'm just not smart enough to find) is a way to manually enter cash transactions
Using Personal Capital to Track Your Investments
Personal Capital shines when it comes to providing you with detailed analysis of your investments.
From the home page, you'll be able to see your top performing investments (see sample to the right). Personal Capital will list your top gaining funds and the funds that have the greatest losses. For context, these will be published underneath a real time report giving you the S&P 500, Dow Jones, NASDAQ, and 10-year bond indexes.
With a click on the "Investments" tab on the navigation menu, you can see all your investments across all your accounts. You'll be able to see the 30-day dollar movement within that account and the one-day dollar change.
If you want, Personal Capital will also provide an "Investment Checkup." Using their own metrics, they'll determine if you have the appropriate amounts in cash, international bonds, US bonds, international stocks, US stocks, and alternatives. You'll be able to put your age, years to retirement, and risk tolerance. You'll then see if you are above or below their recommendations for your holdings in each of the above category. Of course, if something is amiss and you want some feedback, you can contact your account advisor.
One helpful feature I've found is the "Investments Costs" page. Here you'll be able to see exactly how much you're projected to pay in fees for your investments. This helps you determine which funds have the highest expense ratios so you can see if the returns justify the higher fees.
The Catch?
Businesses are in business to make a profit (profound, I know). As a result, it's valuable to know how a company can afford to fund such a project. The answer is not what you expect. Personal Capital doesn't plaster their pages with advertising. In fact, if you want to find advertising, you have you work to find it. As an example, under the navigation menu for Banking, you'll find a link to something called Savings. There you'll see how your current interest rates compare to a leading US bank. You will have the opportunity to call Personal Capital to open a new bank account if you wish.
How Personal Capital Makes Money
When you sign up for a new Personal Capital account, you'll be assigned an individual to serve as your representative as part of the Advisor Team. After opening your account, a Personal Capital representative will call you to see if you need any assistance with your finances and investments. This is a no-pressure call and if you say, "no thank you," that is all the conversation will involve.
My Experience with Personal Capital
I've had my account for the last few months, and I primarily use it to get an overview of what is happening with all my financial accounts. It's the easiest place where I can go to get an update on how all my investments are performing. I always prefer signing into one account instead of multiple accounts! And, it's definitely a product I recommended in my Personal Capital review.
Since the account is free, there's no risk to you to try and set up an account, play around, and see if the features are ones you'll find valuable. I know I'm glad I took the time to sign up for Personal Capital.
Have you tried Personal Capital? Tell us your thoughts in the comments, or leave a question for the community!