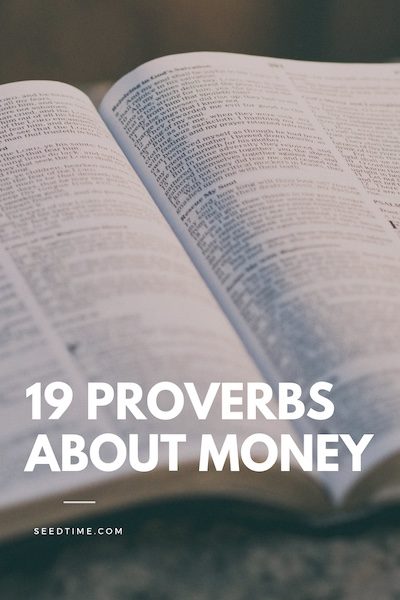 I still remember the first time I read through the book of Proverbs and I was fascinated that there were so many proverbs about money.
The book is full of so much amazing wisdom and thankfully for us all, the Bible says a lot about money.
So this isn't all of the money proverbs, but these are 19 that stood out to me.
So I'd love to hear of any other proverbs on money-related topics that you know of that should be added to this list.
So, please add any that you think should be added in the comments below!!
Hard Work And Wealth Proverbs
"Go to the ant, you sluggard; consider its ways and be wise! It has no commander, no overseer or ruler, yet it stores its provisions in summer and gathers its food at harvest."
Proverbs 6:6-8 (NIV) 
"Lazy hands make for poverty, but diligent hands bring wealth."
Proverbs 10:4 (NIV) 
"Those who work their land will have abundant food, but those who chase fantasies have no sense."
Proverbs 12:11 (NIV) 
"Dishonest money dwindles away, but whoever gathers money little by little makes it grow."
Proverbs 13:11 (NIV) 
"All hard work brings a profit, but mere talk leads only to poverty."
Proverbs 14:23
"A little sleep, a little slumber, a little folding of the hands to rest"" and poverty will come on you like a thief and scarcity like an armed man."
Proverbs 24:33-34 (NIV) 
There are many verses in Proverbs that talk about the importance of hard work.
Those who work hard are more likely to be successful from a financial standpoint. If we sit around and do nothing all day, it is unlikely that we'll be able to feed ourselves, much less build wealth. Additionally, it's important for us to remember that this wealth should be gained honestly.
Proverbs On Greed
"Such are the paths of all who go after ill-gotten gain; it takes away the life of those who get it."
Proverbs 1:19 (NIV) 
"Do not exploit the poor because they are poor and do not crush the needy in court, for the Lord will take up their case and will exact life for life."
Proverbs 11:26 (NIV) 
"One who oppresses the poor to increase his wealth and one who gives gifts to the rich""both come to poverty."
Proverbs 22:16 (NIV) 
"Do not exploit the poor because they are poor and do not crush the needy in court, for the Lord will take up their case and will exact life for life."
Proverbs 22:22-23 (NIV) 
While building wealth is encouraged in Proverbs, doing so from a heart of greed is not.
Trusting in God for our sustenance is a good step toward remembering where the money comes from, which should lead to humility rather than a belief in our own abilities to grow wealth in our own strength.
Debt Proverbs
"One who has no sense shakes hands in pledge and puts up security for a neighbor."
Proverbs 17:18 (NIV) 
"The rich rule over the poor, And the borrower is slave to the lender."
Proverbs 22:7 (NIV) 
"Do not be one who shakes hands in pledge or puts up security for debts; if you lack the means to pay, your very bed will be snatched from under you."
Proverbs 22:26-27 (NIV) 
Debt should be approached with extreme caution. In our modern society, debt is far too easy to accumulate. The economic system provides for this ease. Student loans , mortgages and credit cards abound.
And beyond the fact that debt puts us in bondage, consumer debt makes is extremely difficult to build wealth.
Seek to pay off your credit card debt if you are in it and then once you get all your consumer debts paid off, it is time to focus on paying off the mortgage early.
Investing Money
"A good person leaves an inheritance for their children"s children, but a sinner"s wealth is stored up for the righteous."
Proverbs 13:22 (NIV) 
"Be sure you know the condition of your flocks, give careful attention to your herds; for riches do not endure forever, and a crown is not secure for all generations."
Proverbs 27:23-24 (NIV) 
Proverbs about Giving
"Do not withhold good from those to whom it is due, when it is in your power to act."
Proverbs 3:27 (NIV)
"A generous person will prosper; whoever refreshes others will be refreshed."
Proverbs 11:25 (NIV)
"It is a sin to despise one"s neighbor, but blessed is the one who is kind to the needy."
Proverbs 14:21 (NIV) 
"The generous will themselves be blessed, for they share their food with the poor."
Proverbs 22:9 (NIV) 
"Those who give to the poor will lack nothing, but those who close their eyes to them receive many curses."
Proverbs 28:27 (NIV) 
God calls for his people to be generous with money (and everything really). The New Testament tells us that "God loves a cheerful giver." – 2 Corinthians 9:6-7
And the bible really has a lot to say about giving and tithing.
As Christians, we are called to be generous when it comes to the needy around us. Caring for others is a very practical way to share the love of God with others.
The first part of Proverbs 10:22 says that "The blessing of the LORD brings wealth." Regardless of how wealthy we might be, it's important to remember that it is God who provides us with the skill and ability to make money (Deut 8:18).
Wealth comes from Him, and He wants us to use it for furthering His purposes, not ours. If we use our income to make God greater in the sight of others, we are taking an important step toward bringing Him glory.
Proverbs about money and happiness?
While this passage below isn't directly from the book of proverbs it is from the same writer – Solomon.  And he had a lot to say about money and happiness.  Here are his thoughts from Ecclesiastes 6 (ERV)
I have seen another thing in this life that is not fair and is very hard to understand. 2 God gives some people great wealth, riches, and honor. They have everything they need and everything they could ever want. But then God does not let them enjoy those things. Some stranger comes and takes everything. This is a very bad and senseless thing.

3 A man might live a long time and have 100 children. But if he is not satisfied with those good things, and if no one remembers him after his death, I say that a baby who dies at birth is better off than that man. 4 It is senseless when a baby is born dead. The baby is quickly buried in a dark grave, without even a name. 5 The baby never saw the sun and never knew anything. But the baby finds more rest than the man who never enjoyed what God gave him. 6 He might live 2000 years. But if he does not enjoy life, then the baby who was born dead has found the easiest way to the same end.[a]

7 People work and work to feed themselves, but they are never satisfied. 8 In the same way a wise person is no better than a fool is. It is better to be a poor person who knows how to accept life as it is. 9 It is better to be happy with what you have than to always want more and more. Always wanting more and more is useless. It is like trying to catch the wind.[b]

10-11 You are only what you were created to be""a human, and it is useless to argue about it. People cannot argue with God about this because he is more powerful than they are, and a long argument will not change that fact.

12 Who knows what is best for people during their short life on earth? Their life passes like a shadow. No one can tell them what will happen later.
Other articles you might like:
The operating manual I followed to pay off $400k of debt and give 10x more
This book is teaches everything I did to go from stranded with only $7 to paying off $400k of debt and giving 40% of my income. Hint: it was God.
It lays out the 4-part formula we followed (that you can copy) to be great stewards with what He has entrusted us with to be in a position for Him to do miracles.
It'll help you earn more, save more, and have more fun giving than you dreamed possible