To get the most out of this lesson, I recommend watching the video here, but for the Cliffs-notes version you can just continue reading below…
The one simple principle that changed my life forever
And you probably have already heard it, just like I had for years. But it wasn't until I finally "got it" that it changed my life.
Knowing something is vastly different than understanding it.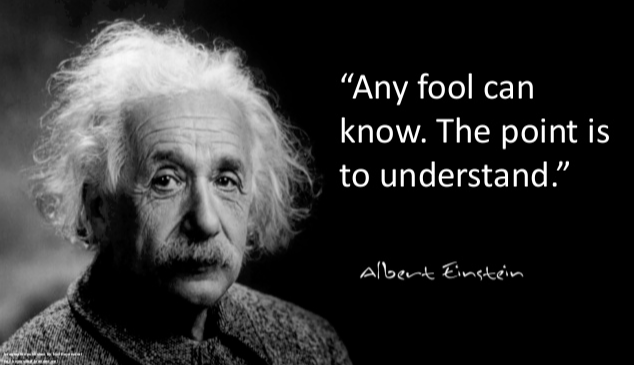 So with all that prep out of the way, let's dive in.
The principle that has forever changed my life can be summed up with this simple formula:
Spend < Earn
Just like E = mc 2 has far more depth to it than meets the eye, so does this…
The SeeSaw principle
Remember playing on a seesaw as a kid? There is one universal factor at play that affects ANY two people on a seesaw – and it CAN'T be overcome.
In a word: gravity.
Now the "spend < earn" formula works the same way.
It is universal and it is completely unbiased.
It just is what it is.
But unlike gravity, millions of people are wasting time and energy fighting it every day.
I know I wasted many years of my life fighting it.
I assumed that someday, somehow I would get my money in order WITHOUT having to obey the principle.
But the fact is, no matter how much money you make you will lose it all if your seesaw is leaning the wrong way…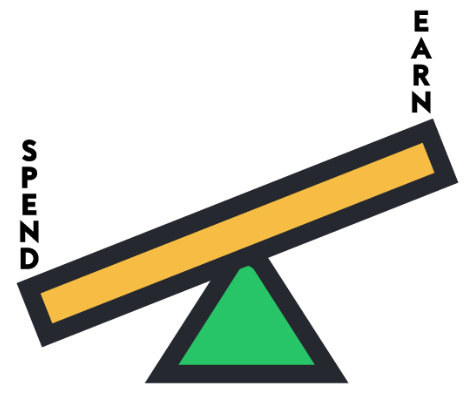 The simple and honest truth is that if you are spending MORE than you earn, you are going backwards financially.
You are on a path that leads to:
maxed out credit cards
money-stress
bill collectors
bankruptcy
and many other things that aren't fun
Sure, you may just be a few steps down the path and can still easily turn around, but the bottom line is that is the direction you are heading!
So if you don't like the financial pressures that you have now, be assured if you continue down that path, they are only going to get WORSE…
Flipping the gap
This is where it gets exciting…
The thing that I have been compelled by for the last 15 years is what I call "flipping and widening the gap".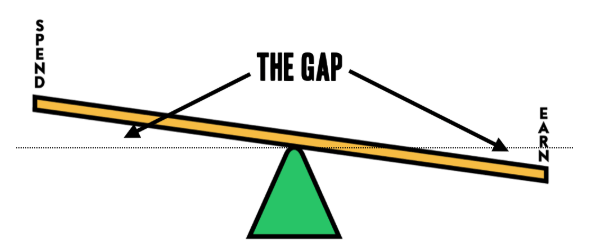 For most of us starting out, we are spending more than we earn…
And as a result the gap is working against us –
Meaning that for every dollar that we spend we are getting further and further off the mark.
So at this point our goal should be to shrink this gap until it is eliminated.
Thinking in terms of the SeeSaw Principle, until the seesaw tilts the other direction.
Once we achieve this, we are now making forward progress! And as long we keep the seesaw tilted in the right direction we can't lose!
Now the key to paying off debt, saving, or any other financial success just comes down to widening the gap in the opposite direction…
Just continuing to spend less and/or earn more.
Both result in widening the gap and increasing our speed and momentum towards our goals.
Point it the right direction!
The good news is that once your seesaw is tilted in the right direction suddenly EVERYTHING changes.
No matter how LITTLE you make, you have a very bright financial future ahead of you if you lean it the right way.
You are now on the path that leads to:
No debt!
Retirement savings
Buying a house
What this means
15 years later I still think about my monthly budget with this SeeSaw principle in mind – and it still gets me super excited!
This is the reason why people say the rich get richer and the poor get poorer – because there is an amplification effect to this principle.
It doesn't matter whether it is fair or not, it is just true.
And we can either fight against it and wonder why we are going backwards, or work with it and reap the benefits.
This is where we were 13 years ago…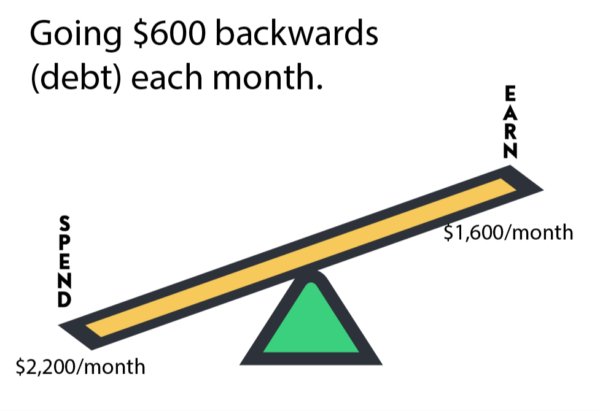 Once Linda and I successfully shrunk the gap and we were finally spending less than we earned, our next goal was to pay off our debt.
But there were a few slight problems:
We had over $46K in debt
I was only making about $25K a year at my job
I had never been successful at sticking with a budget
I was very busy and didn't have much time to spend on it
Most people in my life led me to believe it was impossible or unrealistic
But being the rebels that we are, we just decided to create a plan and go for it anyway…
Most of the plan revolved around widening the gap (decreasing spending and increasing earnings), so that we had more money to pay down the debt…
As we kept working at it, our financial situation began to improve.
We soon had money to pay the bills all on the same day and we had some extra in the account to go out to a nice dinner, and even go on a vacation once in a while, but what really shocked me was that…
We were fighting less.
I thought maybe we were just having a good run and it was a coincidence…
But after it continued for months and months I realized that eliminating just some of the money stress in our lives was having a huge impact on our marriage – and I liked it!
Linda and I have never had a really bad patch in our marriage where I was afraid we weren't going to make it, but knowing this I am convinced that getting control of our money was one of the best things we could have done for our marriage.
Freedom tastes better than I thought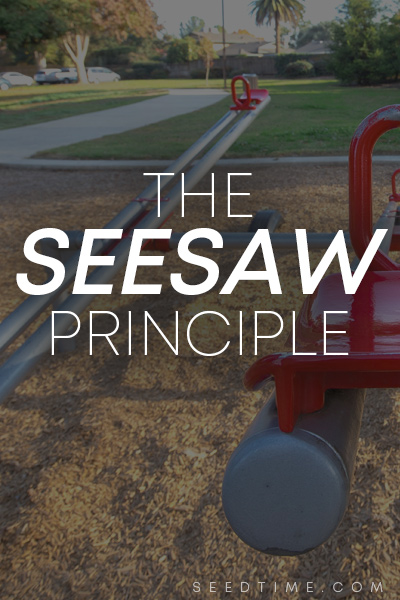 I think somewhere deep down I know that the feeling of freedom would be really nice, but I had no idea how good it would be.
I will never forget the moment when my wife and I held our car title in our hands, because we had just paid it off….
I felt like I was floating.
The car was FINALLY ours. Not the banks, but ours.
No matter what happened they couldn't take it from me.
And not having that fear held over my head was such a liberating experience that will forever be imprinted in my mind.
And that was just the start…
That feeling was addicting and so we just kept on working on widening the gap more and more and paying off more debt.
With every milestone I felt a little less like a slave to all my debtors.
And even all these years later, the thrill of owing nothing to anyone is immensely satisfying.
It hasn't faded a bit.
Sure, it took some work and some sacrifice, but man was it worth it.