I often get asked about the money tools and money apps that I use. Like what credit cards I recommend, or budgeting software, or how I invest.
So, I decided to put it all in one place for your convenience and give you a peek inside my wallet as well!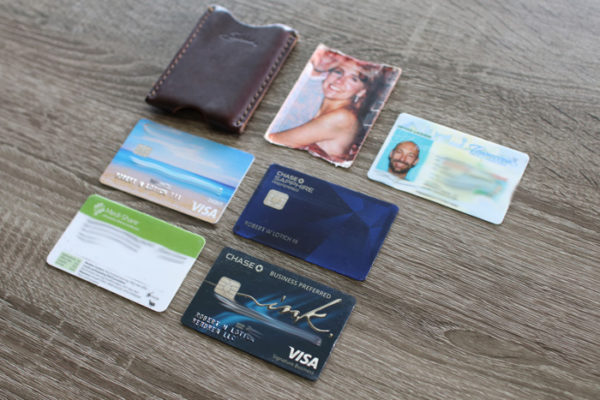 Listed from left to right:
My Saddleback wallet – love that thing
A well-worn photo of the love of my life
My TN driver's license
The debit card that I never use (only as a backup)
Chase Sapphire Preferred (details below)
Medi-Share insurance card (details below)
Chase Ink Business Preferred (details below)
How I save up to 20% on online purchases
This is one of my secret weapons. It is so simple and painless a 5-year old can do it and if you ever buy anything, you will save money.
Watch the quick video below for details…
The only 2 credit cards we use
As of early 2018, we have received 161 hotel nights and 97 flights for FREE using credit card points and as a result, I am a big proponent of rewards cards.
Even though I have opened probably 25+ credit cards in the last 10 years, these are the best that I have found. And that is why they are the only 2 in my wallet.
1. Chase Sapphire Preferred
Running a financial blog I hang out with a lot of other nerds who love stuff like this, and almost every one I know uses this card.
Cardratings has them listed as their top pick for travel rewards as well.
I have used this card as my primary card for 6 years now.
Why I love it?
It rewards you with Ultimate Rewards points (which are just the best value and options that I know of).
50,000 bonus points (aka $625 in travel) for signing up at the time of this writing
Earn 2 points per $1 spent on dining and travel, and 1 point per $1 on everything else
You get a 25% bonus on point redemption if you use Ultimate Rewards portal.
All that to say, if you only want one card that pays fantastic rewards, this is the one I would recommend.
(Find out more details about the Chase Sapphire Preferred here )
UPDATE: After 5+ years of using this beloved card, I have been lured away by this one…
Find out more about the Chase Freedom Unlimited here.
2. Chase Ink Business Preferred
So if you have a business where you buy online ads, definitely get this one. If not, it is still a really good business card, but the Chase Business Unlimited would probably be a better bet.
(Learn more about the Chase Ink Business Preferred here)
The Financial Tracking tools we use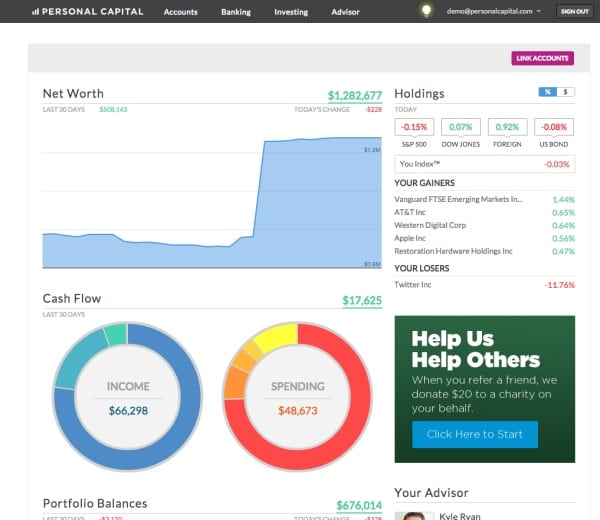 This is by far my favorite way to track investments and easily track net worth. These guys have been around a long time and have built such a great tool to:
See a snapshot of your finances in one place
Track your net worth
See the fees you are paying in your 401k and other retirement accounts
See where all your money is going each month
And it's 100% free.
You can read our review here or watch the video below for more info!
If you want to get a big picture snapshot of your financial picture (without the Quicken nightmare), then it is worth checking out.
The Banks we use
In my opinion, this is the best all-around online bank out there. I have been with them for over 10 years and like mentioned above, we devised a method of budgeting with them that we loved.
Why I love them and still use them:
Always in the top 1% best Savings, MMKT, and CD rates out there.
No minimums and no fees.
They offer debit cards and checks.
Free and easy to transfer money to and from other banks.
If you decide to try them out click here to get a $20 bonus for signing up.
5. A local bank
Even though we probably could get by using Capital One 360 for all our banking needs, it is still nice to have a local branch every once in a while. So this satisfies our brick-and-mortar banking needs.
The Budgeting method we use
After testing out pretty much every budgeting app and software out there and still found that we were HATING budgeting, we decided there had to be a better way.
And we found that there is. And it's called Real Money Budgeting.

You're welcome.
The Insurance we use
6. Health Insurance
We have used Medi-Share as our health insurance alternative for the last 9 years. They have been great to work with and I highly recommend them if you are a Christian and adhere to a Biblical lifestyle.
You can check read our Medi-Share review here or check out this video for more info as well:
7. Life insurance
Like 98% of people we are best suited with term life insurance. It is the simplest to understand, the cheapest, and the easiest to get started.
I don't have an affection for any particular life insurance company, but I do really like Policy Genius for getting quotes and comparing rates. Many of the comparison tools out there are obnoxious and I have liked using this one.
8. Auto Insurance
I don't have a company that I particularly love, but definitely shop around – even when you think you have a good rate. I knocked my annual bill down by $530 in on year, just by checking rates.
The Investing tools we use
We have investments in a lot of different areas and there really are a lot of great options for new investors these days. These are what I use…
Simply put, the easiest way to start investing with no money. They just round up all the purchases you make to the next dollar and invest the difference.
So, say you go to the grocery store and spend $16.25, they will round up to $17.00 and take the 75 cents and invest it. If you do that over and over, it quickly adds up to some big savings.
By far, the easiest set-it-and-forget-it way to get started investing. Here is how it works:
You can learn more about them here.
This is the easiest way to invest in real estate that I have found.
We actually sold our rental property shortly after realizing that our Fundrise returns (which are 100% passive income) beat our returns on our rental property.
Read about it here:
Fundrise Review: Fundrise vs. My Rental Property
This is where I go to purchase stocks. The reason I love them is that they allow you to buy fractional shares.
So if the stock price is at $200/share, but you only have $50 to invest, you can buy 1/4 of a share.
Not many online brokers do this.
They work best when you plan on investing a regular amount each month, which is the wise thing to do anyway.
And here is how to invest $100 using it…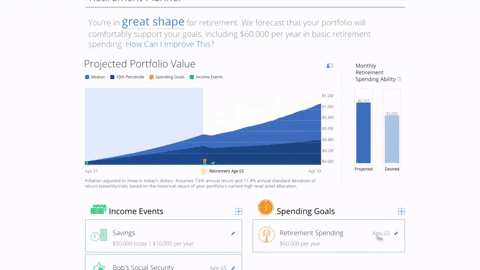 I mentioned Personal Capital up above for financial tracking, but they also have a free tool built in to help me see if I am on track for my retirement goals.
It is really helpful to see how increasing your savings amount by $50 a month can impact your retirement nest egg.
13. Vanguard
In an industry wrought with fees and middlemen trying to get a cut, Vanguard is really something unique and special with the index funds and ETFs they offer.
Warren Buffett just recently won a 10-year bet that the S&P Index Fund (which Vanguard offers) would beat out a collection of hedge funds (with outrageous management fees) and not only was he right, but it won by more than 3x!
You can invest in these Vanguard funds at CapitalOne Investing.
I love these guys because they took the benefits of the ETF model and applied a Biblically Responsible filter to it. So few Christians actually think about the companies they are investing in (and thus financially endorsing) and these funds do the work for you. They filter out all the companies that are ones that you probably wouldn't want to support and then create a simple ETF to invest in with the rest.
You can also invest in these ETFs at CapitalOne Investing.
Credit Reporting Tools
Admittedly I don't use these much anymore since we paid off our debt, and since we don't plan on borrowing ever again, I don't really care what my credit score is. I generally suggest checking them annually just to make sure there aren't errors on there harming you.
These are the tools I used in the past and are the best (FREE) options I know of:
These guys will do about everything and for FREE:
Check your credit reports (Transunion and Equifax)
Check your credit score
Monitor your credit report for you
What I love about them is that they monitor your credit report for you, just in case you forget to check it each year.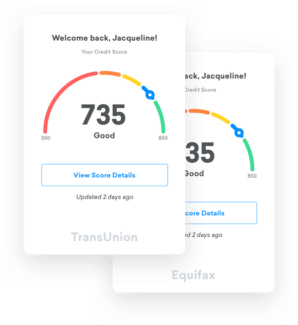 As you probably know, there are 3 different credit reports. Credit Karma only checks 2 of them, unfortunately. So you can use this site to get the other one (Experian).
I'll continue to update this post as I think of other tools that we use and love.
Got any great ones you recommend?
Let me know down in the comments!