(The following is an abbreviated transcription from a video Linda and I recorded with Jordan Grumet. Please excuse any typos or errors.)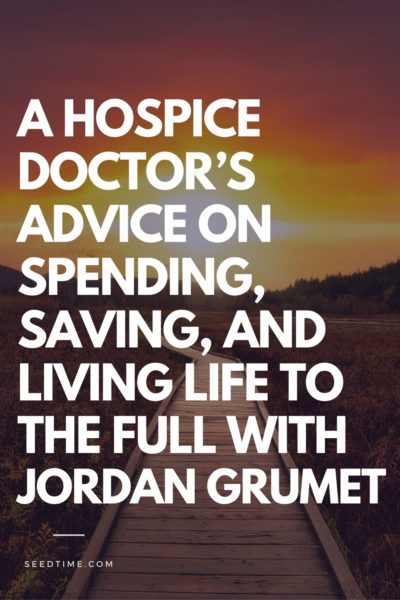 Jordan Grumet (our new Jewish friend) is an MD (hospice doctor), host of the award-winning podcast Earn and Invest and an author.
His new book is called Taking Stock: A Hospice Doctor's Advice on Financial Independence, Building Wealth, and Living a Regret-Free Life.
We are diving in to some of his unconventional financial advice and how we can use it to make the most of our lives… we're talking advice on spending, saving, and living life to the full!
Now before we get into the details of the book, I recorded our discussion that you can listen to on our Podcast. But, if you would rather read the full transcription, you can do so here in this article!
Introducing Dr. Jordan Grumet
Bob: Hey everybody. We are excited today. Linda are both here. And we're interviewing Jordan Grumet. He's a doctor, he's a host of an award-winning podcast called Earn & Invest, which is a great one to check out. He's also an author of a new book called Taking Stock. This book is really cool, there's a lot of great things in it. And, and I love his perspective and his angle on a lot of things.
So I'm really excited to dive in and just ask a lot of questions. Anyway, So Jordan, thank you for taking a few minutes of your time and chatting with us today, brother.
Jordan: Thank you for having me. I'm so excited for this conversation.
Bob: Great!
Linda: Us too.
Bob: All right. Well, I wanna start just with your story. You're a doctor and you've turned into a financial guru of some sort. It's just interesting, because you don't hear that every day. So, how did that happen? How'd you get into this? What's your story?
Jordan's story
Jordan: So when I was seven years old, my father who was a doctor also died suddenly of a brain aneurysm, like,
Bob: Oh wow.
Linda: Oh my.
Jordan: He had a headache one day and he was gone.
Linda: Ohh.
Jordan: And, I wanted to be just like him, right? I'm seven years old.
Bob: Yeah.
Jordan: Every little boy idolized is their father. Right.
Linda: Mm-hmm.
Bob: Yeah.
Jordan: And so that became my identity and I studied really, really hard. I went to as good of a college as I could go to. Ended up going to medical school in residency. I was living my best life, so to speak.
But as I continued to practice medicine, I found myself getting burned out. Like there's a lot more paperwork, a lot more administration often that dream of rushing in the room and saving patients was just that a dream. And it was a lot harder and there's a lot of shades of gray and a lot of sadness.
They had their own businesses, they side hustled. They did these great things. They owned real estate.
And so, as I got to my thirties and early forties, after doing this for 10, 15 years, I started looking for a way out, I was getting burned out and I started looking at my finances. I was really, really lucky because I was born to parents who modeled great financial behavior. My mom, my stepdad had saved lots of money.
Bob: Yeah.
Jordan: I had all these great financial teachings. I actually did most of the right things. I just had no idea what I was doing. I was just doing what they were doing.
Linda: Mm.
Clueless about finances
Jordan: After bumping my head against the wall, trying to figure out if I could retire or not. And everyone told me I couldn't… because you didn't have nearly enough money. A guy named Jim Dahle, The White Coat Investor, he sent me his book because I was writing a medical blog at the time. And he is like, I just came out with this book, take a read, please write a review on it. I read his book and it changed my life. It gave me like the vocabulary to understand my finances.
Bob: Yeah.
Jordan: And I knew I could leave medicine right away. Which was exciting for about a moment. And then I fell into a deep depression because I had identified as a doctor for so long. It was the thing that connected me to my father. And I, all of a sudden was talking about stepping away. So the next few years I spent time writing about actually personal finance, trying to figure out who I am, what has meaning for me, and that led to a blog and a podcast.
And if that wasn't enough, when I got rid of everything in medicine, I didn't like what was left… hospice or taking care of the dying. And, the funny thing was in taking care of the dying, as I did it more and more I started finding answers to questions about money in life. Things that I was talking about on my podcast already. I wasn't talking about how you fund a 401k. I wasn't talking about what's a Roth IRA.
Bob: Yeah.
Jordan: Now, when your finances are starting to be set… what does all this mean? And what does life look like after that? And I was finding my answers from the dying and that's kind of how I ended up here today.
Linda: Wow.
Career burn out
Bob: Alright. Okay. I'm just gonna pinball around a little bit, cuz I, I just have couple questions. So do you find, or is it your experience in medical world that your experience, the burnout, the it not being fully what you expected is that common?
Jordan: Yes. It's incredibly common. Part of the issue is, and it's almost like every major profession, right? You don't really know what being an accountant is like until you're an accountant. You don't know what being a lawyer is like until your lawyer. You might watch all those great TV shows.
Bob: Yeah.
Jordan: Same with being a doctor. There's this glorious part about being a doctor, which is about one to 2% of the time where you are, they are in the trenches, helping people. Being there for families making the life saving diagnosis.
Bob: Yeah.
Jordan: And that's great, but it's really the one to 2%. The problem is the other 98% can be a lot of drudgery. And especially over the last few decades with the advent of computerized medical systems and paperwork, we just spend a lot more time in front of papers or computers and a lot less time with patients.
Bob: Yeah.
Jordan: And so the field has changed. Plus, you really never know what something is till you get into it. So a lot of doctors are feeling very burned out right now. The problem is you come outta medical school with $500,000 of debt. It's pretty hard to say, oh, I'm not gonna do this job that pays me six figures anymore. I'm gonna go do something else, which I'm not trained to do. It's really hard to walk away.
Making good money but being lost when it comes to finances
Bob: Yeah. A good number of medical professionals that I've talked to are obviously so good at their craft. They're so knowledgeable in what they learn about. But I've found a good number of them just don't know much about money (take this quiz to see how good you are with money), even though they oftentimes have really good salaries. Again, is that common?
Jordan: Well, you know, we grow up with this idea that being a good doctor is really front and center of our life. And really we shouldn't waste our time thinking about all those other things.
Bob: Yeah.
Jordan: So a lot of us figure we'll either hire someone else to do it, or we'll do it on the side when we have time. But most of our real passion is being good at medicine and we almost really push everything else away.
Bob: Yeah.
Jordan: Because it would reflect on the fact that maybe we aren't being as good of a doctor if we're spending time thinking about things like money. So I think a lot of us are not good at it for just that reason.
Bob: Yeah.
Linda: I'm curious how you feel about that, now being on the other side of it. Because I hear what you're saying and I think there's a validity to that. Of, I want to throw everything I have into helping people. But now that you're on the other side of that and really passionate about personal finance, like how do you…
Bob: Yeah. How do you reconcile that?
Linda: Yeah.
The power in knowing and understanding our finances
Jordan: So here's the problem. I think when we don't have control or at least knowledge about this one major part of our life, which is our finances. And the way that our finances can be great tools and fuel to do those things that are important to us. When we don't feel like we have a good control of that, it really affects the way we do everything else.
For instance, when I was coming out of residency, I could have gone into hospice right away. There were a lot of reasons I didn't, but one of the reasons is because it didn't pay well. And so at that time I thought, okay, I can be a general internal medicine doctor. I can make a lot more. What I didn't realize is that I'd burn out a lot faster. Maybe I would've been better off being a hospice doctor.
Understanding my finances, understanding financial independence and starting a good plan from day one. I could have gone and done something that was probably more a part of my purpose and identity. And I probably wouldn't have burned out so fast.
Linda: Interesting.
Jordan: If I had done that, I might still be a full-time hospice doctor today, which is neither here nor there. I'm glad that I took this path and I taught me a whole new set of skills. But, maybe I wouldn't have burned out if I had been more thoughtful and understood my finances more so that I could make choices.
I could work a little bit less when I was getting stressed out and know that I'd be financially okay. So that just gives us power. Like knowing and understanding our finances and power in the end to really do good. Because then it's one less thing we have to worry about and we can use that fuel to be more meaningful and purposeful.
Money is a tool, never the goal
Bob: Well, yeah. And one of the things we're always talking to our community about is this idea that money is a tool and it's never the goal. You know, so much of the world wants to make it a goal. And I think that's fundamentally where you have a problem.
I recall you saying something similar in some of your writing. And it's just so easy to lose sight of that when we're in a world that obsesses with making it the goal. And it's the end all and be all, until you start getting there. And you're like, wait a minute, this… this is it?
Linda: Yeah.
Bob: This is good as it gets?
Linda: Well, and I think it's easy too, to do that when you are like, well, I just spent all this money and now I'm in all this debt. It really is like the cycle.
Bob: Yeah.
Jordan: Yeah. And, but the problem is that money solves money problems.
Bob: Yeah.
The need for a greater sense of purpose
Jordan: But it doesn't really give you a greater sense of meaning and purpose.
Linda: Mm-hmm.
Jordan: I think we'll probably all agree that in the end, what builds a full and fruitful life for you is finding what that meaning and purpose are and pursuing it.
Bob: Yeah.
Jordan: And not that kind of simple, low hanging fruit that money is. I think it's really easy to concentrate on money because it's a lot more difficult to sit there and say, what's really purposeful in my life. How am I gonna achieve it?
Linda: Mm-hmm.
It's easier to just keep making money
Jordan: Am I going to forego extra money so that I can do this meaningful thing. And those type of conversations are really tough, it's a lot easier to just keep making money.
Bob: Well yeah. And I think it's probably one of the easiest things to measure and to quantify. And so it's some way of keeping score and feeling like,
Linda: Right.
Bob: …checking something off a box, like having a to-do list. It feels good checking boxes. But at the end of the day, the boxes don't matter. Like you're just still wasting time.
Linda: Mm-hmm.
The less measurable goals often have more meaning
Bob: And it can be the same way with money where it's an easy way to keep score. But at the end of your life, is that the thing that really matters? Whereas whatever the thing is, whatever your purpose is in life, I think some of the most important things are really hard to measure and quantify, and that doesn't make them less important. Actually, probably makes them more important.
Jordan: And you know what? One of the major problems with quantifiable goals are, especially when it comes to net worth… loss aversion. Like dream so much of getting to a net worth (net given is a better metric to track!) or being somewhere when it comes to money, as opposed to being happy and relaxed once we hit that number.
Bob: Yeah.
Jordan: We become immediately more stressed that we're gonna lose it. In fact, probably doubly stressed than we were even before we had it. So loss aversion also keeps us at bay and takes what we look at as these money wins or these money goals. And really puts them in perspective that they don't necessarily, again, solve our problems, especially our anxiety problems about getting somewhere.
I like that the less measurable goals often have more meaning to us.
Bob: Yeah.
Linda: Yes.
Bob: That's good.
End of life and the questions asked
Linda: I think you mentioned earlier, you've learned a lot of this, or you started finding answers through working with these hospice patients. And I'm always intrigued by that because one of my grandmothers, she was on hospice at the end of her life and we were so grateful.
So I want to say thank you, first of all. Because. we didn't know how to care for her. But she had cancer and it was all through her body. And she came to live with my parents and I at my parents' house. It was such a sweet time with her. It really was like the most beautiful time I've ever had with her. And I loved her, it wasn't like we had a bad relationship at all. But there was something so vulnerable and just different about that time.
I'm curious if you're working with all these people who are in that phase of life, where they've seen everything that they've done, everything that they've accomplished, is there a common theme?
What do I actually want?
Jordan: Well, Linda, I love your story and because it really hits it right on point. When people find out they're dying, it actually lifts a weight off their shoulders. We live our whole lives, worrying about what society thinks. What we're supposed to think.
Linda: Yeah.
Jordan: What we're supposed to achieve. It's probably the one time in life where you're allowed to drop all that and ask yourself a really big question. What do I actually want?
Linda: Hmm.
Regrets that come in to play
Jordan: So the theme that comes up over and over and over again in dying patients is at some point they look at their life, and especially if they haven't done those things they wanted to do, they really say something to the extent of: I really regret that I never had the energy, courage or time to do, you know, whatever comes next. To climb Mt. Everest. To spend more time with that family member that had meaning for me. To build up that skill or that hobby that I really loved, but I never spent enough time doing it. Whatever it might be for you, that's the theme.
What I never hear… no one ever says to me, I wish I worked more nights and weekends. Like no one ever says that ever. No one ever says, you know, I built up my net worth to a million dollars, but I really wanted to hit 1.5 and I didn't get there. No one ever says that either.
Usually it's what are the things, people or experiences that really had meaning for them that they never had the courage to pursue. And so I think that's a really valuable lesson.
Will you need a last minute plot twist in life?
Jordan: And when people have done those things, the dying process can be very, very peaceful. But when they haven't done those things, we look for what I call the deus ex machina. Which is like the last moment plot twist that we have in a movie or in a play that makes everything right. Like you never thought it was gonna work. And all of a sudden, you have that last minute plot twist.
Linda: Wow.
Jordan: That's what happens when you haven't reached your goals is we try to help people get to that point where they can really work through those things and, and maybe meet some of them.
Linda: That's beautiful.
Jordan: But what if the dying could teach us not to need the last minute plot twist? Because we were thinking about the stuff when we were much younger before we got sick.
Linda: Yeah.
A 3-step process to help filter your decision making
Bob: Yeah. This is something that I think about probably more than people. I'm 41 and I don't know why. I feel like I've just heard this message enough and it's like trying to sink in. But do you have any advice for all of us listening, how to absorb this? Because I feel like we've heard variations of this.
Linda: Mm-hmm.
Bob: And we've gone through these deathbed exercises of thinking about this. But how do you pull this into everyday life to where it becomes a filter for your decisions of… should I take this job? Should I do X or Y?
Jordan: My book basically talks about what I have really narrowed down now to a three step process.
Step one
Jordan: So the first step and the step we always mistake is a lot of us look at money in our finances and try to build that first. And then we start looking at: purpose, identity and connection. So in my opinion, the first step actually is we have to really start trying to define our sense of purpose, identity, and connections. Now in the book, there's some exercise that go through it and we can certainly talk about it. But for the point of the three step process, thinking about purpose and identity first.
Bob: Yeah.
Step two
Jordan: Once you have that in place, then it's time to build your financial structure. I believe everyone should go towards financial independence, but there are a few different ways to do that. And if you keep your purpose and identity in mind, you can be very thoughtful about which path you take.
Linda: Hmm.
Bob: Yeah.
Step three
Jordan: And then the last part, which I think is the most important to answer those questions of: how much do I live in the moment now? And how much do I defer so that I'll have enough money to live to an old age and be okay?
How should you be spending your money?
Jordan: The last is really a question. And the question is, are you afraid of dying young and not using your money the way you want to? Or dying old but broke. And if you can answer that question, it'll actually tell you how to start looking at how you spend your money today.
If you are worried about dying young and never using your money for good, then you probably. Should be structuring your life in such a way that you take what you have left after you pay all your bills.
Let's say you use 60% of your income to pay your bills. And you've got 40% left. Someone who's worried about dying young and not being able to use that money should really be spending 30 or 40% of that on the things that are important to them now.
Linda: Mm-hmm.
Bob: Yeah.
Jordan: Right? So we would say almost Yolo, you only live once.
Use that money in a way that's really important to you and do it now. And then maybe save the other 10% towards something like financial independence. Yeah. And so if your fear is founded and you die young, like my father you've lived a pretty good life and used your money accordingly. If you are wrong and you don't die young, well then you've spent 30 or 40% of your income doing things that were really important to you.
Linda: Mm-hmm.
Jordan: And you might not be able to retire at 45 or 55, but by saving 10% as you get to 65 or 70, you'll be able to retire and you've been enjoying yourself the whole time.
Bob: Yeah.
Jordan: The other side of the coin is if you worried about growing to an old age and not having enough to fund it, then of that 40% that you have left over after you pay your bills, maybe you put 30% of that away towards investments in order to fund your retirement. And then you only use that 10% now to do what's meaningful for you.
Bob: Yeah.
Jordan: And you'll retire early and then you'll have all that time and all that fuel from your investments to do those things that are important.
Bob: Yeah.
Jordan: So that's why that third question is so important because it helps you answer the question. What do I do today?
Linda: Yep.
Bob: Yeah.
Jordan: That's how you measure out. How much do I spend today versus how much do I put away for later?
Bob: Yeah. That's good.
Linda: Interesting.
Is money the key to living a good life now?
Bob: Have you read Die With Zero?
Jordan: I haven't read it, but I know a lot about it cuz I've spoken to people often about it. So for a guy who hasn't read it, but has heard a lot about it. My only fear about a book like that is that it places a lot of importance on money. It really, I think in a lot of ways, as I've talked to people, makes it sound like money is the key to living a good life now. I think money's a tool it's helpful, but I think we can also live a good life now without as much money.
And I think, especially after reading your guy's book, Simple Money Rich Life, I see that in your writing too. Like, we can't wait till we have money to do the important things. We gotta learn how to do those now.
Linda: Mm-hmm.
Bob: I completely agree. So in the Die With Zero book, there were aspects of it where we're not a hundred percent on the same page. But he talked about something that I thought was interesting. This idea that there are certain phases or seasons of life where money can be spent and used more efficiently (for lack of a better term), than in other seasons.
For example, going whitewater rafting. This might be something that you do from when you have the money to go on a like five day white water rafting trip or something. Maybe in your forties to 55 range might be the ideal range. But once you're hitting 70, it's probably not as enjoyable. It might be more painful, more dangerous, whatever, all these different things.
Linda: Yeah.
Identifying the key phases
Bob: And so the point is, how can you structure the way you're spending kind of thinking through life through different kind of key phases and identifying like where those peaks are. Where you have more money, maybe you don't have it in your twenties, but you have more to do some of those trips at a certain point. But also not push it off too far. So that was just something that has gotten me thinking a little bit as I'm, you know, in moving into my forties now. And like, what does that look like and how should I make decisions accordingly? You know? Just an interesting concept.
What the F.I.R.E. movement gets wrong about life and death
Bob: So out of your book, Taking Stock, there's just a lot of great stuff in here. I would recommend people check it out because I just love your perspective. I think you have such a healthy perspective, especially seeing the hospice side of this that you're talking to so many people.
Linda: Mm-hmm.
Bob: And getting these answers from them. But one other question I want to ask you about is what do you think financial experts or I should say financial independence experts (F.I.R.E.= Financial Independence Retire Early) get wrong about life and about death? And is there anything you want to expand on there?
Jordan: So I think the F.I.R.E. movement, especially really got going in 2007-2008. It was the time of the great recession. You had people who were feeling burned out about their jobs and they wanted to grind it out.
Bob: Yeah.
Jordan: Make as much money as they could and then get out of their job, and I think it was kind of the old school version. And so what I think they got wrong is this idea that, and I got this wrong too, was the idea that you had to sacrifice a lot in order to be happy at some later date.
Bob: Yeah.
Jordan: And I think people who are coming to it now are starting to realize… no, no, no. There's a way to actually do this where you both enjoy today, as well as save for tomorrow. So there's newer flavors of F.I.R.E., like Slow F.I.R.E. or Coast F.I.R.E.. This idea is that we can both live today, but then also have our money working for us so that it's sometime in the future. Maybe retirement goes a little further out, but we can start having a sense of meaning and purpose today. That's becoming more the norm.
So I think the original F.I.R.E. movement got that wrong. That, everything has to be sacrificed and grind in the beginning.
Bob: Yep.
Jordan: And that work has to be bad and you don't like it and you need to get away from it as soon as possible.
Linda: Mm-hmm.
Bob: Yeah.
Fear and F.I.R.E.
Jordan: One of the other things that I worry about with the F.I.R.E. movement is it really focuses very much on net worth. And I think it focuses very much on the fear of not having enough.
Linda: Mm-hmm.
The tools we have in life to start doing the things that are important to us
Jordan: I'd really like to change that focus away from the fear of not having enough, especially not having enough money. And move it more towards what tools do we have today to start doing those things that are important to us. So we look at money and you and I were just talking about money is a tool, but it's one of many tools.
Bob: Yeah.
Jordan: We have our energy. We have our youth. We have our passions. We have our connections with other people. We have our beliefs. All of these things are tools also. So I may not have a lot of that money tool, especially at the beginning of my journey.
But look at all these other tools I have. How can I use these to start doing the things I want today? Whether that's within a job or the workplace, because some of us might be lucky enough to use those tools to love our jobs. Or to recognize our job is a way we make money.
And then build those other parts of life around so that we use those tools until we also build up that money tool. Which can again, be just one of many that can give us a little more power and strength to do the things we wanna do. So I don't like this kind of scarcity feeling that comes with focusing so much on a net worth.
And I think the F.I.R.E. movement has to move away from that fear. I think the fear better is that we're not living a life of meaning and purpose today. And that only partially very, very partially has to do with money.
Bob: Yeah.
Linda: Yeah.
What I do like about F.I.R.E.
Bob: You know, I've never been a huge F.I.R.E. component. But I do applaud the diligence and the effort and the thoughtfulness of solving a problem. And I appreciate that kind of aggressiveness. It's solving a problem that most people didn't think could be solved. And I've always loved that.
But like with you, I agree. The aggressiveness of the hyper frugality component that seems to be synonymous with a lot of it, doesn't really sit well with me.
Relating to paying off debt
Bob: And I completely agree with your approach and what you're talking about there. Because it's same way with paying off debt. We tend to view debt payoff a little bit different than maybe Dave Ramsey, who is again, very aggressive. Like, live on rice and beans for three years until you get a payoff. Or, sell everything but the kids and the dog like type of approach.
And, that's fine. If you wanna do that, that's fine. And it'll go faster. But I also don't think that you have to be miserable that whole time. I think you can space it out just a little bit longer and actually have some joy in that season. And so that tends to be how we prefer to roll and that's how we paid off our debt. And we did it successfully. So I think you can do it either way.
Working less
Bob: But another thing here out of that era, this is interesting for me, beacuse so much of my mindset and belief when I started my business was shaped by Tim Ferris in The 4-Hour Workweek. And that kind of ties in here a little bit because I accidentally ended up finding myself with a four hour work week. Sought out to do that and ended up accomplishing it, building a really passive business.
And got to the point where it's like, oh, I don't really have to work. I have a passive stream of income that's covering all my expenses. That's really cool in the first six months, maybe in the first year.
The struggle with working less
Bob: But after three or four years of that, it really can weigh on you. And really get depressing if you don't have anything to do. I really struggled with that. There might have been other ways to solve this problem. But for me, I had to get back into the: get my hands dirty and start doing real work again, interacting with real people and helping solve real problems, in order for me to come out of that depressing season. And I feel like these are kind of tied together, you know?
Jordan: Yeah. You know, it is so common for people who are aggressive about F.I.R.E., financial independence, to hit a place of real depression after they get everything on autopilot. It happened to me. It happens to people all the time.
And in fact, I talk about someone I interacted with named Liz, a hospice doctor who actually fell into a deep depression once she got her finances in order. And she eventually got into a car accident and died.
Bob: Oh man.
Jordan: Probably partially because she was depressed and drinking a little more alcohol and you know, not sleeping as much and just felt totally out of sorts.
Linda: Wow.
Jordan: You know, money solves money problems. And in some ways we use money as a shield in order not to do the harder work of figuring out who we are and what we want. And it can lead to a really empty place when you reach this false goal. And you find that there's emptiness there, instead of all that joy, you thought there was gonna be.
Bob: Yeah.
Who do you want to be and what has meaning for you?
Jordan: And if you're lucky, you get past that season and you start saying, who do I wanna be? And what has meaning for me? And then again, you use that tool as fuel to do the things that really have meaning for you. But a lot of people have trouble doing that because they didn't spend the time upfront thinking about meaning, purpose, identity, all that important stuff. That's actually the real goal.
So that's where we get stuck. And I've seen many people and felt that depression myself, when I found out I was financially independent. And I had no idea that if I was going to walk away from this identity of being a doctor, who the heck was I gonna be?
We are designed to work
Bob: Yeah, I just fundamentally believe that we are designed to work. And therefore it's just part of who we need to be. And I think it's amplified, like you're saying by the fact of working so hard to get to this point, to reach this finish line and thinking that that's gonna be the thing that makes you happy. When honestly the joy was found in the path to get there. Not after the finish line.
We are built for community
Linda: Well, and I also think we were built for community. I think a lot of people think, well, I can just be financially independent and I can take care of myself and whatever. But there are so many seasons where I feel like we have needed people to help us in one way or another.
Bob: Yeah.
Giving back
Linda: When I see the opportunity to give back and to… like a friend of ours just had a baby and I was like, you know what? I can actually take your other kids. Bring them to my house and give you some quiet time. Let you get a nap in. And I think that to me, brings so much more satisfaction than if I would to charge her for babysitting. Do you know what I mean?
Bob: Yeah.
Linda: I would rather do it for free because it feels like there's a meaning and a purpose behind it. And that's obviously a simple example, but.
Bob: Yeah. No, that's fair.
Linda: Yeah.
In closing
Bob: All right. Well, I appreciate you coming on and chatting about all of all this. So your new book's called Taking Stock: Hospice doctor's advice on financial independence, building wealth and living a regret free life.
Jordan: Yeah.
Linda: I love it.
Bob: I'm super excited to finish the book. I started reading it, but I want to finish it up. Thank you Jordan for taking the time and sharing your thoughts. I love your brilliant mind and excited to chat again.
Linda: Did we mention his podcast?
Bob: Oh yeah. Yeah.
Linda: Good, good.
Bob: Earn & Invest, right?
Jordan: Yep. Earnandinvest.com. Or you can learn everything about me at jordangrumet.com. Everything about the book and everything about the podcast. I also have a medical blog that I wrote from 2005-2018, it's linked there, too. So I've been in and around these things for a long time.
Bob: Yeah, that's great. All right, man. Well, thank you for sharing all that you do. And looking forward to chatting again soon.
Jordan: Awesome. Thanks for having me on.