It is always a good time to get inspired with some great giving quotes. Christmas is right around the corner, and it would do us all good to be reminded that Christmas season should be about giving – not about the consumption-filled spectacle that it has become for so many.
These are some of the favorites that I have found so far… If you have some of your own giving quotes please share them in the comments below…
I hope you enjoy them as much as I have!
10 Awesome Giving Quotes
"No person was ever honored for what he received. He was honored for what he gave."
– Calvin Coolidge
"The value of a man resides in what he gives and not in what he is capable of receiving."
— Albert Einstein
"It is possible to give without loving, but it is impossible to love without giving."
— Richard Braunstein
"He who obtains has little. He who scatters has much."
— Lao-Tzu
"You can't have a perfect day without doing something for someone who'll never be able to repay you."
— John Wooden
"You can have everything in life that you want if you will just help enough other people get what they want."
— Zig Ziglar
"If a person gets his attitude toward money straight, it will help straighten out almost every other area in his life."
— Billy Graham
"Remember this—you can't serve God and Money, but you can serve God with money."
— Selwyn Hughes
"I judge all things only by the price they shall gain in eternity."
— John Wesley
"As base a thing as money often is, yet it can be transmuted into everlasting treasure. It can be converted into food for the hungry and clothing for the poor. It can keep a missionary actively winning lost men to the light of the gospel and thus transmute itself into heavenly values. Any temporal possession can be turned into everlasting wealth. Whatever is given to Christ is immediately touched with immortality."
— A.W. Tozer
— Jesus, in Acts 20:35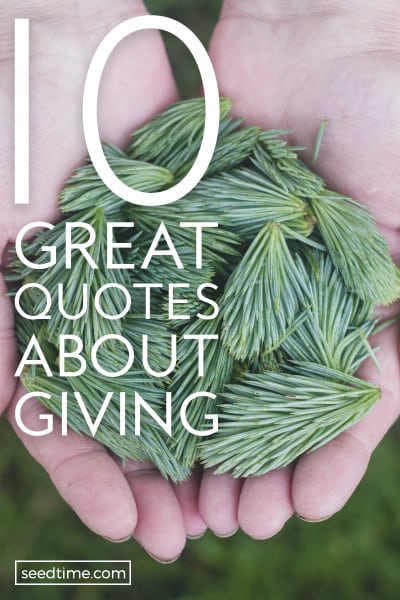 Now how about some Giving Bible Verses?
These are some of my favorite Bible verses about giving. There really are a ton of verses about giving in the Bible and these are just a select few of my favs. Again, if you have any that you want to share, please do so in the comments below…
Deuteronomy 15:10
Give generously to him and do so without a grudging heart; then because of this the Lord your God will bless you in all your work and in everything you put your hand to.
Proverbs 11:24-25
There is one who scatters, and yet increases all the more, and there is one who withholds what is justly due, and yet it results only in want. The generous man will be prosperous, and he who waters will himself be watered.
Malachi 3:10
"Bring the whole tithe into the storehouse, so that there may be food in My house, and test Me now in this," says the Lord of hosts, "if I will not open for you the windows of heaven and pour out for you a blessing until it overflows.
Luke 6:38
Give, and it will be given to you. They will pour into your lap a good measure, pressed down, shaken together, and running over. For by your standard of measure it will be measured to you in return.
Romans 12:8
…Or he who exhorts, in his exhortation; he who gives, with liberality; he who leads, with diligence; he who shows mercy, with cheerfulness.
2 Corinthians 9:6-8
Now this I say, he who sows sparingly will also reap sparingly, and he who sows bountifully will also reap bountifully. Each one must do just as he has purposed in his heart, not grudgingly or under compulsion, for God loves a cheerful giver. And God is able to make all grace abound to you, so that always having all sufficiency in everything, you may have an abundance for every good deed.
Philippians 4:15-17
And you yourselves also know, Philippians, that at the first preaching of the gospel, after I departed from Macedonia, no church shared with me in the matter of giving and receiving but you alone; for even in Thessalonica you send a gift more than once for my needs. Not that I seek the gift itself, but I seek for the profit which increases to your account.
5 ways to become more generous
A few weeks ago I sat down with Linda and we discussed some of our best tips that have helped us grow in our generosity!
Hope they help you too!