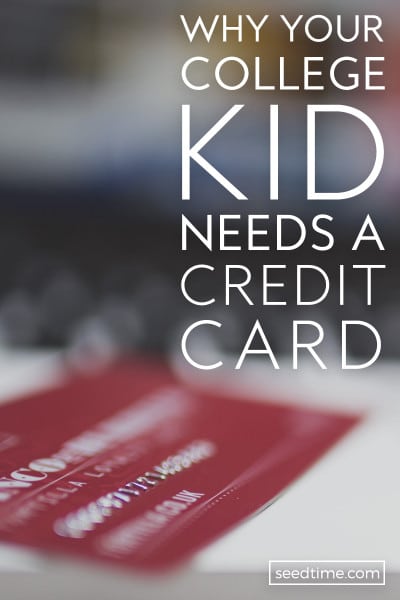 Imagining your college kid with a credit card could lead you to many sleepless nights.
Spending out of control, over limit fees, and ruined credit — it's enough to give a parent nightmares.
With that in mind, what I"m about to write might surprise you. Your college kid might just need a credit card.
Three Reasons Your College Kid Needs a Credit Card
I have an eighteen year old daughter headed to college in the fall. Though I"m not a fan of credit cards, we"ll make sure our daughter applies for her first credit card in the next year or two.
Why?
1. Credit Cards Help Young Adults Establish Credit
Like it or not, our society is a credit based one. In order to establish good credit, young adults need to show they can make payments on time.
One of the easiest ways to demonstrate responsibility with credit is to use a credit card. Timely credit card payments are reported to the credit bureaus, establishing your child as a good candidate for a mortgage in a few years.
2. Credit Cards are a Learning Tool
Using a credit card can teach a college student a lot about handling money. A credit card gives kids firsthand experience with:
avoiding interest payments by paying the card off each month.
the benefits of credit card rewards.
evaluating interest rates.
There"s no doubt that responsible credit card use can be an asset in life. But kids need to learn to use credit cards responsibly, and sometimes experience is the best teacher (under parental guidance, of course).
3. Credit Cards can Provide Peace of Mind
What would your eighteen year old do if she was driving alone in the middle of the night and her car broke down?
In an ideal world, she"d have cash for a tow truck and a safe place to spend the night. But we all know college kids don't always have cash on hand.
A credit card can provide peace of  mind in that kind of rare situation. If your college kid has a credit card on hand, she can pay for the tow and rent a motel room for the night.
And you can sleep easy knowing that she is prepared if such a situation were to arise.
Choosing Your College Kid"s First Credit Card
Before your child gets her first credit card, there are many things to consider. What kind of card? Should you cosign? What about a rewards card? How do you make sure your kid is using credit responsibly?
Basically, there are four different credit card options for college students under age 21.
A Secured Credit Card
It can be difficult to get a credit card for kids under age 21, especially if they don't have an income or credit history. And many college students don't have either.
These kids can usually be approved for a secured credit card, because the student will need to put down a deposit on the card — usually the amount of the credit limit.
This protects the bank in case the student doesn't make her payments on time.
Other than the deposit, secured credit cards work exactly like unsecured credit cards. The balance accumulates interest if it isn't paid every month, and the payment history is reported to the credit bureaus.
Secured cards are great first credit cards. If the student has to pay some or all of the deposit herself, she will have a vested interest in paying her bills on time. And it"s important to pay the balance each month, as the interest rates on secured cards can be higher than other cards.
An Unsecured Credit Card with a Cosigner
Some banks allow students to apply for an unsecured credit card with a cosigner, usually mom or dad.
In this situation, no deposit would be required, but if the student defaults on the debt, the cosigner is responsible for paying it. And even though the cosigner"s permission is required to increase the credit limit, once the credit card holder turns 21, she can increase the limit without the cosigner's permission.
There are many downsides to cosigning on your college student's credit card. If your student is not responsible, it can negatively affect your credit score, it can negatively affect your relationship with your child, and it could leave you with a mountain of debt.
With other options available to help your student build credit, don't cosign on her card. It"s not worth the risk.
Adding Your Student as an Authorized User to Your Card
A better option than cosigning a card for your student is to add her as an authorized user to your credit card.
If you"re planning on using this card to help her build her own credit, though, you"ll have to do some research. Some cards don't report authorized user activity to the credit bureaus. If your card is one of those, being an authorized user will do nothing to help your student build her own credit.
Be sure that your credit card will help your student build her own credit before adding her as an authorized user. If it does, this may be the best route to go.
Your student will build credit, you will be in control of the account, and your student can help you earn credit card rewards!
An Unsecured Credit Card without a Cosigner
If your college kid has a job, she might be able to qualify for her own student credit card, even if she is under age 21. 
Shop around for cards aimed specifically at college students, which may offer cash back on typical college student purchases or rewards for good grades. The rewards aren't nearly as great as rewards cards for people with established good credit, but hey — rewards are rewards.
Students without any credit history may not qualify for an unsecured student credit card, even if they have a job. In that case, a secured card is a better option until credit is established.
You can check out some of the available student credit card offers here.
Why Your College Kid Should Not Have a Credit Card
Despite the advantages of building a good credit history, some students should not have access to credit cards at all.
When I was in college, one of my friends racked up thousands of dollars in debt at Nordstrom before her parents found out. She wasn't even 20 years old.
If your college kid isn't using her card responsibly, it"s time to counsel her to give up the plastic. Hopefully you have an open line of communication, and she will listen to your advice.
In addition, if your college kid has shown herself to be irresponsible in other areas, have her wait to apply for a credit card. The last thing she needs to do is ruin her credit before she really begins her life.
In the end, though, it"s up to your student. You"ve brought your kid up well. Whether she applies for her own credit card or not, with your blessing or not, you need to trust that God will give your student the guidance she needs in the area of finances.