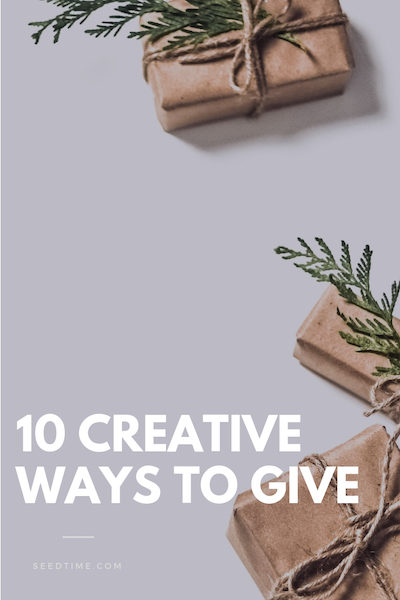 I am a missionary, and my family is supported by the generous contributions given to our ministry. When you're fundraising, it is nice to know some generous Christians with the means to give.
That is why I was touched when I read the following words:
"When the righteous prosper, the city rejoices; when the wicked perish, there are shouts of joy." (Proverbs 11:10 NIV)
In some ways, our culture is becoming so independent and individualistic that there is no reason for the city to rejoice when the righteous prosper. The prosperity of the righteous is exclusive. However, each of us should ask ourselves a question – how are others blessed by my prosperity? If you get a raise, who is going to celebrate? Just yourself? Just your family? The church? The community? The poor?
I want to be the kind of person that people pray God will bless. I want to be the kind of a person that has a strategy to give away millions.
Dam Vs. Sprinkler
When it comes to Christian prosperity, we can either be a dam or a sprinkler. The dam stores up the water and hordes it. Eventually, it gets so full that some of the surplus overflows. The sprinkler on the other hand functions to redistribute. It is a conduit through which water flows.
Do you handle your finances like a dam or a sprinkler? The dam stores and eventually gives a surplus that trickles off the top. The sprinkler is a conduit that God uses to bless others. I'm not insinuating that it is wrong to keep what you earn, but I'm encouraging you to become a vessel that redistributes part of the blessing God has given you.
Become a person that people will pray that God will prosper.
Unfortunately, there is a growing trend that bemoans or even despises the righteous. There is a growing assumption that they have prospered at my expense. However, when the righteous prosper, it should give reason for every member of the city to celebrate.
Perhaps we, the prosperous, should ensure that when we prosper the city has reason to rejoice.
10 Ways for the Righteous to Bless the City
None of the following are rules, commandments, or binding requirements. However, I hope these creative ways to give stimulate your thinking so you can discover how your prosperity can cause others to rejoice.
1. Throw a party.
In the New Testament, there is a whole slew of parties. In fact, the celebratory feasting environment is often analogous to heaven. Have a 4th of July barbeque and invite the neighbors. Cook and deliver a meal to seniors. Take some young people out to eat. Celebrate in the presence of others.
2. Invite people into your home.
Many of us have a luxury or two in our home that others might enjoy. It could be a video game system, a pool, a movie theater, or something else. Why keep that for yourself? See if there is a way that you can share what you have so others can enjoy that blessing.
3. Contribute to your church and local missions.
Hey, we all know church leaders celebrate when you get a raise :). I'm certainly happy to hear my supporters are doing well financially. Much of what happens in church ministries could not happen without funding. Generously give and participate in church activities.
4. Dedicate a portion of all your profits to bless others.
Call it the tithe. Call it a free will offering. Give it any name you wish, but commit a part of every financial blessing as a gift to bless others. In fact, you might consider the graduated tithe as a way to be sure that the more God blesses you, the more you can bless others.
5. Self regulate a luxury tax.
I've done this at times and then not done it. Basically, if you have the money to do something 'special' like taking a family vacation, dining out, or buying a nice piece of electronics, you commit to giving a portion of the purchase price to a ministry that works with the poor. You get to chose all the numbers and conditions, but you might put a system in place that blesses others when you are blessed enough to have a luxury.
6. Give to others any time you receive.
It is not unusual to receive unexpected gifts. Then there are birthdays and Christmas. It is such a blessing to receive all these gifts. Why not consider giving something away when you get something? When you get a new shirt for your birthday, could you give one shirt away to a place that resells second hand clothes?
Our family has a box that we use to keep toys. The total toys quota cannot surpass what will fit in the box. This means when the kids get a new toy, their first job is to decide what they will give away to make space for the new item.
7. Include as many people as possible in your celebrations.
When a person signs up a big client, gets a raise, or has a record quarter, they might treat their family to a special meal. Why not consider extending the invitation? Is there a single mother who could use a fun night out? Is there an older person who might enjoy the company? Let others celebrate with you.
8. Involve yourself in the community activities.
This one might just be the hardest. When you are financially blessed, why not try and work your schedule in such a way that you have some extra time to be involved in the community? Of course, sending your money to an organization is good, but you could also volunteer. If you're making more money per hour, is it possible you could work less?
9. Contact someone involved in inner city ministries or overseas missions.
The poor are all around us. Sometimes we build our fences and drive the roads we know, and we easily convince ourselves that the poor don't exist. But they do. When the righteous prosper, the community of the poor should also have reason to celebrate.
10. Treat someone to a luxury they otherwise couldn't afford.
It is nice to be able to enjoy certain luxuries. It makes you feel special and blessed. Why not make a way for someone else to experience something they otherwise couldn't afford. I've been to several 'fancy' evenings simply because someone bought me a ticket. I've never forked out $500 for a meal, but people have honored me with that luxury.
Can you think of any other creative ways to give your money or gifts?