(The following is an abbreviated transcription from a video Linda and I recorded. Please excuse any typos or errors.)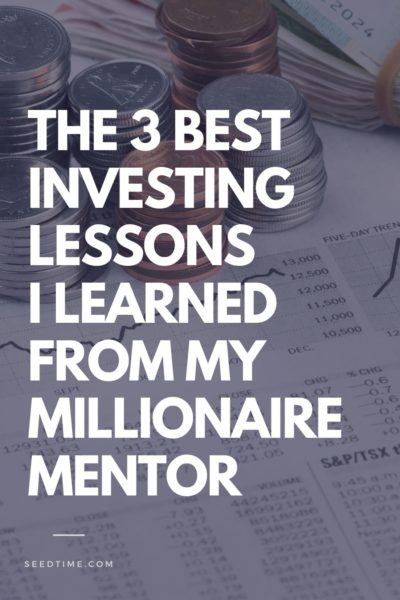 In this article, we're talking about some of the best investing lessons I learned from my millionaire mentor. We will be going over three lessons I learned that will be beneficial to anyone who is investing their money.
I will tell you the story about my mentor and I will show you the results of following his advice (the before and after the lessons that he gave). And as we applied his advice, you will see what happened afterwards.
I recorded the discussion Linda and I had that you can listen to on our Podcast, or you can opt to watch the video we recorded of our conversation on YouTube, which can be viewed just below.
But, if you would rather read the full transcription, you can do so here in this article! Enjoy.
The meeting with my millionaire mentor
Bob: So going back to this story, do you remember this?
Linda: A little bit?
Bob: So, yeah, it was about 16 years ago. It was a friend of mine reached out to me because he had a wealthy guy in his life. Long story short, he was offering to coach us on investing and and I didn't know anything about it at the time. I didn't know how to invest.
Linda: Yeah, but you were interested.
Bob: Interested, but I knew nothing. I was scared of investing. Yeah, just knew nothing. And this guy was a multimillionaire and he had, he was a teacher, so he was on a teacher's salary. And on top of that, he hadn't started investing until basically he's mid-life and so I'm like, all right, well, if this could work for him and I'm a whole lot younger, like why not see what he has to say?
Linda: Right.
Bob: So I remember going over to his house and we chatted for three or four hours and he shared everything that he had done. What had worked, what had worked well, and what hadn't. I remember taking notes and I remember just thinking, this is a great opportunity. I do not want to miss out on what this guy is sharing with me.
Like it was a really special thing. He took the time to share all this with me and my friend. And I'm incredibly grateful that he did. But, I want to talk about three of those really important lessons that he taught. And there were a bunch that day, but three really big ones that I want to share.
Having the foresight to better your future
Linda: The other thing is that you had the foresight, this was when we were newly married. And I think you took a Saturday and went to go talk to this guy. And I was like, can't you just stay home with me, let's just hang out. But you had the foresight to know that if you spend a little bit of time upfront, it was going to yield great results.
I didn't have the foresight and I was a little bit annoyed by you going to meet with him, but…
Bob: Like, "Why are you wasting your time learning about this investing stuff?" We can be watching The Office, or what we're watching then? Was The Office on yet?
Linda: Probably. But I mean, even still, that's what so many people do. They don't have the foresight to see that if they put a little bit of effort in, like what it's going to yield down the road.
Bob: Yeah.
Lesson 1: Stop wasting your money
Bob: All right. So onto the first lesson, and I will never forget this. I've been talking about this for years, but he said that there are two things that most Americans waste their money on and are essentially destroying their financial lives with. With two decisions that most Americans make.
And it's, it's affected me ever since he said this and everything, you know, and every single time I buy either one of these two things, I'm thinking about this, it's like a loop playing through my head…
Linda: Well, tell us what it is.
Money wasted on cars
Bob: I want to keep you in suspense a little bit. All right. So the first one is cars. Our car purchases in America. And he absolutely convinced me and showed me some of the numbers and gave me his perspective on this, about how the way we buy cars in America, in.
Not everybody, but most Americans are on this new car cycle. Where you buy a new car, you hang on to for two, three years, and then you trade it in and then you buy another new car. It's just one of the most destructive things you can do for your finances because cars are just assets that depreciate really really quickly.
What happens is you spend $25,000 on this new car. And then the value of it goes down to about $15,000 or $10,000 over those three years when they buy another new one. And you just keep losing all this money real, real quickly.
Versus if you buy a used car, somewhere in the three to five-year range, you've already shaved off so much that depreciation. And then if you own it for longer, a reasonable amount of time your total cost for that car is going to be so much cheaper. Not to mention insurance prices are going to be lower, and there's a whole bunch of different factors here.
But point is, is that cars are so important in terms of most Americans long-term financial success. And yet it's one of those things, that we just love our nice new cars. And it's like, and if you can just take this one thing and just get over this a little bit you know? This was something that was a big deal, a big transition point for us. Because I just got comfortable with enjoying a used car and we haven't bought a new car in a long time, but our last, what four cars we bought with cash.
And that's really fun breaking out of that new car payment thing where we're always having a car payment. So now we save up and we buy our cars with cash. And it's really cool. And…
Linda: Yeah. I think there's ways around the whole new car thing where I really like having a new car he's okay with a more broken and worn and you know, thing. So you can buy new older cars, like few year old cars. Are really well kept up that don't, that don't have rips in the seats or stains on the carpet. That aren't disgusting. And also a lot of times, if you buy them from a dealer or just a really specific type of person, they will be so clean, you'll be able to eat off of the floor.
You know what I mean? So, I think sometimes that's the idea that we have in our head. It's like, I don't want an old car cause I don't want something dingy and worn out.
Bob: Yeah.
Linda: And while you don't mind the warn in kind of…
Bob: I still don't want to drive a dingy car.
Linda: Our cars have been nice is what I'm trying to say. They have met my standard and I like nice things. I don't like camping. I like to be in a nice hotel. You know what I mean? And when I say nice hotel, like a nice hotel.
Bob: There you go, there you have it.
Linda: I'm not trying to be a brat, but yeah, that's the thing, sometimes you have to mentally get over the idea of what you have in your mind and actually look and see if you can find something that will meet your standards. Right?
Bob: Exactly. Yeah, and part of that's just realizing that it's possible. It's possible to get a really nice used car (steps you should never skip when buying a used car). You know, in like a lot of other things, when you buy it used, you can get it for so much cheaper. So if you want to drive a luxury car, you can drive a luxury car that's maybe seven years old, BMW or Mercedes or something like that. You can get that for probably close to the same price as a new, like bottom of the barrel car.
Linda: Right. And chances are, people in those cars are taking care of them a little bit better.
Bob: I sure hope so.
Money wasted on food costs
Bob: I sure hope so. The second point that he talked about that Americans are really bad with, it is costing them their financial futures, is food. They basically are essentially eating out. And if you look at how many meals most Americans eat out it's just insane, the amount of money that we spend on food. Especially when we have the option to make food at home and save a whole lot more money and be healthier, in most cases. It's just a no brainer.
Again, we love eating out. It's one of our favorite things. But…
Linda: So the answer to this, that we have, is not "don't eat out."
Bob: Yeah. It's not that, but it's understand that this is where a lot of your money is going.
Linda: And use it as a filter.
Bob: Yeah. Just be thinking about it as you're making a decision.
Linda: Right.
Bob: Because when you understand that a whole lot of my financial potential is tied up in this dining costs, maybe I can start make eating out a little bit more of a celebratory thing. Rather than an every night occasion, because I just don't feel like cooking type of thing. And when you change your habit of eating out, that adds up to a lot.
It might be $20 or $30 a week in savings. Which then becomes a hundred dollars a month savings. And then that invested over the long-term becomes hundreds of thousands of dollars. And that's how you need to be thinking. Think about the small things that can turn into really, really big things.
Finding unexpected savings in your spending habits
Linda: Right. And we were talking to a couple not long ago and they were saying we just don't have any money. And they went through and actually looked at where they were. But they had already been spending their money and they realized they had been spending $800 or $900 a month on food. And they were really tight on money.
But, they were willing to make humongous sacrifices because they felt like they didn't have any money. And this one change in their spending opened the door to unexpected money in the amount they could save. They thought "If we go out to eat and spend only $200 next month, that will free up $600 of cash for other things." Just by disciplining themselves to this budget, they saw the fruit of it immediately. That's, what's so exciting to me about it.
Bob: Yeah. And that's essentially what we've limited ourselves to, $200 or $300 in the budget for eating out per month. And there's definitely nights where it's like "man, I'd like to go get food out tonight." But, if we don't have that filter in place, if we don't have that wall in place and our budget limit set, we'd easily spend $800 to $1,000 month eating out.
Linda: We have kids now and they always want to go to Chick-fil-A. I mean, every time we pass Chick-fil-A…
Bob: What does Oliver call it (our two year old)?
Linda: "Chi A." He's only two.
Bob: Alright. He's only two. Anyway It's pretty cute.
Linda: He'll say "Chi A" fries.
Bob: They got him trained already.
Linda: We're like no… we're not getting fries today.
Bob: But anyway. So that is the first thing. The first big lesson that I took from him. Was do not make these mistakes that other Americans are making, you know, or at least be aware of them. So you can reduce and not make it as big of a deal. And the main reason here is because, because this all comes back to investing, because if you don't have any money to invest, you can't invest.
So the whole point is that if you're spending every dollar on eating out or on having a new car or any number of other things that we can be spending money on, then there's not any money to invest in. The point is we need some money to invest. And so this was that first step where it really helped us free up extra money to be able to invest.
Linda: Well and really, I think the idea is. You're not defaulting to whatever your momentary desires are,
Bob: That's good. Yeah.
Telling your money where to go
Linda: But you are actually telling your money where it's going to go and deciding what you want to spend on these things so that you can have money for other things, right?
Bob: Yeah. You're being in control. You're actually being the steward of the money.
You're actually managing it, making decisions about it, rather than just letting your flesh in the moment, decide. Where it's going to go.
Linda: Right. Because there's a lot of people who have said, well, I don't have time to do a budget. Or I don't have time to… fill in the blank. When in actuality you're spending just as much time on your money, than probably more than Bob and I are. The difference is we are telling it where to go and have created the Real Money Method for our budget that was such a life saver when it comes to our finances. People who are not using any of these strategies are spending time burdened by their money choices and are worried and freaked out by their spending habits.
Bob: Yeah and it's reactive. There's reactionary things that are happening.
Linda: Yeah.
Bob: But the point is, we're all spending money or spending time managing our money one way or another. It's just a matter of, are we cleaning up messes? Are we doing this, or are we doing it proactively?
Linda: Right. I think you would agree. It's a whole lot more fun to be proactive. Well it's just less stressful and I feel way less stressed out, which to me is a big selling feature.
Bob: I completely agree. Completely agree.
Lesson 2: There is a floor, but there is no ceiling
Bob: Onto second big investing lesson that I learned from my millionaire mentor, which is when it comes to investing, the downside potential. There's a floor. So if I invest a hundred dollars, I can only lose a hundred dollars.
But that a hundred dollars invested, there's no limit to how much that can grow.
It took me a while to understand that because I just didn't want to lose any money. So when I invested a hundred dollars, I don't want it to go down to $90. I'd really get nervous about that. I don't want what I invested to go backwards at all. And I definitely don't want to lose all I invested. But, you have to offset that risk with the upside potential in realize what's possible beyond that.
It's a numbers game
Bob: When you understand that what your investment can grow to, that changed the game. Because then, it becomes a numbers game.
I remember reading a sales book many, many years ago, it might've been by Zig Ziglar or someone similar. I was never a door-to-door salesman or anything. And honestly, I've never really had a sales job. But the book talked about sales. If you're doing door-to-door sales, or cold calling or any of this stuff, you have to count your "No's."
So basically what that means is it's a numbers game. One out of every 10 people are going to say "Yes." And so instead of getting discouraged that five people in a row said, "No," you just keep counting those "No's" because on average one out of every 10 is going to be a success and say "Yes" to you.
And that gives you some encouragement because you can sit there while you hear: "No. No. No." And it's like, man, this is terrible. But you realize and understand you're getting closer to that "Yes."
And so it's the same way with investing. This is how I've looked at it when I'm investing in a particular stock, it's a numbers game.
The two approaches
Bob: Without getting all into details, I have two different kind of fundamental approaches. One is the really secure long-term approach. And then with a small percentage of our investing, we invest in some stocks and some more speculative stuff. And with those stock investments, that's how I'm thinking about this.
I know some of the investments aren't going to pan out and some of them might even lose everything. I've had probably two stocks I invested in where we've lost, basically everything in it.
Linda: Krispy Kreme?
Bob: We didn't lose everything in Krispy Kreme. We lost…
Linda: Almost 98%.
Bob: I've had some decent failures with some stocks, but we've also had wild successes. The biggest one being 34 X return on our investment.
Which again, you can lose a 100% of what you invested or you can go up 3400%, like in this particular case. I'm so glad that I took that chance on putting money in that stock. I had no idea what would happen, but to have it multiplied by 34 times, like that's really, really cool.
And you can lose multiple times and still come out way ahead when you know, something like that happens.
Linda: That's great. The 34 times investment return has probably made up for what we've lost in other investments.
Bob: Oh yeah. Absolutely.
There is a chance to lose, nothing is 100% risk-free
Bob: And like any investment, there is a chance to lose. Even in a savings account, whether or not your bank wants to admit this. There is a chance that you can lose your money, thankfully you have FDIC insurance. But there's nothing that is a hundred percent risk-free.
Linda: Yeah, so if someone is telling you that something is a hundred percent risk-free. Beware. Right?
Bob: It's not. There is no a hundred percent risk-free guarantee of anything.
Linda: If your neighbor comes to you and says, they've got the deal of a lifetime. And that there's no risk involved. Right?
Bob: Yeah I mean, there are people who will argue this fact. There are plenty of bankers who will say that a savings account has zero risk. But the point is, is that after 2020, there's just nothing that has no risk. You know what I mean? After we saw so many of the banks, big banks, go under. Banks who are "too big to fail." There's just no investment that is a hundred percent risk-free.
Your money is being invested somewhere
Bob: So with all that in mind, you have to understand that your money is being invested somewhere. Like you're putting your money somewhere whether you see this as an "investment," or not.
You're either putting money under your mattress. You could be putting it in a savings account, you're eating it, you're putting it on your body with the clothes you're buying, etc. Or, you're putting your money in something that might have a little bit more risk, but has a really big upside potential.
So my point in all of this, with this lesson, for me was that once I understood that it's not like it can go down just as far as it can go up, but there's a cap on how far down it can go. But then the limit on how high up it can go, there's no limit. And when you see it that way, that's really encouraging. It just changed the game for me on how I think about investing.
Linda: That's great.
Lesson 3: Build a really solid foundation
Bob: And the third lesson that he taught me that it really changed a lot for me. It was to start by building a really solid base foundation of low cost index funds. A long-term investment that is very predictable. That has a high likelihood of growing at a predictable rate to really build the retirement savings or whatever the longer term financial goals are.
And then on top of that, once you have that in place, then set some money aside to do some of the more aggressive or speculative investments. And that's some of the stock investing I was talking about above. Understanding that and approaching it that way is just a much safer way to invest.
And it's also an investing approach where you can sleep at night a whole lot easier. Because, there's a whole lot of people who don't know what they're doing investing right now. Who are running into the most speculative things. Cryptocurrency being one of them. Or day trading stocks or options, or something like that.
Which are all things that I'm not against doing them, but it should be a small percentage of your portfolio. It should not be, "this is the first investment I ever make is in this crazy unknown cryptocurrency," that no one knows about. That somebody just made a hundred percent return in two days yesterday.
Like it's just…
Linda: It's really risky. Right?
Bob: Yeah. And I think that's the thing…
Linda: If someone wants to do that they just need to know the risk involved. Right?
Bob: Yeah. And I think that's fundamental. If you're investing, just understand the risks that you're taking and that if your return goes up that fast, it can come down that fast or faster.
That's my biggest hangup. I'm seeing way too many investors who don't understand that. And they think: "I'm just gonna invest in this and I'm going to get rich." They don't even understand or comprehend that there is a downside potential and that it's actually really, really big.
So that's why I love laying a really solid thorough foundation of much more stable investments, long-term investments as your base.
And then on top of that, if you want to do some more speculative things go that route.
Linda: Gotcha. Very helpful.
Our results of following his advice, before and after
Bob: Just for illustrative purposes, I want to show you this chart. I decided to put this together. I wanted to see what happened after I started doing what my millionaire mentor taught me. And so I took the 10 years before and the 10 years after I implemented the lessons he taught me. And I'll just go ahead and show you how that played out…
So as you can see I'm really glad that we started investing. This has worked out really well for us.
Linda: I'm really glad I allowed you to start investing. That was really good on my part.
Bob: I'm glad that my wife and I came into an agreement that she allowed us to take some money that she would have spent at the mall for us to start investing. It was a really good decision. I'm glad we did it.
Linda: Me, too.
Bob: Yeah.
SeedTime 10 X Investing Course
Bob: So over the years I've been getting more and more questions about investing. And so what we did in April, is we started building out our first investing course because we were having so many people ask about it. And I'm really, really excited. We had our first batch of students take the course in April. And then, we just opened up again for fall enrollment.
So if this is something you want to do, if you want to get started investing, we designed this course specifically for beginners and intermediate investors. We go through step-by-step down to the buttons to press of how to make your first investment on a more stable long-term approach.
Linda: That's great. So for someone like me, it'd be great.
Bob: Perfect for you because we literally show you what to do. What website to go to. The buttons to press, everything we can possibly show step-by-step as possible. And then after that's in place, we have the Plus Package for the course. In this package we go into some of the more advanced investing.
In the course, there are a lot of lessons that I learned from my millionaire mentor. How to actually pick a stock. And basically the exact strategies that we followed to pick that 34 X return winning stock. We also had another investment that was 27 X our return on investment. We've had a whole bunch of others that were beyond 10 X. But the goal, 10 X. That's why we called the course "10 X Investing."
The goal is to get to that point where you have a investment that will yield 10 X. And the cool thing is even the base foundation, the really much more stable and secure and predictable investments that we talk about, that low-cost index funds over a long enough time-frame (for most of us) that turns into a 10 X investment as well.
The point is everything in the course, hopefully should be able to yield some really great returns over a long-term.
We'd love to serve you with this course. So if it's something you're interested in you can check out the course at Seedtime.com/10X.
The bottom line
My encouragement to you is to get started investing, if you aren't already. There are a lot of different ways to get started. It's not that difficult. But if you want help from us, we would love to be able to help you with this course.
So if you have any questions, just shoot us an email or you can send us a direct message. We look forward to hearing from you!