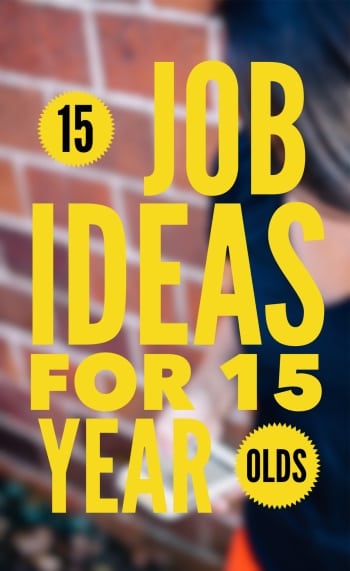 In today's job market, it can be hard for a teenager to find a job.
I remember looking for jobs when I was 15 – they were hard to come by! Don't let the idea of not having a car keep you from finding work.
If you're willing to work, you can find something that's worth your time.
I wish I had this list of jobs for 15-year-olds when I was a teenager!
Unfortunately, I can't turn back time, but you can take advantage of your spare time with these teen job ideas.
Editor's Note: Hey, if you're not 15, I wonder if you tried any of these jobs when you were a teen. Leave a comment!
Basically this is a free site that offers you a bunch of ways to earn cash, gift cards, or other rewards.
You can earn by answering polls, taking surveys, doing simple tasks (like giving feedback about a website), trading in old video games or books, and even playing games on their site.
I have tried it out and have received multiple payments from them, so I can attest that it is legit.
While you won't get rich doing this, to me it seems like a great way for internet-loving teens to make some money. Find out more in our Swagbucks review or get started here.
2

Start a Tutoring Business

Tutoring services are in demand by parents of students who do not understand some of the essential school classes. The rates for tutoring may be difficult to calculate at first, but if you are successful and the child shows a significant improvement, then you may be able to negotiate a higher rate.

Start at $10 per hour and work your way up from there.
3

Typing Service

Teenagers who have good typing skills can offer their services to business owners who do not type well or would rather have someone else type for them.

Try charging per word!
4

Start a Babysitting Co-op

Babysitting service may seem like a hit-or-miss low-paying job, but there are ways to create a unique service for people and drive business to the point where the next logical step can take place: networking.

By pooling with a few close friends, you can offer more availability options. One way to increase the amount you can charge is by taking a CPR course and obtaining babysitting certification through the Red Cross.
5

Sell your parent's old books

I made $170 bucks doing this in just a few hours. Here is what I did…

https://youtu.be/FafS-c4YaRY&showinfo=0&rel=0

Even if you don't have a ton of books laying around, you could always go to thrift stores or garage sales to get some and use the method (before you buy the books) and probably make a really nice profit.
6

Become a Craigslist Scavenger

Scavenging includes any legal method to obtain items that people no longer want and only care to have removed. People set things at the curb the night before garbage collection, post advertisements on bulletin boards at grocery stores, laundromats, and more.

The teenager may have to clean the item up or even make minor repairs before selling it, whether at their own rummage sale, Craigslist, or at a local auction.
7

Become an eBay Expert

If you are good at selling items, especially on eBay, you can offer services to other people to sell their items for them. This is generally a commission-based job with rates between 30 and 50 percent of the net profit on the item. You can also use your eBay skills to sell those items that you find for free.
8

Get Outside and Ask for Work!

Many homeowners are willing to pay teenagers to mow their lawn and perform other yard work. This is a very easy way for a 15-year-old to find a job, especially during summer vacation.
9

Become a Gopher

If you don't mind running errands for others and have the ability to get around town on public transit or a bike, you might consider an errand running service (what I like to call 'gopher' jobs – go for this and go for that).

This would include services such as grocery shopping, mailing letters and buying postal supplies at the post office and other errands. These types of jobs typically pay a lower rate of whatever the individual offers and what you will accept. However, simple errands often lead to more jobs and almost always additional referrals.
10

Work at a Restaurant

Many local restaurants hire 15-year-olds to bus tables and perform kitchen tasks, such as salad preparation or washing dishes. State labor laws may restrict certain tasks that an individual under the age of 18 can do; for example, operating machinery.
11

Turn Crafts into Cash

If you're a crafty teenager, you might consider making crafts and selling them on sites like eBay or Etsy. Afghans, quilts, clothing, fishing lures, shelves, Christmas ornaments – you name it! If you can make it, you can probably sell it on Etsy.
12

Housesitting

People who have a working relationship with a teenager may employ them for odd jobs like housesitting or petsitting while they are on vacation. This usually involves bringing in the mail, feeding fish and other unattended pets, etc.

Sometimes people utilize a house-sitter to actually stay inside the residence for a specified event, such as a funeral for a close relative. Try making these connections through your church or school.
13

Work at School Carnivals or Events

You might be able to find work at your own school if they're hosting an event. Check with the school office to see if they're hiring students to work at the school carnivals or events. At my high school, students could work track and cross country events to make a few extra dollars.
14

Hand Out Flyers for Businesses

Local businesses sometimes offer money to anyone who is willing to hand out flyers while canvassing large areas where people congregate. If it is lawful and permissible in your area, you may find work that involves leaving flyers underneath the windshield wiper of a parked car.
15

Work at Summer Camps

Organizations that offer summer camp programs for elementary children usually hire teenagers as assistants in gaming activities and crafts. The students who have a CPR certification may have an upper hand in landing a job.

What other jobs would you recommend for 15-year-olds? Leave a comment!