Today I want to lay out a few simple money moves you can make to improve your finances. Each one is very different, but all will help you move forward financially.
My encouragement to you would be to not just read the list and say to yourself "those are good ideas, I should do that," but rather to take action today!
Each one is simple enough that you can take the 1st step in just a few minutes.
1. List your place on Airbnb when you go out of town
This really isn't as scary as it might seem. You maintain full control and can filter out anyone you might not want renting your home. And you can even rent out individual rooms of your home.
Curious? Click here to see what you might be able to earn in your area.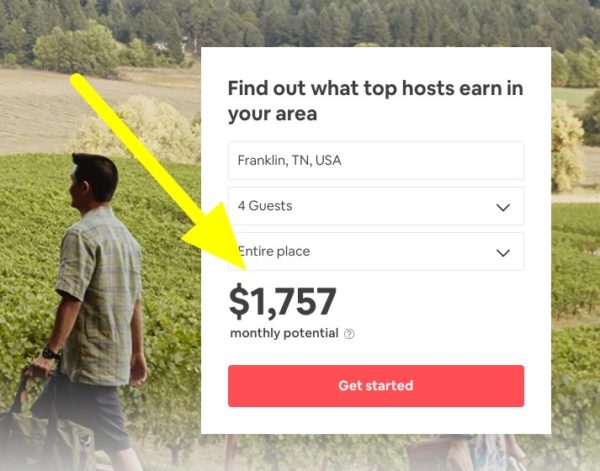 When I checked I was shocked to see that I had a $1,757 monthly potential in my area.
You can list it as often as you want and can list it to be by the night, week, or month. Airbnb offers a $1,000,000 guarantee to protect you from any kind of property damage that may be caused by guests.
They also have a guest rating system, so you can choose whether or not you want to approve that guest to stay in your place.
Check out the video below for more information:
2. Earn easy money in your free time with Survey Junkie
I have always been a little hesitant to recommend survey sites because so many of them are so scammy, but Survey Junkie stands out as a legit player in this industry.
They make it easy to get paid (unlike so many other survey sites) and they have over 7 million members, so clearly they are doing something right. They are also listed as one of the few money-making sites with an A+ rating at the BBB.
You won't get rich taking surveys, but it may be one of the easiest ways out there to make money from your couch.
3. Start investing with $1 or less
Simply put, this is the easiest way to start investing with no money. They just round up all the purchases you make to the next dollar and invest the difference.
So, say you go to the grocery store and spend $16.25, they will round up to $17.00 and take the 75 cents and invest it. If you do that over and over, it quickly adds up to some big savings.
By far, the easiest set-it-and-forget-it way to get started investing.
Here is how it works:
4. Save ~$18,000 with a few hours of work
Seriously, if you have student loans you should definitely consider refinancing them.
Credible is one of the biggest players in the industry and they say that their average customer saves $18,000 by refinancing their student loans with them.
I know you have probably never done it before, but don't let the fear of the unknown stop you! Just imagine what a massive money savings like that could do for you!
5. Check your credit report for FREE with Credit Karma
You really should do this every year. Odds are you probably haven't in a while. Today is the day my friend! It will only take you a few minutes and will be a good step for you!
These guys will do about everything and for FREE:
Check your credit reports (Transunion and Equifax)
Check your credit score
Monitor your credit report for you
What I love about them is that they monitor your credit report for you, just in case you forget to check it each year.
6. Get a Rewards Credit Card
Earlier this year I wrote about how I have gotten 161 flights and 97 hotel nights for free – all because of my rewards credit cards. If you NEVER carry a balance on your card, there are a lot of potential benefits to using a good rewards credit card.
However, there was a time when my finances were such a mess I had to ditch the credit cards and ONLY use a debit card to ensure I didn't overspend. If that is you, be wise, skip this one, and stick with the debit card.
7. Review (or get) Life insurance
I estimate about 98% of people are best suited with term life insurance. It is the simplest to understand, the cheapest, and the easiest to get started.
I don't have an affection for any particular life insurance company, but I do really like Policy Genius for getting quotes and comparing rates. Many of the comparison tools out there are obnoxious and I have actually enjoyed using this one.
If you have had ANY of these 7 life changes recently, you need to review your current policy.
And if you think having life insurance really isn't that important, please read this.
What other money moves would you recommend? Let me know in the comments!
If video is your thing, check out these moves in our latest YouTube video below!