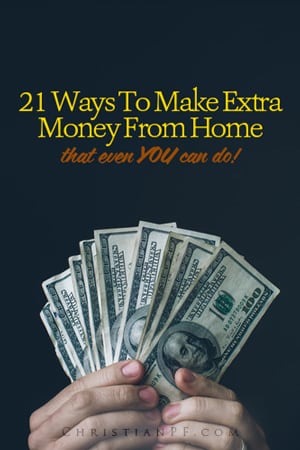 Alright, so you're ready to earn some extra money.
Perhaps you need to pay off debt or build your emergency fund. But how?
No worries, here are 21 ways to earn extra money. Some are easy, some are difficult.
Find the jobs that match your lifestyle and go make some extra cash!
Let's begin!
The 21 Ways To Make Money From Home
Mow lawns. Ah, childhood memories. Remember when you were a kid and you mowed your neighbor's lawn for a few bucks? You can do the same today! Print out a few fliers and let people know that you'll take care of their lawn for [insert your amount here] per month. Hey, you already have the lawnmower out! Take advantage of it!
Become a Swagbucks member. Basically this is a free site that offers you a bunch of ways to earn "Swagbucks" which can be redeemed for cash, gift cards, or other rewards. You can earn by taking answer polls, taking surveys, doing simple tasks (like giving feedback about a website), trading in old video games or books, and even playing games on their site. Check out our review of Swagbucks for more info.
Do freelance writing. Yes, people will pay to have you write articles. You just need to know where to look! Starting a blog is an excellent idea, and trust me, the opportunities will come.
Have a garage sale. Dust off the old card tables and get ready to set up your trinkets! There are so many things that you can sell that you truly don't need. Think about it . . . when was the last time you visited the attic? Have a garage sale and get rid of your stuff!
Walk your neighbor's dogs. If you love dogs and just can't get enough of them, you'll love making a few extra bucks as you take the dogs on a stroll through the park. Show your customers you care by buying the dogs some extra special treats!
Get a newspaper route. Rise and shine! For some folks, early morning shouldn't exist. But for the rest of you, utilize those hours and throw a few papers! You're sure to get a job.
Sell stuff on eBay. There are some excellent ways you can start your own eBay store. What can you sell? Give this one some thought, and start your own booming eBay business!
Be a mystery shopper. Oh, the mystery! People are paid to shop retail stores in secret and report back their findings. Sound fun? Then this one might be for you.
Baby sit some kids. Know kids? Baby sit them for cash! Sometimes even voluntary babysitting can turn into money.
Write an eBook. By writing an eBook and selling it online you can make some great money! Take what you know, and put it into a masterpiece.
Tutor students. Fluent in another language? Can you crunch numbers like nobody else? Teach someone something new, and get paid for it!
Sell your photography. There are many photographers out there, so your work must be viewed as unique to thrive. However, the internet has made photography a great profession – start your own photography website and advertise your prices.
Run errands for the elderly. With this one, it's all about networking. Get to know people in your church who might need help with day to day tasks. Or, visit a community center and ask what the needs are in your area.
Fix people's computer systems. Did you build computers in school? Maybe you do it as a side hobby. If you're computer savvy, advertise your services!
Do consulting. If you're big into web design or have a niche on a market, think about how you can turn that into consulting work.
Deliver pizzas at night. Nothin' like the smell of pepperoni. Okay, maybe there are better smells. But hey, delivering pizza can become a lucrative business when the tips start rolling in.
Host a car wash. This is a great, quick way to make extra cash. Get some friends together and host a car wash. It can be fun and help pay the bills!
Resell items. What can you sell while having low overhead? Think about it. You might already use something that you can turn around and sell for a profit.
Sell handmade trinkets. Like arts and crafts? Turn your craft into profit. Bracelets, rings, and many other trinkets can be made and sold in the marketplace.
Clean homes. Many people don't have time to dedicate to their homes. Helping them pick up misplaced items and dusting the furniture can be a huge help!
Be a remote secretary. With computers gaining the ability to remote connect, there's no reason you can't be a remote secretary! Help people type out papers, handle phone calls, and organize email. This is a great at-home job!
So there you have it: 21 ways to make extra money from home! How do you earn more money? Let us know in the comments how you make extra cash!